Index of All Cemeteries
Alphabetical Index of All Burials
Previous Page
Use the following to search across all the cemeteries listed.
Example: "Smith, Roger" (yes, use the quotes)
059 RALEIGH NATIONAL CEMETERY &nbsp- &nbsp Surname starts with A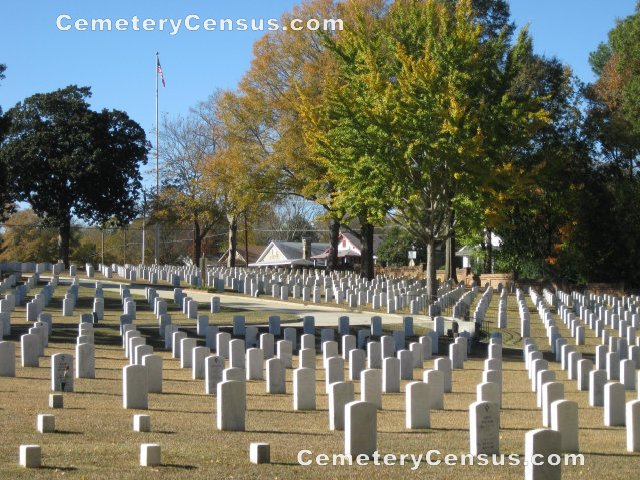 Location - 501 Rock Quarry Road, Raleigh, Wake County, NC.

Coordinates: 35d 46m 27.0s N; 78d 37m 16.0s W Click here for Google maps

Records of burials were provided by the U.S. Department of Veteran's Affairs, as of July 2, 2000. This is not a complete list of burials, only those that are on file with the VA.

Many additions and updates provided through November 2010.

View #2 of the cemetery. View #3 of the cemetery. Plat of the cemetery sections.

Photographs provided by Dan Whitehead in 2009 and 2010.


Aageson, David Dudney (b. 12 Jan 1944 - d. 20 Sep 1973)
CPT CO D 725TH MAINT BN USARV, Plot: 25 92, buried 09/26/1973

Aal-Anubiaim Hotepo Korohamz, Dr Ebony Lovejoy (b. 29 Aug 1982 - d. 30 Aug 1982)
Daughter of An Dr Odechi B Aal-Anubiaim Hotepo Korohamz, USN. Plot: 4 132, buried 09/03/1982

Aanes, Edward A (b. 23 Aug 1925 - d. 17 Dec 1951)
Colorado, 1ST LT 39 AIR FORCE Fighter Intercep Sq. 18TH BN, Korea, Plot: 17 327, buried 12/26/1951

Aanes, Rebecca Lee (b. 27 Dec 1948 - d. 10 Dec 1952)
Daughter of 1st-Lt Edward A. Aanes. Plot: 17 328, buried 12/12/1952

Abplanalp, John G. (b. 1 Apr 1891 - d. 27 Nov 1986)
Husband of Rowena H. Abplanalp. 2nd LT U.S. Army, WW-I, Plot: . 3 84, buried 12/30/1986

Abplanalp, Rowena H (b. 1 May 1903 - d. 24 Aug 1988)
Wife of John G. Abplanalp, "His Wife". Plot: 3 84, buried 09/06/1988

Abram, Elmo (Nmn) (b. 25 Aug 1944 - d. 23 Dec 1986)
SP-4 U.S. Army, Plot: 20 183, buried 12/30/1986

Abrames, James D (b. 24 Aug 1912 - d. 1 Feb 1988)
PVT US Army, WW-II, Plot: 4 185, buried 02/08/1988

Abrams, Charles E. (b. 25 Apr 1908 - d. 11 Jan 1973)
CRN USNR, Plot: 6 297, buried 01/15/1973

Abron, James Arthur Jr (b. 27 Mar 1915 - d. 10 Dec 1972)
MA1- 62ND T CO FT EUSTIS VA, Plot: 14 1217, buried 12/14/1972

Acker, George Jr (b. 12 Jan 1927 - d. 26 Mar 1982)
PVT US Army, Plot: 10 313, buried 09/14/1982

Adams, Albert Garner (b. 17 May 1926 - d. 20 Nov 1976)
SM 1ST US Navy, Plot: 23-A 211, buried 12/03/1976

Adams, Allen Massay (b. 15 Sep 1927 - d. 14 May 1978)
S/2C U S N R, Plot: 25 215, buried 05/20/1970

Adams, Curtis Lee (b. 2 Dec 1931 - d. 3 May 1981)
CPL US Army, Plot: 10---321 A, buried 05/08/1981

Adams, Harold A (b. 4 Apr 1933 - d. 28 Jul 1988)
CPL US Army, Korea, Plot: 3 74, buried 08/01/1988

Adams, Horace F. (b. 21 Nov 1924 - d. 17 Feb 1981)
CPL U.S. Army, Plot: 22 141, buried 03/04/1981

Adams, Jack Z (b. 16 Sep 1916 - d. 23 Apr 1996)
US Army, TEC 5, Res: Wendell, NC, Plot: 20 0 218, buried 04/26/1996

Adams, John C (b. - d. 21 Mar 1865)
PVT CO F 32 ILL INF, Plot: 3 130

Adams, Joseph E (b. - d. 8 Aug 1865)
PVT F 4 NH INF, Orig Bur NC, Plot: 6 291

Adams, Marvin H (b. 3 Oct 1919 - d. 3 Feb 1973)
T/4 BAT A 97TH FABN FA, Plot: 7 338, buried 02/06/1973

Adams, Monnie Rogers (b. 1 Jan 1904 - d. 5 Aug 1980)
Plot: 25 107, buried 08/08/1980

Adams, Sant (b. 15 Mar 1894 - d. 8 Nov 1971)
MECH, Plot: 25 107, buried 11/12/1971

Adams, Sylvester Jr. (b. 5 Dec 1925 - d. 31 Oct 1969)
STM/1C A S N R, Plot: 25 245, buried 11/03/1969

Adkins, Edna Louise (b. 1 Jul 1924 - d. 16 Sep 1997)
US Army Air Corps, PFC, Res: Fayetteville, NC, Plot: 22 0 250, buried 09/19/1997

Adkins, Rufus J (b. 16 Sep 1921 - d. 9 May 1960)
US Army, MSGT, Res: Fayetteville, NC, Plot: 22 0 251, buried 05/13/1960

Adkins, Rufus James (b. 16 Sep 1921 - d. 9 May 1960)
M/SGT C D 2D ABN BG 501 INF, Plot: 22 251, buried 05/13/1960

Agnew, Theodeore (b. 5 Feb 1919 - d. 27 Apr 1967)
CO B 92ND ENGR BN, Plot: 10 581, buried 05/01/1967

Aharon, Andrew F, Jr. (b. 13 Feb 1924 - d. 11 Nov 1993)
SFC US Army, WW-II, Korea, Vietnam, Plot: 16 86, buried 11/15/1993

Aheron, Frank R (b. - d. 4 Sep 1923)
2ND LIEUTENANT WW II, Auth For Reinterment Roster Form No 355, Plot: 24 1372, buried 08/13/1948

Alberg, Jarles (b. 29 Aug 1915 - d. 6 Aug 1973)
PFC ARTIST Army HQ DET CGSS FT LV KAN, Plot: 25 162, buried 08/14/1973

Aleksic, Walter P (b. 7 Sep 1935 - d. 21 Mar 1984)
LT COL US MARINES, Plot: 6 286, buried 03/23/1984

Alexander, Fort (b. 19 Jul 1935 - d. 10 Feb 1976)
SP3 US Army, Plot: 23-A 323, buried 02/13/1976

Alexander, Glenn C. (b. 6 Jan 1897 - d. 18 Nov 1973)
PVT CO A 163RD INF 41ST DIV, Plot: 25 28, buried 11/21/1973

Alexander, Herny B. (b. 26 Aug 1910 - d. 22 Oct 1986)
COL U.S. Army, Plot: 20 248, buried 10/27/1986

Alexander, John W (b. 28 Nov 1928 - d. 14 May 1974)
PVT US Marine Corps, Plot: 23 176, buried 05/21/1974

Alexander, Myrna C (b. 10 Dec 1894 - d. 1 Aug 1982)
Plot: 25 28, buried 08/04/1982

Alexander, Sylvia L (b. 30 Nov 1910 - d. 16 Jan 1978)
Plot: 24 1501 A, buried 01/18/1978

Alford, Lue A (b. 26 Jan 1902 - d. 7 Feb 1990)
Wife of Pvt. Matthew Alford. Plot: 19 65A, buried 02/12/1990

Allard, Stefani (b. 12 Mar 1962 - d. 12 Mar 1962)
SFC US Army, Plot: 23 264, buried 03/22/1962

Allen, Aubrey B (b. - d. 17 Nov 1946)
SGT B 37 NC INFT WW 1, Plot: 24 1276, buried 11/20/1946

Allen, C G (b. - d. 14 Aug 1865)
CPL MASS, Orig Bur In NC, Plot: 7 253

Allen, Elias J (b. 10 Feb 1895 - d. 16 Oct 1986)
PFC US Army, Plot: 20 246, buried 10/21/1986

Allen, Elizabeth Dunbar (b. 19 Sep 1909 - d. 6 Feb 1987)
Wife of Wayman J. Allen, "His Wife". Plot: 3 192, buried 02/09/1987

Allen, George (b. 11 Jul 1911 - d. 17 Apr 1979)
SSGT US Air Force, Plot: 4 149, buried 04/23/1979

Allen, Harold (b. 12 Mar 1922 - d. 26 Jul 1970)
SSGT CO A 19TH BN 4TH ARMD RTC FA AUS, Plot: 25 193, buried 08/03/1970

Allen, Harrison (b. - d. 15 Jun 1865)
PVT Co. G 13 IND INF, Orig Bur NC, Plot: 5 323

Allen, Henry (b. - d. 29 Jun 1865)
PVT CO K 65 ILL INF, Orig Bur NC, Plot: 3 113

Allen, Henry L (b. 20 Mar 1914 - d. 6 Aug 1984)
SGT US Army, Plot: 6 352, buried 08/09/1984

Allen, J (b. - d. 30 Mar 1865)
US Soldier (may be from ILL INF). Plot: 3 111

Allen, James B (b. - d. )
PVT CO 3 78 OHIO INF, Headstone Reads J B Allen, Orig Bur NC, Plot: 4 17

Allen, James C (b. 5 Aug 1932 - d. 4 Jan 1975)
SFC US Army, Plot: 25 86, buried 01/09/1975

Allen, James Shepherd (b. 20 Apr 1925 - d. 23 Aug 1985)
SFC US Marine Corps, WW-II, Plot: 16 235, buried 08/27/1985

Allen, James Walter (b. 19 Oct 1929 - d. 29 May 1994)
PVT US Army, Korea, Plot: 16 56, buried 06/03/1994

Allen, John E (b. 28 Jul 1915 - d. 11 Feb 1984)
TEC-5 US Army, Plot: 22 137, buried 08/27/1984

Allen, John Grimes (b. 28 Nov 1916 - d. 26 Aug 1970)
CPL 3502 AAF BU AC, Plot: 21 112, buried 08/31/1970

Allen, Jospeh (b. - d. 1 Apr 1865)
PVT D 10 ILL INF, Orig Bur NC, Plot: 3 111

Allen, Julia M (b. 11 Nov 1918 - d. 13 Dec 1999)
US Army, PFC, Res: Spring Lake, NC, Plot: 23A 0 38, buried 12/20/1999

Allen, Lillie (b. 2 Aug 1882 - d. 7 Jan 1977)
Plot: S 1292, buried 01/12/1977

Allen, Mildred Vann (b. 19 Sep 1915 - d. 21 Jan 1987)
1LT US Army, Plot: 15 1279, buried 01/26/1987

Allen, Nellie M. (b. 21 Dec 1926 - d. 20 Feb 1985)
Wife of PFC John Allen, Plot: 16 31

Allen, R C (b. 3 Mar 1921 - d. 18 Jun 1978)
US Army, SSGT, Res: Spring Lake, NC, Plot: 23A 0 38, buried 06/22/1978

Allen, Roy (b. 16 Mar 1906 - d. 26 Jul 1987)
PFC US Army, Plot: 18 88, buried 07/29/1987

Allen, Sobey F (b. 27 Apr 1916 - d. 27 Oct 1943)
MAJOR AAF WWII, Plot: 24 13, buried 12/03/1947

Allen, Sylvester (b. 17 Apr 1925 - d. 6 Dec 1977)
SM1 US Navy, Plot: 23A 86, buried 12/09/1977

Allen, Wayman J (b. 2 Feb 1934 - d. 14 Jun 1980)
Husband of Elizabeth Dunbar Allen. A2C, US Air Force, Korea, Plot: 3 192, buried 06/17/1980

Allen, Wilbert H (b. 11 Dec 1907 - d. 5 Jul 1966)
1ST LT BTRY B 10TH FA BN WWII, Plot: 15 1279, buried 07/08/1966

Allen, Wiley B. (b. 13 Nov 1910 - d. 11 Jun 1987)
T-5 US Army, Plot: 18 96, buried 06/22/1987

Allen, Will (b. - d. 2 Jan 1940)
PVT 101 G 10 CAVALRY, Hon Disc Jun 14, 1922, Plot: 8 1292, buried 01/31/1940

Allen, Willie (b. 26 Jan 1923 - d. 16 Apr 1962)
PVT MEDICAL DETACH 27 CAV U.S. Army, Plot: 23 271, buried 04/20/1962

Allison, Harry Henson (b. 30 Dec 1937 - d. 18 Nov 1979)
MAJ US Air Force, Plot: 7 366, buried 11/21/1979

Allison, Haskell (b. 26 Dec 1895 - d. 23 Jun 1973)
COL 9690 TSU-SIGO OC SIG WASH, D C, Plot: 25 138, buried 06/27/1973

Allison, Samuel Theodore (b. 16 Jun 1908 - d. 23 Apr 1982)
T/4 - US Army, Plot: 22 349, buried 04/28/1982

Allman, Levi (b. - d. 21 Apr 1865)
PVT CO C 125 ILL INF, C-2037553, Orig Bur NC, Plot: 3 98

Alston, Cecil Brock (b. 2 Oct 1925 - d. 3 Jan 1974)
S2C USNR, Plot: 21 119, buried 01/08/1974

Alston, Charles Edward (b. 23 Dec 1941 - d. 25 Jan 1966)
PFC US Army, Co A, 7th Cavalry, 1st Cavalry Div (AM), Vietnam, Plot: 17 280, buried 02/07/1966

Alston, Charles William (b. 29 Apr 1879 - d. 3 Jun 1970)
PVT CO B 3RD NG INF, Plot: 25 213, buried 06/08/1970

Alston, Dilsie B (b. 7 Apr 1917 - d. 9 Oct 1984)
T/4 US Army, Plot: 7 388, buried 10/12/1984

Alston, Edward Lee (b. 26 Jan 1949 - d. 10 Jul 1987)
PVT US Army, Plot: 18 80, buried 07/14/1987

Alston, Frank Henry (b. 23 Aug 1911 - d. 8 Mar 1982)
PFC US Army, Plot: 10 378, buried 03/15/1982

Alston, Hubert Leonard (b. 4 Oct 1920 - d. 15 Feb 1949)
TEC-5 437TH ENGR DUMP TRUCK CO WWII, Plot: 8 1321-C, buried 02/18/1949

Alston, James (b. 13 Dec 1907 - d. 4 Sep 1967)
S/2C USNR, Plot: 15 1297, buried 09/08/1967

Alston, James Elijah (b. 7 Apr 1912 - d. 17 Nov 1971)
S/SGT CO F 1321 ENGR GS REGT US, Plot: 35 188, buried 11/22/1971

Alston, James M (b. - d. 14 Dec 1940)
1ST LT 372 NC INF 93 DIV, Plot: 8 1295, buried 12/18/1940

Alston, James W. (b. 5 Apr 1894 - d. 12 Aug 1973)
PVT 335 SER BN, Plot: 25 135, buried 08/15/1973

Alston, John (b. 6 Jan 1894 - d. 17 Mar 1977)
PVT US Army NC, Plot: 25 170, buried 03/23/1977

Alston, John Albert (b. 14 Nov 1914 - d. 27 Mar 1950)
PVT 1ST CL 646TH PORT CO TC WWI, Plot: 10 27, buried 03/30/1950

Alston, John Louis Jr (b. 10 May 1922 - d. 27 Feb 1984)
PVT - US Army, Plot: 24 1480, buried 03/05/1984

Alston, John W (b. 5 Apr 1894 - d. 18 Sep 1968)
PFC, Plot: 23 325, buried 09/23/1968

Alston, Laura H (b. 14 Oct 1883 - d. 11 Sep 1974)
Plot: 25 213, buried 09/13/1974

Alston, Lee (b. 23 Oct 1923 - d. 8 Feb 1990)
PVT US Army, Plot: 19 57, buried 02/12/1990

Alston, Leonard (b. 14 Jul 1922 - d. 14 Dec 1990)
Husband of Willie Mae Alston. PFC US Army, Plot: 19 0 37, buried 12/21/1990

Alston, Lewis Jr. (b. 13 May 1948 - d. 25 Dec 1977)
S/SGT U. S. MARINE CORPS, Plot: 23 A 57, buried 12/29/1977

Alston, Lillian K (b. 25 Dec 1893 - d. 10 Sep 1971)
Plot: 25 170, buried 09/14/1971

Alston, Mabel (b. 15 Jun 1898 - d. 18 Dec 1984)
Plot: 25 135, buried 12/21/1984

Alston, Mary (b. 8 Sep 1913 - d. 1 Apr 1973)
Plot: 15 1297, buried 04/06/1973

Alston, Mathew H (b. 27 Nov 1926 - d. 23 Feb 1976)
PVT US Army, Plot: 10 362, buried 02/25/1976

Alston, William Henry (b. 9 Nov 1924 - d. 27 Nov 1982)
Tec-5 US Army, WW-II, Plot: 17 333, buried 12/01/1982

Alston, Willie Mae (b. 23 Mar 1931 - d. 10 Jun 1988)
Wife of Leonard Alston. PFC US Army, Raleigh, Wake, NC, Plot: 19 37, buried 06/15/1988

Alverson, S H (b. - d. 22 Apr 1865)
PVT CO C 125 ILL INF, Ori Bur N C, Plot: 3 100

Amerosio, Louis John (b. 7 Sep 1946 - d. 11 Jan 1977)
SP 4 US Army, Plot: 23-A 210, buried 01/14/1977

Amerson, Brad Carleton (b. 26 Dec 1952 - d. 18 Mar 1993)
LT US Navy Reserves, Vietnam, Plot: 16 118, buried 03/22/1993

Amis;, Margie L (b. 3 Mar 1912 - d. 27 May 1983)
PFC US Army, Plot: 5 409, buried 05/31/1983

Ammons, Hedie Jimmie (b. 14 Dec 1921 - d. 24 Jul 1977)
PFC US Army, Plot: 23 A 98, buried 07/27/1977

Anderson, A W (b. - d. 19 Jun 1866)
PVT Co. K 111 OHIO INF, Plot: 4 39

Anderson, Burt (b. 18 Apr 1919 - d. 6 Dec 1973)
TEC 5 US Army, Plot: 14 1212, buried 12/10/1973

Anderson, Herbert (b. 10 Jul 1925 - d. 2 Feb 1974)
A/2C 20TH ABRON(USAFE), Plot: 21 122, buried 02/12/1974

Anderson, John L (b. 15 Mar 1921 - d. 4 May 1980)
TEC-5 US Army, Plot: 6 363, buried 05/08/1980

Anderson, Lillian (b. 3 Oct 1913 - d. 25 Jan 1980)
LT COL US Army, Plot: 21 81, buried 05/19/1980

Anderson, Lillian K (b. 31 Oct 1913 - d. 25 Jan 1980)
Plot: 21 81, buried 05/19/1980

Anderson, Lloyd S (b. 11 Jul 1953 - d. 29 Dec 1979)
SSGT US Air Force, Plot: 7 367, buried 01/03/1980

Anderson, Robert (b. - d. 7 Jul 1865)
PVT B 3 NJ INF, Orig Bur NC, Plot: 23 242

Anderson, Shird G (b. 20 Apr 1920 - d. 11 Oct 1942)
NC - Cpl 19th Infantry, 24th Infantry Division, WW-II, Plot: 17 116, buried 05/05/1949

Anderson, William H.W. (b. 27 Nov 1914 - d. 27 Sep 1981)
LT COMMDER US Navy, Plot: 25 33, buried 09/29/1981

Anderson, William Henry (b. 29 May 1926 - d. 13 Jan 1968)
STM1 USNR USNR, Plot: 22340, buried 01/18/1968

Andrews, David I (b. - d. 19 Mar 1865)
PVT I 10 MICH INF, Orig Bur NC, Plot: 21 197

Andrews, Joseph W (b. 1 Sep 1921 - d. 25 Dec 1985)
PFC US Army, WW-II, Plot: 16 321, buried 12/31/1985

Andrews, Mary (b. 13 May 1901 - d. 10 Aug 1968)
Plot: 9 629, buried 08/15/1968

Andrews, Walter (b. 28 Mar 1888 - d. 11 Oct 1955)
PVT CO A 329 LABOR BN QMC, Plot: 9 630, buried 10/17/1955

Andriessen, Karl G (b. 16 Sep 1902 - d. 26 Jun 1958)
CHCARP USNR, Plot: 21 221, buried 07/01/1958

Angle, Francis M (b. - d. 16 Mar 1865)
SGT CO B 129 ILL INF, Orig Bur NC, Plot: 3 154

Anika, Vrigil Wallace (b. 11 Jun 1923 - d. 16 May 1977)
GMGIC US Navy, Plot: 23-A 114, buried 05/16/1977

Annis, Carson B (b. 7 Sep 1925 - d. 12 Jan 1995)
US Navy, SEAMAN FIRST CLASS, Res: Raleigh, NC, Plot: 24 0 1297, buried 01/17/1995

Ansley, Henry G. (b. 6 Feb 1914 - d. 25 Dec 1981)
PVT - US Army, Plot: 10 369, buried 01/06/1982

Anspach, Addie Elizabeth (b. 12 Feb 1926 - d. 15 Mar 1993)
Wife of Malcolm Lowther Anspach, Plot: 16 49, buried 03/18/1993

Anspach, Malcolm Lowther (b. 7 Feb 1923 - d. 28 Jan 1994)
Husband of Addie Elizabeth Anspach, LTC US Army, Plot: 16 49

Anthony, Ella M (b. 8 Feb 1933 - d. 17 Aug 1993)
Plot: 20 201C, buried 08/20/1993

Anthony, James Arthur (b. 20 Nov 1942 - d. 23 Feb 1974)
PVT CO-A1 BN 32ND ARMOR USA-REUR APO, Plot: 21 183-B, buried 02/27/1974

Apllewhite, Oxcar (b. 13 Oct 1913 - d. 6 Feb 1981)
CPL US Army, Plot: 6 388, buried 02/10/1981

Applewhite, Gina W (b. 9 Jun 1965 - d. 9 Jun 1965)
Plot: 14 1126, buried 06/22/1965

Arch, Robert A (b. 28 Mar 1936 - d. 24 Mar 1984)
SP3 T US Army, Plot: 6 299, buried 03/27/1984

Archivald, Robert Earl (b. 29 Mar 1907 - d. 23 Sep 1980)
T/SGT US Army, Plot: 10 329, buried 03/26/1982

Arington, J F (b. - d. 8 Jul 1865)
SGT PA LGN, Orig Bur NC, Plot: 15 1134

Armistead, Thomas H (b. 6 Oct 1918 - d. 11 May 1985)
LT COL US Air Force, Plot: 23A 370, buried 05/15/1985

Armstrong, Robert Eugene (b. 16 Oct 1932 - d. 18 Jul 1991)
SP3 US Army, Plot: 20 349H, buried 07/26/1991

Arnold, Albert (b. - d. 23 Jul 1859)
PVT H 6 NY INF, Orig Bur Raleigh N C, Plot: 10 551

Arnold, Frederick (b. - d. 19 Mar 1865)
PVT CO H, 16 ILL INF, Orig Bur NC, Plot: 3 152

Arnold, James E (b. 14 Apr 1926 - d. 26 Oct 1984)
SN 2C US Navy, Plot: 11 768, buried 10/29/1984

Arnold, Loomis Nelson (b. 15 Oct 1895 - d. 25 Jul 1968)
PVT CO E 807 PIONEER INF INF, Res: Philadelphia, PA, Plot: 25 281, buried 07/31/1968

Arnold, Marion Butler (b. 24 Dec 1914 - d. 8 Jul 1982)
SGT - US Army, Plot: 10 338, buried 09/23/1982

Arnold, Mildred Louise (b. 17 Apr 1898 - d. 19 Dec 1996)
US Army, CW3, Res: Philadelphia, PA, Plot: 25 0 281, buried 12/30/1996

Arrington, Dewitt Alfred (b. 7 Sep 1931 - d. 14 Nov 1992)
SSgt US Army, Korea, Vietnam, Plot: 16 193, buried 12/01/1992

Arrington, Warren H (b. 24 Jun 1923 - d. 20 Mar 1980)
PFC US Marine Corps, WW-II, Plot: 3 204, buried 03/24/1980

Artis, Norman (b. 3 Aug 1922 - d. 13 Jan 1982)
PFC US Army, WW-II, Plot: 3 246, buried 01/18/1982

Ashcraft, Edwin B Jr (b. 27 Apr 1936 - d. 24 Mar 1980)
ICC US Navy, Korea, Vietnam, Plot: 3 182, buried 03/26/1980

Ashe, Billy Joe (b. 12 Nov 1951 - d. 9 Dec 1985)
SP-4 US Army, Vietnam, Plot: 16 42, buried 12/13/1985

Ashford, Bette Beggs (b. 12 Nov 1914 - d. 16 May 2002)
Wife of William Henry Ashford, Jr., Plot: 16 17

Ashford, William Henry, Jr. (b. 1 Aug 1903 - d. 25 Feb 1994)
Husband of Bette Beggs Ashford, RADM US Navy, WW-II, Korea, Plot: 16 17

Ashley, Hubert L. (b. 30 Dec 1960 - d. 14 Nov 1992)
ABH3 US Navy, Raleigh, Wake, NC, Plot: 16 153, buried 11/20/1992

Ashley, William Speed (b. 26 Apr 1922 - d. 16 Jul 1968)
SSG US Army, Plot: 25 289, buried 07/18/1968

Askins, Mitchell L (b. 28 Dec 1910 - d. 12 Mar 1980)
S-1 US Navy, WW-II, Plot: 3 163, buried 03/26/1980

Atkins, Benjamin E Jr (b. 2 May 1918 - d. 25 Feb 1979)
Husband of Margaret Deslatte Atkins. CSG US Navy, Plot: 6 321, buried 02/27/1979

Atkins, Margaret Deslatte (b. 8 Apr 1927 - d. 25 Jun 2005)
Wife of Benjamin E. Atkins, Jr. Plot: 6 321

Atkins, Tommie (b. 6 Sep 1896 - d. 4 Sep 1978)
PVT US Army, Plot: 15 1240, buried 09/11/1978

Atkins, William G. (b. 22 Feb 1913 - d. 22 Dec 1987)
SI US Navy, Plot: 18 36, buried 12/24/1987

Atkins, William W (b. 1 Jun 1892 - d. 24 May 1976)
PFC US Army, Plot: 23-A 261, buried 06/01/1976

Atkinson, Charles Xavier (b. - d. 17 Jun 1974)
PVT CO B 915 AIR BASE SEC, Plot: 22 154, buried 06/21/1974

Atkinson, Geo (b. - d. 11 May 1865)
PVT CO C, 28 MICH INF, Headstone Reads: G R Atkinson, Plot: 21 190

Atkinson, George P (b. - d. 10 May 1865)
PVT C 28 MICH INF, Orig Bur NC, Plot: 21 190

Atkinson, Katie M. (b. 2 Nov 1987 - d. 2 Nov 1987)
Daughter of Katie A. Atkinson. Plot: 18 59, buried 11/12/1987

Atwater, John Henry (b. 4 Mar 1897 - d. 9 Aug 1970)
PFC CO C 296 QM BN QMC, Plot: 21 110, buried 08/12/1970

Atwater, Theresa (b. 28 Oct 1915 - d. 13 Dec 1994)
US Army, PFC, Res: Raleigh, NC, Plot: 12 0 822-A, buried 12/16/1994

Austin, Donald Lewis (b. 11 Mar 1980 - d. 11 Mar 1980)
Plot: 24 1444-A, buried 03/18/1980

Autry, Will (b. 2 Jun 1889 - d. 30 May 1953)
PVT 828 CO TC, Plot: 9 554, buried 06/02/1953

Avent, Howard F (b. 10 May 1921 - d. 15 Sep 1985)
S-SGT US Air Force, WW-II, Korea, Plot: 16 204, buried 09/17/1985

Averette, Frank O (b. 25 Oct 1929 - d. 16 Aug 1988)
SFC US Army, Plot: 19 14, buried 08/17/1988

Averill, Henry (b. 30 Dec 1897 - d. 25 Jul 1969)
MAJOR US Army, Plot: 15 1228, buried 07/29/1969

Averill, John Bradley Jr (b. 15 Apr 1953 - d. 13 Nov 1954)
CAPT US Army, Plot: 23-A 50, buried 11/09/1977

Averill, John Bradley Sr (b. 6 Dec 1908 - d. 29 Dec 1992)
CAPT/USA, Plot: 23A 50, buried 02/19/1993

Averitt, Vocente H (b. 26 Dec 1963 - d. 26 Dec 1963)
Plot: 23 306, buried 01/08/1964

Avery, Larry (b. 22 Sep 1954 - d. 9 Nov 1974)
PFC US MARINE, Plot: 14 1173A, buried 11/15/1974

Avery, Leamon (b. 5 Jun 1920 - d. 29 Jan 1967)
PVT US Army, Plot: 11 732, buried 02/02/1967

Aycock, Arlen A (b. 14 Oct 1934 - d. 17 Oct 1974)
MMFA US Navy, Plot: 12 923, buried 10/21/1974

Aycock, Herbert (b. 11 Jul 1904 - d. 5 Jan 1973)
CMM USCG, Plot: 7 335, buried 01/08/1973

Ayers, Marvin Thomas (b. 8 Aug 1929 - d. 1 Sep 1978)
CPL / US Army, Plot: 15 1233, buried 09/08/1978
Web page updated 28 July 2016
Index of All Cemeteries
Alphabetical Index of All Burials
Previous Page