Index of All Cemeteries
Alphabetical Index of All Burials
Previous Page
Use the following to search across all the cemeteries listed.
Example: "Smith, Roger" (yes, use the quotes)
046 EBENEZER BAPTIST CHURCH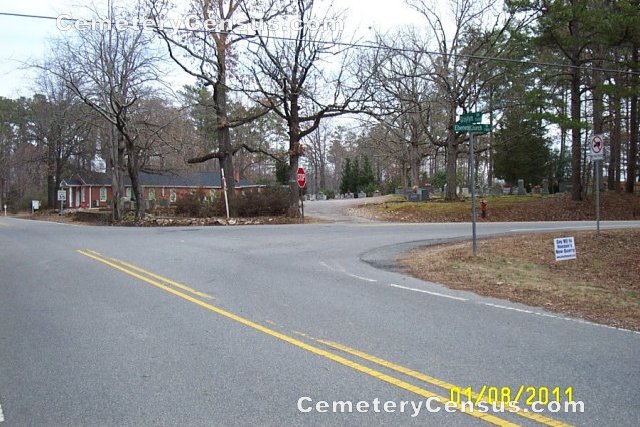 Location - From the Raleigh Beltline take Exit # 6, (Glenwood Avenue, Hwy. 70) west for 5.1 miles to Ebenezer Church Rd. Turn left onto Ebenezer Church Rd. and go .7 mile to the church and cemetery on the left at 7808 Ebenezer Church Rd.

Coordinates: 35d 52m 26.0s N; 78d 44m 39.0s W Click here for Google maps

Surveyed and recorded from tombstones by Shirley Olson in November 8, 2002. Photographs by Sandra Ellington in January 2011.

View of the church.

Church was founded 1883. A well kept cemetery in a tranquil setting, still in use and owned by the church.


Albright, Armour Dillard (b. 10 Jun 1915 - d. 16 Feb 1975)

Albright, Doris Eloise (b. 13 Dec 1932 - d. 2 Jul 1933)
daughter of Mr./Mrs. G.M. Albright

Albright, Gaston M. (b. 14 Aug 1909 - d. 20 Oct 1974)

Albright, Infant (b. - d. 21 Sep 1931)
daughter of Mr./Mrs. G.M. Albright

Albright, Infant (b. - d. 16 Feb 1939)
son of Mr./Mrs. G.M. Albright

Albright, Infant (b. - d. 7 Dec 1935)
son of Mr./Mrs. G.M. Albright

Allen, Clarence (b. 1923 - d. 1963)

Allen, Delia Slater (b. 9 Aug 1894 - d. 1 Feb 1933)

Allen, Jesse E. (b. 8 Feb 1889 - d. 27 May 1954)

Baker, Adonijah (b. 8 Mar 1850 - d. 14 Jan 1931)

Blake Robert L. (b. 1875 - d. 1945)

Blake, Alv?? C?rtez (b. - d. 29 Dec 1976)

Blake, Annie J. (b. 28 Oct 1911 - d. 12 Dec 1976)

Blake, Bessie (b. 28 Feb 1925 - d. 7 Dec 1991)

Blake, Dora L. (b. 1881 - d. 1969)

Blake, Fietta Slater (b. 1868 - d. 1955)

Blake, Frank (b. 2 Mar 1886 - d. 13 Apr 1909)
son of W.T. and S.A. Blake

Blake, Frank Edd (b. 1946 - d. 1981)

Blake, Frank Luther (b. 9 Nov 1909 - d. 24 Apr 1985)

Blake, Frank Rufus (b. 15 Feb 1925 - d. 3 Oct 1967)

Blake, Gertrude (b. 23 Jul 1912 - d. 7 Dec 1934)

Blake, Johnny H. (b. 28 May 1918 - d. 18 Mar 1980)

Blake, Lonnie Lee (b. 12 Feb 1907 - d. 21 Jan 1971)

Blake, Mary Florence (b. - d. 30 Mar 19?3)
daughter of T.C./F.E. Blake

Blake, Robert Lee (b. 14 May 1920 - d. 11 Feb 1977)

Blake, Rufus (b. 15 Feb 1925 - d. 3 Oct 1967)

Blake, Thomas (b. - d. 24 Nov 1916)

Blake, Thomas Jr. (b. 9 May 1921 - d. 7 Jul 1979)

Blake, Tillie K. (b. 4 May 1886 - d. 28 May 1964)

Blake, Tom Senter (b. 1877 - d. 1936)

Blake, William T. (Tommie) (b. 14 Feb 1882 - d. 15 Mar 1924)

Brown, Bessie B. (b. - d. 27 Jan 1923)
age 63 Wife of W.R. Brown

Brown, W.R. (b. - d. 22 Dec 1925)

Butler, Middia Ann Goodin (b. 16 Sep 1848 - d. 24 Jun 1932)

Carlton, A. Fisher (b. 8 May 1863 - d. 24 Jan 1930)

Carlton, Archie (b. 31 Jan 1912 - d. 31 Mar 1918)
son of J.A. and D. Carlton

Carlton, Dora McGhee (b. 28 Mar 1889 - d. 2 Feb 1970)

Carlton, Henry Wesley (b. 22 Aug 1900 - d. 5 Oct 1949)

Carlton, Horace (b. 18 Apr 1918 - d. 6 Sep 1921)
son of J.A. and D. Carlton

Carlton, Horace Ray (b. 1 Nov 1942 - d. 22 Jul 1962)

Carlton, James Arthur (b. 27 Dec 1890 - d. 27 Aug 1965)

Carlton, Lula Maie Maynard (b. 21 Jan 1906 - d. 25 May 1993)
Wife of Henry Wesley Carlton

Carlton, Marcellus J. (b. 20 Sep 1871 - d. 3 Jun 1960)

Carpenter, C.A. (b. 4 Apr 1877 - d. 2 Feb 1928)

Carpenter, Infant (b. - d. 4 Jul 1914)
son of C.A. and M.L. Carpenter

Carpenter, Iva Smith (b. 12 Nov 1885 - d. 24 Dec 1933)

Carpenter, J. Floyd (b. 10 Mar 1882 - d. 27 Jun 1928)

Carpenter, Maggie Blake (b. 6 Feb 1884 - d. 4 Nov 1964)

Core, Moretta D. (b. 19 Jun 1904 - d. 28 Apr 1974)

Dampier, Betty E. (b. 10 Sep 1857 - d. 2 Nov 1951)

Dampier, E. Tilton (b. 24 Dec 1876 - d. 17 Aug 1946)

Dampier, Eliza Beth (b. - d. Mar 1920)

Dampier, Infantnt (b. - d. 26 May 1920)

Dampier, Latty (b. 9 Oct 1907 - d. 28 Sep 1980)

Dampier, Minnie Bell (b. 13 Jul 1880 - d. 22 Feb 1958)

Dampier, Silas (b. 1 Jan 1910 - d. 13 May 1977)

Dean, Joseph H. (b. 3 Mar 1915 - d. 15 Dec 1975)

Dean, Lillie (b. 25 Jul 1919 - d. 15 Jan 1995)

Denton, William Earl (b. 31 Jul 1914 - d. 6 Nov 1938)

Dillard, Agatha K. (b. 5 Oct 1914 - d. ????)

Dillard, Allie Vance (b. 6 Sep 1920 - d. 3 May 1981)

Dillard, Charlie C. (b. 25 Oct 1887 - d. 5 Jun 1924)

Dillard, Clyde Patrick (b. 13 May 1919 - d. 23 Apr 1995)

Dillard, Eddie A. (b. 26 Apr 1919 - d. 18 Jul 1966)
Pvt CO E 217 Inf Trng BN WW2

Dillard, Edith K. (b. 8 Aug 1962 - d. 23 Oct 1964)

Dillard, Elmer O. (b. 21 Oct 1913 - d. 2 Aug 1959)

Dillard, Geneva Byrum (b. 23 Mar 1876 - d. 23 Jan 193)

Dillard, H. Leo (b. 28 Apr 1935 - d. 30 Apr 1996)

Dillard, Henry Alfred (b. - d. Nov 1903)

Dillard, Infantnt (b. - d. )

Dillard, Infantnt (b. 7 May 1948 - d. 8 May 1948)
son of John L./Sadie C. Dillard

Dillard, Irene K. (b. 6 Oct 1911 - d. 25 Mar 1995)

Dillard, Jack W. (b. 20 Nov 1930 - d. 6 Nov 1963)
son of Mr./Mrs. W.B. Dillard

Dillard, John L. Sr. (b. 12 Dec 1922 - d. 23 Feb 1971)

Dillard, Julius (b. 1869 - d. 1947)

Dillard, Lillian Choplin (b. 16 May 1923 - d. ????)

Dillard, Lyda A. (b. 16 Aug 1901 - d. 18 Sep 1936)
daughter of J.P./Tina Cooper

Dillard, Mallie H. (b. 17 May 1907 - d. 19 Nov 1986)

Dillard, Melanie Frances (Fannie) (b. - d. May 1904)

Dillard, N.A. (b. 12 Nov 1867 - d. 26 Apr 1933)

Dillard, Newton V. (b. 1888 - d. 1946)

Dillard, Paulette (b. 1 Mar 1950 - d. 13 Dec 1950)

Dillard, Ruby King (b. 16 Sep 1908 - d. 16 Nov 1993)

Dillard, Sadie C. (b. 16 Dec 1926 - d. ?)

Dillard, Sallie M. (b. 1887 - d. 1973)

Dillard, Selira Carolyn (b. - d. 29 Jun 1954)
Infant daughter of Mr./Mrs. A.V. Dillard

Dillard, Selira Ray (b. 19 Jul 1922 - d. 23 Mar 1980)

Dillard, Vallie L. (b. 1889 - d. 1948)

Dillard, Velia King (b. 10 Apr 1893 - d. 27 Jan 1956)
Wife of Charlie C. Dillard

Dillard, Willie Belvin (b. 14 Jun 1905 - d. 18 Dec 1998)

Evans, Glenda R. (b. 4 Oct 1948 - d. 13 Jun 1984)

Fowler, Willie Mae (b. 16 Oct 1918 - d. 30 Jun 1984)

Garden, Daniel C. (b. 6 May 1886 - d. 21 Dec 1956)

Goodwin, Alice Elaine (b. 12 Jun 1917 - d. 24 Jun 1943)

Goodwin, Bertha Smith (b. 11 Aug 1891 - d. 30 Jan 1945)

Goodwin, Robert Carl (b. 27 Feb 1889 - d. 28 Oct 1971)

Goodwin, Ruth P. (b. 5 Mar 1914 - d. 22 Dec 1935)

Haley, Bessie Seymour (b. 10 Jun 1898 - d. 5 Jul 1980)

Haley, Thelma E. (b. 13 May 1903 - d. 19 Nov 1952)

Haley, Walter C. Sr. (b. 29 Dec 1893 - d. 26 Jan 1980)

Harrison, Audrey K. (b. 9 Feb 1916 - d. 25 Sep 1962)

Harrison, William B. (b. 13 Jan 1923 - d. 13 Feb 1970)

Johnson, Emmit (b. 11 Apr 1918 - d. 9 Aug 1944)

Johnson, Alvin (b. 13 Feb 1919 - d. 13 Aug 1989)

Johnson, Charles Alvin (b. 26 May 1947 - d. 30 Mar 1993)

Johnson, Elsie (b. 17 May 1907 - d. 25 Jul 1928)

Johnson, Infant (b. 26 Oct 1956 - d. 27 Oct 1956)
son of Mr.and Mrs. Alvin Johnson

Johnson, Lestia (b. 4 Jul 1894 - d. 13 Feb 1926)
Wife of Robert Lee Johnson

Johnson, Marianne G. (b. 12 Apr 1928 - d. 28 May 1995)

Johnson, Robert Lee (b. 6 Jan 1894 - d. 5 Apr 1948)

Jones, Eugene (b. 1867 - d. 1933)

Jones, Lila S. (b. 1 Aug 1894 - d. 12 Jun 1990)

Jones, Rebecca K. (b. 1865 - d. 1951)

Jones, Van D. (b. 5 Dec 1916 - d. 2 Aug 1963)
NC Pvt Co B 101 Inf WW2 PH

Kelbaugh, Daniel T. (b. 6 Sep 1871 - d. 27 May 1951)

Kelbaugh, Eliza J. (b. 12 Apr 1878 - d. 3 Mar 1942)

Kilbaugh, Infant (b. - d. 13 Apr 1943)
son of Ernest and Norma Kilbaugh

Kilbaugh, Infant (b. - d. 5 May 1942)
son of Ernest and Norma Kilbaugh

Kilbaugh, Terry C. (b. 1960 - d. 1987)

King, Aquilla K. (b. - d. 25 May 1925)

King, Archie C. Sr. (b. 4 Sep 1913 - d. 28 Jul 1988)

King, Basil Oliver (b. 26 Mar 1921 - d. 2 Jun 1923)

King, Bertha B. (b. 6 Nov 1888 - d. 10 Jan 1929)

King, Bervia F. Blake (b. 24 Dec 1921 - d. 19 Aug 1978)

King, Charlie (b. - d. )
cannot read dates, Husband

King, Clarence L. (b. 17 Nov 1925 - d. 14 Aug 2002)

King, Cornelia B. (b. 31 Aug 1876 - d. 8 Oct 1970)

King, Delanie (b. 5 Oct 1858 - d. 19 Jun 1928)

King, Dillie (b. 20 May 1906 - d. 23 Mar 1984)

King, Dorothy Ray (b. 21 Oct 1925 - d. 29 Jun 2001)

King, Ella L. (b. 27 Aug 1900 - d. 15 Sep 1987)

King, Flossie Haley (b. 24 Jul 1890 - d. 20 Sep 1967)

King, Gearldine S. (b. 11 May 1928 - d. 9 Mar 1954)

King, George Fenton (b. 4 Mar 1886 - d. 10 Jul 1949)

King, George Herbert (b. 27 Jan 1897 - d. 24 Mar 1944)

King, H. Robbie (b. 6 Mar 1895 - d. 4 Apr 1955)

King, Harley Lee (b. 26 Jul 1912 - d. 11 Jun 1962)

King, Ida Bell (b. 1 Jun 1873 - d. 29 Mar 1961)

King, Infantnt (b. - d. 20 Aug 1937)
child of Archie/Kathleen King

King, Infantnt (b. - d. 1936)

King, Infantnt (b. - d. 10 May 1935)
child of Archie/Kathleen King

King, Iola (b. 8 Feb 1893 - d. 17 Jun 1969)

King, Jack Hinton Jr. (b. 5 Feb 1917 - d. 26 Jul 1945)

King, James A. (b. 2 Jul 1920 - d. 8 Oct 1974)

King, James Allen (b. 24 Apr 1924 - d. 17 Nov 1992)

King, James T. (b. 27 May 1917 - d. 20 Jan 2001)

King, John W. (b. 29 Jan 1884 - d. 7 Mar 1948)

King, John Wesley (b. 9 May 1899 - d. 17 Feb 1977)

King, Kathleen (b. 20 Dec 1910 - d. 5 May 1990)

King, Lecter F. (b. 18 Mar 1904 - d. 5 Feb 1975)

King, Lillian Edith (b. 13 Sep 1915 - d. 22 Nov 1922)
daughter of J.H./L.F. King

King, Lim (b. 15 Jun 1891 - d. 7 Sep 1964)

King, Linda L. (b. 9 Dec 1920 - d. 21 Apr 1984)

King, Lola Slater (b. 28 Apr 1897 - d. 10 Jun 1986)

King, Lonnie B. (b. 1 Sep 1879 - d. 30 Dec 1942)

King, Maggie (b. 22 Jun 1890 - d. 5 Feb 1965)

King, Margaret (b. - d. )

King, Margaret R. (b. 29 Apr 1917 - d. 4 Feb 1978)

King, Minnie Butler (b. 8 Jun 1887 - d. 31 Mar 193)

King, Minnie S. (b. 20 Aug 1902 - d. 23 Jun 1988)

King, Pearl S. (b. 16 Aug 1881 - d. 10 Dec 1971)

King, Quinnettie E. (b. 12 Mar 1894 - d. 23 Nov 1962)

King, Rufus (b. 27 Feb 1853 - d. 8 Nov 1923)

King, Rufus A. (b. 26 Jul 1915 - d. 4 Jun 1963)
NC Tec4 3145 Ordnance MAM Co WW2

King, Sallie Slater (b. 4 Feb 1904 - d. 13 Feb 1978)

King, Swanny (b. 25 Mar 1926 - d. 27 Mar 1926)

King, W. Mallie (b. 12 Sep 1885 - d. 11 Apr 1951)

King, Walter F. (b. 14 Jan 1873 - d. 13 Oct 1921)

King, Wiley R. (b. 17 Oct 1879 - d. 1 Feb 1964)

King, Wiley W. (b. 19 Apr 1903 - d. 6 Aug 1972)

King, William Haywood (b. 22 Jul 1921 - d. 30 Nov 1923)

King, Willis M. (b. 16 Jan 1922 - d. 8 Nov 1956)
NC Tec5 Btry B6 Fld Arty BN WW2 BSM-PH

Langdon, Durwood James (b. 11 Aug 1916 - d. 26 Jun 1996)

Langdon, Terry (b. 1978 - d. 1978)

Lasater, Virginia Blake (b. 28 Dec 1922 - d. 22 Apr 1969)

Leary, Ervin R. (b. 21 Mar 1903 - d. 7 Oct 1973)

Leary, Harvey L. (b. 11 Dec 1926 - d. 5 Jun 1987)

Leary, Truletta D. (b. 22 Sep 1900 - d. 8 Apr 1988)

McGee, Lorena King (b. 24 Dec 1914 - d. 27 Jul 1992)

McGee, Thomas Manly (b. 15 Aug 1910 - d. 1 Dec 1994)

McGhee, Bettie (b. 6 Aug 1884 - d. 21 May 1964)
daughter of Obadiah/Rebecca McGhee

McGhee, Billie Wayne (b. 15 Sep 1947 - d. 8 Apr 1967)
son of Mr./Mrs. E.D. McGhee

McGhee, Brenda Ann (b. 1942 - d. 1983)

McGhee, Edward Doy (b. 18 Dec 1917 - d. 12 Dec 1987)

McGhee, Ella King (b. 16 Oct 1922 - d. 29 Dec 200)

McGhee, Grover Cleveland (b. 26 Nov 1892 - d. 18 Feb 1933)
Son of Charles Manly McGhee and Cornelia Frances King McGhee

McGhee, Leah Smith (b. 7 Sep 1893 - d. 18 Jan 197)

McGhee, Millard Sion (b. 22 Jun 1915 - d. 20 Mar 1986)

McGhee, Obadiah (b. 9 Feb 1840 - d. 24 Apr 1918)

McGhee, Rebecca (b. 13 Jan 1845 - d. 30 Aug 1920)

Pope, William Thomas (b. - d. )

Slater, Annie L. Blake (b. 12 Dec 1895 - d. 19 Apr 1911)

Slater, Cleo Bell (b. 1 Feb 1927 - d. 22 Feb 1942)

Slater, Edith Rose (b. 17 Nov 1935 - d. 22 Feb 1942)

Slater, Rufus L. (b. 5 Jan 1891 - d. 15 Jun 1957)
NC Pvt 54 Machine Gun Bn WW1

Smith, Alvah V. (b. 16 Jun 1919 - d. 28 Sep 1934)

Smith, Carolyn Fay (b. 31 Dec 1951 - d. 28 Jan 1953)
daughter of Irene/Commie Smith

Smith, Early (b. 3 May 1914 - d. 17 Aug 1914)

Smith, Elbert (b. 28 Apr 1881 - d. 28 Apr 1921)

Smith, Lonnie B. (b. 14 Mar 1886 - d. 1 Apr 1967)

Smith, Lydia K. (b. 6 Oct 1888 - d. 20 Sep 1958)

Smith, Mary E. (b. 1859 - d. 1932)

Smith, Richard H. (b. 1859 - d. 1949)

Smith, Swannie (b. 15 Jul 1917 - d. 15 Oct 1917)

Sorrell, Clifton Forrest (b. 12 Aug 1910 - d. 25 Apr 1975)

Sorrell, Marie Joslin (b. 18 Aug 1938 - d. 2 Jul 1939)
daughter of C.F. and Verena Sorrell

Sorrell, Verena King (b. 19 Dec 1911 - d. ?)

Spikes, Clyde F. (b. 28 Sep 1911 - d. 29 Aug 1913)

Thompson, C.R. (b. 6 Feb 1864 - d. 6 Nov 1921)

Thompson, Florence D. Branton (b. 18 Nov 1870 - d. 22 Jan 1931)

Turner, Thomas Guy (b. 11 Dec 1909 - d. 12 Oct 1960)

Turner, Veva Lee (b. 8 Mar 1941 - d. 2 Jul 1941)

Tyndall, Alfred L. (b. 6 Jul 1911 - d. 15 Apr 1946)

Wright, Infant (b. - d. 13 Apr 1965)
son of Mr./Mrs. D.D. Wright
Web page updated 28 July 2016
Index of All Cemeteries
Alphabetical Index of All Burials
Previous Page