Index of All Cemeteries
Alphabetical Index of All Burials
Previous Page
Use the following to search across all the cemeteries listed.
Example: "Smith, Roger" (yes, use the quotes)
037 CARLTON FAMILY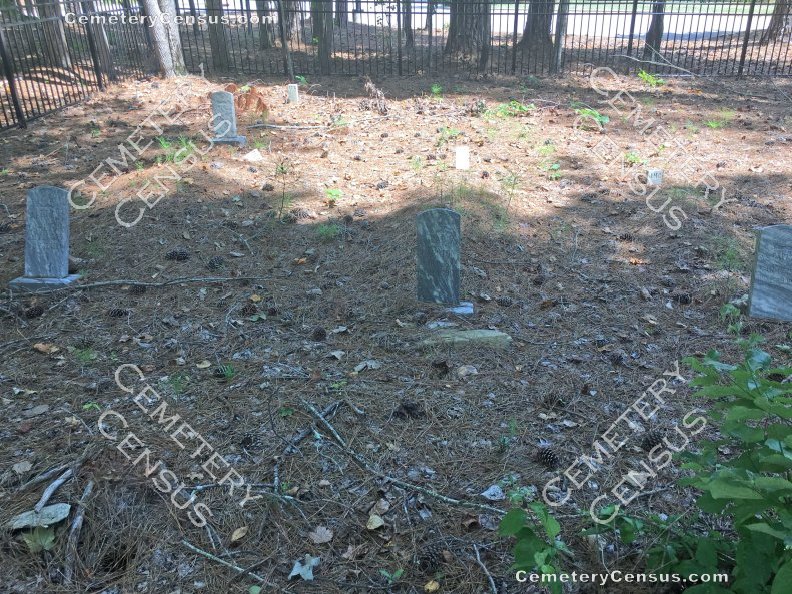 Location - in a densely wooded area near Country Trail, Leesville Twp., Wake Co., NC

Coordinates: 35d 53m 09.2s N; 78d 42m 51.0s W Click here for Google maps

Surveyed by Shirley Olson in March 3, 2006. Photos by Morgan Kunkel in August 2016.

View of the old chimney foundation.

This small family cemetery was found by Earl Flannery while using a metal detector. He recognized it as the proper location for a headstone that had been left on his driveway in April 2004 by a prankster. He also realized that another headstone which had been dropped off at Wendy's Restaurant in Cary about the same time and had been the subject of a widespread attempt to return it to it's rightful location belonged in this cemetery. Thanks to Mr. Flannery and the Cary Police Dept. which has been storing the headstone for 2 years there is a happy ending to this tale.

No directions are provided other than the co-ordinates. The cemetery is on land owned by the city of Raleigh, it is an abandoned cemetery, no parking, difficult access, no trail.

There is a depression that appears to be another, but unmarked, grave.


Carlton, A. E. (b. 8 May 1863 - d. 4 Jan 1930)
Carlton, Elizabeth (b. 11 Jan 1829 - d. 1 Jan 1904)
with footstone E.C. (This is the headstone found in Cary at Wendy's)

Carlton, J. M. (b. 17 Mar 1853 - d. 19 Jun 1925)
with footstone J. M. C. (This headstone left on Mr. Flannery's driveway)

Carlton, Mattie E. (b. 15 Jul 1873 - d. 17 Nov 1891)
Web page updated 13 September 2016
Index of All Cemeteries
Alphabetical Index of All Burials
Previous Page