Index of All Cemeteries
Alphabetical Index of All Burials
Previous Page
Use the following to search across all the cemeteries listed.
Example: "Smith, Roger" (yes, use the quotes)
029 BRITT FAMILY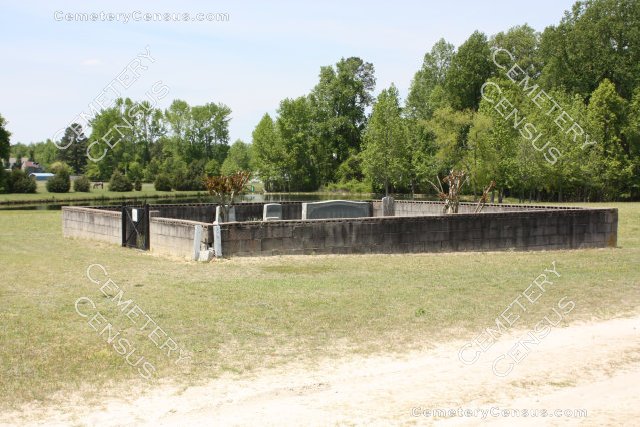 Location - near 10317 Ten Ten Road, Garner, Wake County, NC

Coordinates: 35d 38m 24.8s N; 78d 37m 57.5s W Click here for Google maps

Directions: From Hwy. 440-40 (Raleigh Beltline) on the south side of Raleigh, take Exit # 298, South Saunders St., (Hwys. 70, 401, and 50), to the split at Tryon. Bear right onto Hwy. 401 (Fayetteville Rd.) Go about 5 miles to the traffic light at Ten-Ten Road and turn left (east). Stay on 1010 Rd. about 3 miles, and on the left side of the road, next to 10317 Ten-Ten Road, there is an old white abandoned farm house and then some old farm buildings just beyond that. A dirt road runs past the buildings to a walled cemetery.

View #2 of the cemetery. View #3 of the cemetery.

This tidy little cemetery is well cared for and all the headstones are in good condition.
Surveyed by Shirley Olson in May 2002. Photographs by Tammy Hughes in March 2013.


Britt, Ashley T. (b. 12 Dec 1929 - d. 13 Nov 1985)
Britt, Edieth R. (b. May 1835 - d. Apr 1910)
Britt, Joseph B. (b. 26 Oct 1872 - d. 22 Mar 1952)
Husband of 1) Rosa L. Britt and 2) Pennie L. Barbour Britt

Britt, L. H. "Peggy" Jordan (b. 14 Oct 1901 - d. 4 Apr 1944)
Wife of Troy Fabius Britt, Sr.

Britt, M. A. (b. 10 Mar 1901 - d. 24 Nov 1935)

Britt, Pennie L. Barbour (b. 21 Apr 1879 - d. 31 Jan 1965)
2nd Wife of Joseph B. Britt

Britt, Rosa L. (b. 16 Jul 1870 - d. 25 Oct 1912)
1st Wife of Joseph B. Britt

Britt, Troy Fabius, Jr. (b. 1 Oct 1938 - d. 25 Feb 1982)
Son of Troy Fabius Britt and L.H. Jordan Britt

Britt, Troy Fabius, Sr. (b. 6 Nov 1897 - d. 28 Jan 1975)
Husband of L.H. "Peggy" Jordan Britt

Sauls, Rosa Maline (b. 11 Dec 1916 - d. 11 Dec 1916)
daughter of Herbert and Clyde Sauls

Stephenson, Luella Etta Britt (b. 7 Nov 1869 - d. 17 Apr 1904)
Web page updated 28 July 2016
Index of All Cemeteries
Alphabetical Index of All Burials
Previous Page