Index of All Cemeteries
Alphabetical Index of All Burials
Previous Page
Use the following to search across all the cemeteries listed.
Example: "Smith, Roger" (yes, use the quotes)
003 MATTHEWS FAMILY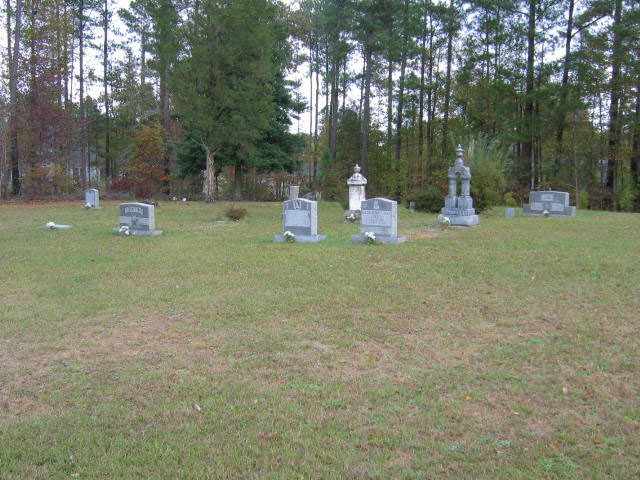 Location - in Cary, NC at junction of Ten-Ten Road and Penny Road. From US Highway 1 in Cary take Ten-Ten Road (SR 1010) toward the east. Go about 1/2 mile east on Ten-Ten. At the place where Penny Road (SR 1379) forks off to the left, the cemetery is immediately on the left or north side. You need to park at the service station across the road, since there is no place to park at the cemetery.

Coordinates: 35d 42m 57.0s N; 78d 48m 37.0s W Click here for Google maps

This cemetery was visited and photographed in November 2004 by Kip Boisot. There are many unmarked graves (some have a small white stone) and about 15 graves with markers.

Shirley Olson notes: No gate, many large oaks. All the monuments and all but one inscriptions face West. Some large and imposing, some very small. Years ranging from the mid 1800's to the 1990's. All are granite, except one cement casket-like marker which has the headstone reversed, that is, the inscription is on the East side instead of facing West as all the others do. None appear to have sunk.


Flippin, Joyce Beverly (b. 1943 - d. 1985)
Spouse - Minnie L. Judd. Married 8 Apr 1953. Footstone
Spouse - Garland Judd. Married 8 Apr 1953
Spouse - Mildred Matthews Lyles. 'At Rest'
Spouse - James E. Lyles, Sr. 'Mama, I will love you forever. Save a seat for me. James, Jr.'
Spouse - Laddie Smith. 'Precious Memories'
Spouse - Everette Hood Smith. 'Precious Memories'
Web page updated 28 July 2016
Index of All Cemeteries
Alphabetical Index of All Burials
Previous Page