Index of All Cemeteries
Alphabetical Index of All Burials
Previous Page
Use the following to search across all the cemeteries listed.
Example: "Smith, Roger" (yes, use the quotes)
015 KITTRELL CONFEDERATE CEMETERY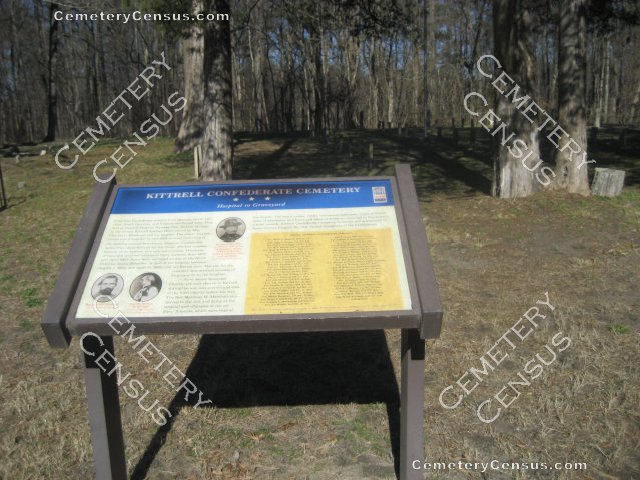 Location - on W. Chavis Rd between N. Williams St and Cemetery St, Kittrell.

Coordinates: 36d 13m 33.0s N; 78d 26m 24.7s W Click here for Google maps

Directions: Take US 1 Bypass to Kittrell. Turn East on Main Street and go 0.5 mile to N. Chavis Rd. Turn left go 0.25 mile and turn onto W. Chavis Rd. Go past a local church cemetery, go around curve and cemetery is on right between N. Williams Street and Cemetery Street.

The former Kittrell Springs Hotel was converted into a hospital in mid 1864 and this was the cemetery for those who died there until April 15, 1865. The cemetery is owned and maintained by the Vance County Chapter 142, United Daughters of the Confederacy. This census prepared by Asheville Chapter 104, United Daughters of the Confederacy. Sources for names, dates and causes of death are "Confederate Veteran" Vol. 9 Page 136 and "North Carolina Troops 1861-1865 a Roster".

Survey submitted by Jim Gill in January 2013. All photos by Jim Gill in 2013.


Bagnall, Walter G. (b. - d. 10 Oct 1864)
Pvt. 13th Virginia Calvary Co. K
Pvt. 5th South Carolina Calvary Co. I
Pvt. 1st North Carolina Calvary Co. F
Pvt. 2nd North Carolina Junior Reserves Co. B -- Typhoid
Pvt. 26th South Carolina Infantry Co. A
35th Virginia Calvary Co. A -- Milford, Virginia
Pvt. 25th North Carolina Infantry Co. D - Spinal Meningitis
Pvt. 2nd North Carolina Junior Reserve Co. B -- Pneumonia
Pvt. 24th North Carolina Infantry Co. A -- Wounded Petersburg, Virginia
Sgt. 11th Virginia Infantry Co. G
Pvt. 1st North Carolina Calvary Co. B (McRae's Battalion)
Pvt. 5th North Carolina Calvary Co. K -- Typhoid
Pvt. 68th North Carolina Troops Co. D - Pneumonia
Pvt. 1st North Carolina Calvary Co. I
Pvt. Anderson's North Carolina Reserves Co. G
Pvt. 6th North Carolina Calvary Co. G -- from South Carolina
Pvt. 2nd North Carolina Junior Reserves Co. F --Rubeola and pneumonia
Pvt. 2nd North Carolina Junior Reserves Co. F -- Pneumonia
Pvt. 56th North Carolina Infantry Co. I - Typhoid
Pvt. 3rd South Carolina Calvary Co. A
Pvt. 1st North Carolina Junior Reserves Co. H
Pvt. 2nd North Carolina Junior Reserves Co. D -- apoplexy
Pvt. 1st North Carolina Junior Reserves Co. A -- Typhoid
Pvt. 1st North Carolina Junior Reserves Co. C
Pvt. 3rd North Carolina Calvary Co. H
Pvt. 2nd North Carolina Junior Reserves Co. E -- Rubeola and pneumonia
Pvt. 68th North Carolina Troops Co. F - Typhoid
Pvt. 1st North Carolina Calvary Co. I
Pvt. 7th Georgia Calvary Co. K
Pvt. 6th South Carolina Calvary Co. K
Sgt. 4th South Carolina Calvary Co. H
Pvt. 11th South Carolina Infantry Co. G
Pvt. 3rd North Carolina Junior Reserves Co. C
Pvt. 1st North Carolina Calvary Co. F
Pvt. 5th North Carolina Calvary Co. D -- fever- 63rd NC Troops
Pvt. Hare's Light Duty Men Co. B
Pvt. 51st North Carolina Infantry Co. G
Pvt. Hart's South Carolina Battery
Pvt. 2nd North Carolina Junior Reserves Co. F -- Pneumonia
3rd Lt. 2nd North Carolina Junior Reserves Co. F -- Inflammation of brain and spine; Baxter R. per Union County record
Pvt. 2nd North Carolina Junior Reserves Co. C -- Rubeola
Pvt. 67th North Carolina Troops Co. I -- Dropsy of heart and measles
Pvt. 56th North Carolina Infantry Co. I
Pvt. 68th North Carolina Troops Co. D
Pvt. 10th Virginia Calvary Co. B Davie County, NC
Pvt. 1st North Carolina Junior Reserves Co. I
Pvt. 27th South Carolina Infantry Co. C
Pvt. 10th North Carolina Heavy Artillery Co. B
Sgt. 2nd North Carolina Calvary Co. F
Web page updated 15 July 2017
Index of All Cemeteries
Alphabetical Index of All Burials
Previous Page