Index of All Cemeteries
Alphabetical Index of All Burials
Previous Page
Use the following to search across all the cemeteries listed.
Example: "Smith, Roger" (yes, use the quotes)
011 WOODLIEF, JOHN FAMILY (Kittrell)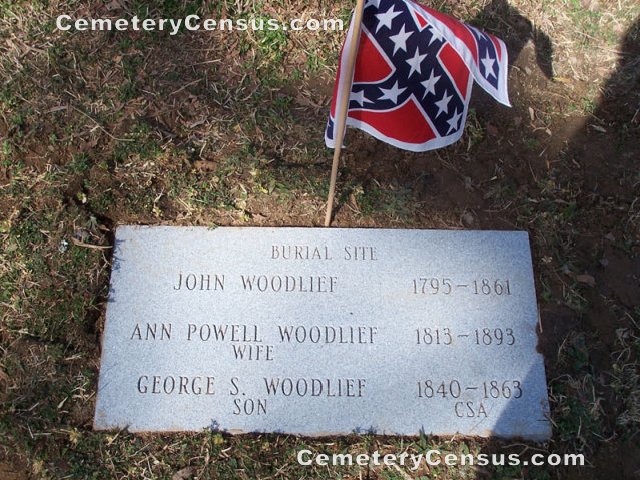 Location - about 0.1 mile east of Kittrell off of E. Main St on the north side.

Coordinates: 36d 13m 19.4s N; 78d 25m 48.6s W Click here for Google maps

Survey submitted by John Nash in September 2010. Photos by John Nash.

View of the old original cemetery at the old homeplace.

At some point after the WPA Historical Records Survey of this cemetery, the John Woodlief, Jr. (my 3rd great grandfather) property was sold and the Woodlief family was no longer under the control of the property where this cemetery is located. At present it is not known how many times the property changed hands but one of the property owners destroyed the cemetery by removing the grave markers and the posts and chain that enclosed it.

As can be seen in the black and white photo, the cemetery was just off the front porch of the John Woodlief, Jr. home. Now there are three brick houses on the property with the largest house actually being the home of John Woodlief, Jr. which has a brick shell added around it making it unrecognizable as to what it used to be.

I met the great grandchildren of John's several years ago who are my 2nd cousins 2 times removed. They are Mildred Smith and her brother Warren Woodlief Smith, Sr. When I was visiting Mildred one day we got to talking about the cemetery and she produced the black and white photograph of the cemetery. She informed me at that time that someone had removed all traces of the cemetery. Well, that made me sick and I started talking with her and Warren about trying to reclaim the cemetery and putting a marker in it. Mildred said that it had been on their minds for a long time. After a few years of trying to decide how to deal with it, Warren approached the current property owner with our wishes. He showed the property owner the WPA information and the photo of the cemetery and told how as a child he and his siblings would walk back and forth from their house (where the Benjamin Thaddeus Woodlief cemetery is located) to John's house and visit the cemetery. Luckily the property owner was receptive and allowed us to examine the property. We used the photo to establish the area where the cemetery should be and I used a ground probe to probe the area. We identified two definite graves and a very strong possibility of a third. The property owner granted us permission to place a new common marker on the spot and we did so on March 8, 2009. I am so glad that this was done before Warren passed away on March 13, 2010.

John Nash


Woodlief, Ann Powell (b. 1813 - d. 24 May 1893)
Wife of John Woodlief. Daughter of Edmund "Edwin" Powell and Elisabeth "Eliza" York.

Woodlief, George S. (Pvt.) (b. 12 Mar 1840 - d. 21 Nov 1863)
Son of John Woodlief and Ann Powell Woodlief. George resided in Granville County. He enlisted in Company K (Franklin Guides to Freedom), 44th North Carolina Infantry C.S.A. in Franklin County at the age of 22 on September 3, 1862. He was reported absent sick in January-February 1863 and November-December 1863. Company records for January-February 1864 indicate that he was dead.

FACT: He took a train back to his home in Kittrell, North Carolina and barely made the walk from the train station to his family's home. He died within a few days.

Woodlief, John, Jr. (b. 1795 - d. 18 Jan 1861)
Husband of Ann Powell Woodlief. Son of John Woodlief, Sr. and Mollie Cooper. His children are: William Hilliard Woodlief (1835 - 1908), James E. Woodlief (1838 - 1863), George S. Woodlief (1840 - 1863), Benjamin Thaddeus Woodlief (1842 - 1928), Ann Eliza Jane Woodlief Breedlove (1844 - 1929), John Henry Woodlief (1851 - 1914), Mary Frances Woodlief Goodson (1854 - 1932).
Web page updated 15 July 2017
Index of All Cemeteries
Alphabetical Index of All Burials
Previous Page