Index of All Cemeteries
Alphabetical Index of All Burials
Previous Page
Use the following to search across all the cemeteries listed.
Example: "Smith, Roger" (yes, use the quotes)
008 ST. JOHN'S EPISCOPAL CHURCH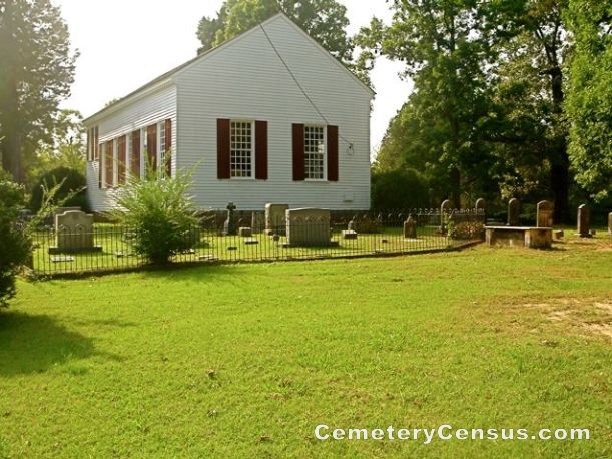 Location - in Williamsboro on Thomas Rd (SR-1329) just west of NC Hwy 39.

Coordinates: 36d 25m 46.6s N; 78d 26m 02.6s W Click here for Google maps

This complete survey created from the pictures.

Another view of the cemetery. View of the church.

Pictures provided by Richard Taylor in October 2008.


Anderson, Robert (b. 4 Aug 1802 - d. 15 Apr 1842)
son of William and Mary Anderson. Born in Kilmarnoch, Scotland. Emigrated to the United States in 1822. Aged 39 years.
A native of Scotland and formerly a Merchant in Warrenton of this state where he died October 2nd 1832 aged 40 years 4 months and 10 days.
wife of Walter Bullock Boyd
husband of Madie Newsome Boyd
wife of Edward E. Britton
child of R.A. and B.B. Bullock
son of John H. and Mary H. Bullock
husband of Mary H. Burns Bullock. "A fond husband, a kind father, a friend to the poor and to all a just and upright man."
daughter of John H. and Mary H. Bullock
wife of John H. Bullock. "A devoted wife and most affectionate mother. She sleeps in Jesus."
"The Lord is my shepherd"
wife of George Burns. Aged 33.
A native of Scotland, born in the town of Hamilton. Died at Linbank N.C. Aged 55 years.
husband of Natalie Boyd Carrington. Masonic emblem.
wife of Carlyle Christopher Carrington
wife of Thomas Holleman Carroll
husband of Lily Thomas Carroll
In the 21 year of her age.
(stone broken into many fragments)
"In memory of" (on same stone with 8 others)
son of W. T. and Virginia W. Hardy
husband of Virginia W. Hardy. "Father". C.S.A. Bell's Batallion
wife of James Richard Boyd, Jr.
husband of Frances Boyd Harper
infant daughter of R.J. and N.F. Hicks. Born in Frdsb. Va.
"In memory of" (on same stone with 8 others)
wife of Rev. Gilbert Ottman
In the 65th years of her age.
daughter of Henry H. and Maria Prout
wife of John S. Ravenscroft. Daughter of William Buford.
wife of Thomas Satterwhite
husband of Anne Keeling Satterwhite. S.A.R. emblem "A Revolutionary Soldier". By Fred B. Satterwhite in March 2005.
"In loving memory by her husbands children."
daughter of Edward and Lucy Tarry
wife of James Hope Thomas
husband of Adlena Taylor Thomas
husband of Annie B. Bullock Thomas
"His life was one of kind deeds."
daughter of John T. and Annie Bullock Thomas
daughter of John T. and A. B. Thomas
"In memory of" (on same stone with 8 others)
"In memory of" (on same stone with 8 others)
"In memory of" (on same stone with 8 others)
"In memory of" (on same stone with 8 others)
"In memory of" (on same stone with 8 others)
"In memory of" (on same stone with 8 others)
"In memory of" (on same stone with 8 others)
wife of Hamilton Harris Woltz
son of Hamilton Harris and Bertha Wilson Woltz
daughter of John Richard and Elizabeth Thomas Wortham
wife of John Richard Wortham
husband of Elizabeth Thomas Wortham
Web page updated 15 July 2017
Index of All Cemeteries
Alphabetical Index of All Burials
Previous Page