Index of All Cemeteries
Alphabetical Index of All Burials
Previous Page
Use the following to search across all the cemeteries listed.
Example: "Smith, Roger" (yes, use the quotes)
456 VAUGHN / SMITH FAMILY CEMETERY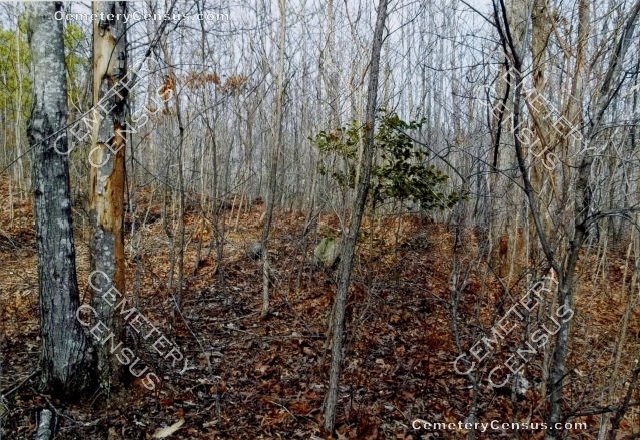 Location - on the north side of Old Lowgap Rd, a couple of miles east of Hwy 89, W. Pine St.

Coordinates: 36d 32m 08.3s N; 80d 49m 13.0s W Click here for Google maps

Directions - from Mt. Airy take Hwy 89 W. Pine St. several miles to Old Lowgap Rd. Take Old Lowgap Rd east a couple of miles to just before Cabin Trail and Sutphin Trail. The cemetery is on the north side of the road and up a trail to the top of a hill on private property.

View #2 of the cemetery. View #3 of the cemetery. View #4 of the cemetery. View #5 of the cemetery.

Surveyed by Teresa Smith, Surry County, NC on 10 Feb 2013.
Township or district: Franklin
Public or Private: Private property
GPS Accuracy (ft.): 9
Elevation above sea level (ft.): 1492
Status of Cemetery: Unknown
Surry County Parcel Number: 4061-00-58-1571

This is a 30 X 60 foot cemetery - at least 12 graves - just one headstone with the name and date of death. At one time this was Smith property.

Survey and photographs by Teresa Smith in February 2013.


Vaughn, Archalaus M. (b. 30 Jun 1843 - d. 9 Nov 1905)
Aged 62 yrs 4 mos 9 days. Sleep father dear, Take thy rest, God called thee home, He thought it best. Burial plot with marker to the left.

Vaughn, Elizabeth Smith (b. 20 Jun 1829 - d. 24 May 1921)
Wife of Archalaus M. Vaughn. Married 10 Mar 1856 in Surry Co. Daughter of Catlett Smith and Susannah Hodges Smith. (no marker, but death certificate indicates buried here)
Web page updated 14 July 2016
Index of All Cemeteries
Alphabetical Index of All Burials
Previous Page