Index of All Cemeteries
Alphabetical Index of All Burials
Previous Page
Use the following to search across all the cemeteries listed.
Example: "Smith, Roger" (yes, use the quotes)
438 ASHBURN, WILLIAM A. FAMILY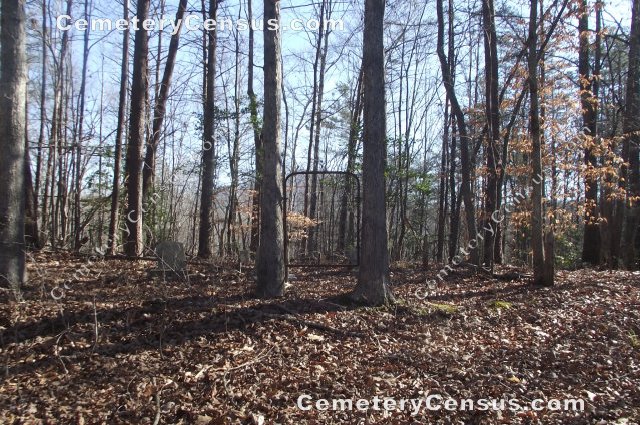 Location - off Jim McKinney Rd, Shoals, Surry County.

Coordinates: 36d 21m 10.3s N; 80d 30m 45.0s W Click here for Google maps

Directions: From intersection of US Hwy 52 and NC Hwy 268 in Pilot Mtn, go west on NC Hwy 268 for 1.5 miles and turn left on Burge Rd. Follow Burge Rd (it turns into Jim McKinney Rd after passing Shinault Rd on the right) for 1.1 miles and park on the side of the road at the Carey Denny cemetery on the right. Facing the cemetery from the road, go into the woods at the right corner and follow the remnants of an old tobacco road for about 0.5 - 0.75 mile, always staying to the left side if the road appears to break or fork. The old tobacco road will go down hill for most of the journey and then back up hill for about 0.25 mile and the cemetery will be on the left overlooking a large ravine on the right.

Surveyed and photographed by Cindy Munson, Lizzie Munson, and Bob Carter on December 30, 2011.

Another view of the cemetery.

A Civil War Military marker was placed for William A. Ashburn within the last several years since it was not there 15-20 years ago according to Cindy Munson.


Ashburn, Elizabeth (b. 2 Jun 1874 - d. 25 Feb 1890)
Daughter of William A. Ashburn and Mary Jane Flinchum

Ashburn, Mary Jane Flinchum (b. 23 Dec 1835 - d. 24 May 1919)
Wife of William A. Ashburn - Daughter of Martin and Martha Flinchum

Ashburn, William A. (b. 6 Feb 1832 - d. 30 Apr 1904)
Husband of Mary Jane Flinchum, m. 17 Dec 1857 in Surry - Son of John Ashburn and Levicie Whitaker - Military Marker.
Web page updated 14 July 2016
Index of All Cemeteries
Alphabetical Index of All Burials
Previous Page