Index of All Cemeteries
Alphabetical Index of All Burials
Previous Page
Use the following to search across all the cemeteries listed.
Example: "Smith, Roger" (yes, use the quotes)
431 ATKINS - O'NEAL FAMILY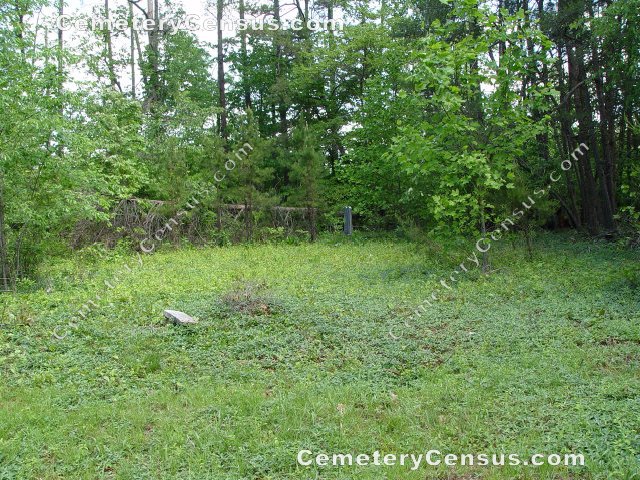 Location - off Romie Snow Road in the Level Cross Community.

Coordinates: 36d 19m 49.7s N; 80d 37m 45.5s W Click here for Google maps

Directions: From the intersection of U. S. 601 and NC 268 (Fairview), go east on NC 268 for 5.2 miles to Siloam Road, turn right or south on Siloam Road for 1 mile to Romie Snow Road. Turn on Romie Snow Road for .5 mile to a drive and open area on the right side of the road. Turn into this drive and stop at the posts. The cemetery is located about 75 yards north of the posts at the end of the open area and next to the woods.

View #2 of cemetery. View #3 of cemetery.

Photographed and surveyed by Diane and Gail Norman and Jack Luffman on 4 May 2011.

Township or District: Rockford
Public or Private: Private
GPS Accuracy (ft): 15
Elevation above sea level (ft): 1153
Status of Cemetery: Abandoned.

This is an old cemetery as is evidenced by the number of field stones to mark graves.


Atkins, Lillie B. (b. 1899 - d. 1901)
Daughter of Samuel Walter Atkins and Nannie B. Carter

Atkins, Nannie B. Carter (b. 1877 - d. aft 1910)
Wife of Samuel Walter Atkins (death date not listed, but was after 1910)

Atkins, Ruby Ozell (b. 12 Dec 1915 - d. 22 Jan 1948)
Daughter of Arthur Ball Atkins and Daisy Ethel Marion

Atkins, Samuel Walter (b. 1875 - d. 1925)
Husband of Nannie B. Carter and son of Alfred Atkins and Salena Jane Fowler

Atkins, Warren T. (b. 13 Apr 1911 - d. 23 Oct 1912)

Hill, Luther Odell (b. 4 Feb 1918 - d. 23 Oct 1918)
Son of Charles H. Hill and Minnie M. Atkins

McKinney, Willie Franklin (b. 6 May 1899 - d. 22 Oct 1973)
Husband of Margaret Elizabeth Hardy Whitaker (m. 4 Feb 1940 in Carroll County, VA) and son of James Shadrack McKinney and Rebecca Ann O'Neal

O'Neal, Infant (b. 14 Dec 1906 - d. 14 Dec 1906)
Child of Lloyd Lafayette O'Neal Sr and Nancy Elizabeth Doss

O'Neal, Infant (b. 15 Jul 1908 - d. 15 Jul 1908)
Child of Lloyd Lafayette O'Neal Sr and Nancy Elizabeth Doss

O'Neal, Nancy Elizabeth Doss (b. 17 Sep 1882 - d. 14 Mar 1917)
1st Wife of Lloyd Lafayette O'Neal Sr (m. 9 Dec 1906 in Surry County) and daughter of John Henry Doss and Lydia M. Brinkley

O'Neal, Nolly (b. 21 Dec 1909 - d. Dec 1910)
Daughter of Lloyd Lafayette O'Neal Sr and Nancy Elizabeth Doss

Unknown, ?? (b. - d. )

Unknown, ?? (b. - d. )

Unknown, ?? (b. - d. )

Unknown, ?? (b. - d. )

Unknown, ?? (b. - d. )

Unknown, ?? (b. - d. )

Unknown, ?? (b. - d. )

Unknown, ?? (b. - d. )

Unknown, ?? (b. - d. )

Unknown, ?? (b. - d. )

Unknown, ?? (b. - d. )

Unknown, ?? (b. - d. )

Unknown, ?? (b. - d. )

Unknown, ?? (b. - d. )

Unknown, ?? (b. - d. )

Unknown, ?? (b. - d. )

Unknown, Callie (b. 15 May 1906 - d. 10 Aug 1912)

Unknown, Mary Lee (b. 6 Apr 1904 - d. 25 Jul 1906)
Web page updated 14 July 2016
Index of All Cemeteries
Alphabetical Index of All Burials
Previous Page