Index of All Cemeteries
Alphabetical Index of All Burials
Previous Page
Use the following to search across all the cemeteries listed.
Example: "Smith, Roger" (yes, use the quotes)
421 EDWARDS - FRANKLIN SLAVE CEMETERY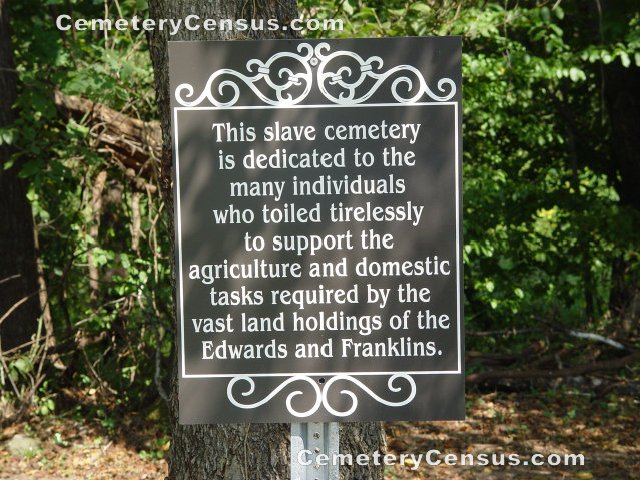 Location - in the edge of the woods at the east end of the grass field in which the Edwards-Franklin Cemetery is located.

Coordinates: 36d 27m 16.5s N; 80d 49m 01.8s W Click here for Google maps

Directions: From intersection of Prison Camp Rd (SR-1345) and Haystack Rd (SR-1331), go west on Haystack Road for 3.4 miles and stop at the Edwards-Franklin House on the right side of road. Edwards-Franklin Cemetery is just across the road from the house and about 75 yards in a patch of trees in the middle of the field. From that cemetery walk eastward to the edge of the woods. Cemetery is in the edge of the woods.

Photographed and surveyed by Jack Luffman on 26 August 2010 and on 21 Sept 2010.

Before cleanup #1.
Before cleanup #2.
Before cleanup #3.
Dedication ceremony on 26 Aug 2010 with Surry County Historical Society President Walter White.
After cleanup #1.
After cleanup #2.
After cleanup #3.
After cleanup #4.

Township or District: Franklin.
Public or Private: Private Property.
GPS Accuracy: 19 feet.
Elevation above sea level: 1181 feet.
Status of Cemetery: Recently restored and dedicated by the Surry County Historical Society. Dedication held 26 Aug 2010. There are probably over 60 graves in the cemetery.

At the dedication of the Edwards-Franklin Slave Cemetery, Surry County Historical Society members read the names of 60 slaves that were found in historical records of the estate. It is probable that most of these, if not all, were buried in the slave cemetery.

The names are as follows: Dick, Kingston, Haywood, Eliza, Hannah, Isham, Fanny, Jeremiah, Gracey, James, Nelson, Jack, Jzbell, Spicey, Bartley, Eliza, Abby, Hannah, Dick, Lewis, Warren, Dilsy, Ann, Emma, Aubert, Jessy, Jacob, Harry, Phillip, Batter, Linny, Bob, Jacob, Melinda, Isbel, Charles, Sarah, Delsey, Nathan, Dinah, Patty, Squire, Jupeter, Mary, Susanah, Phebee, Anthony, Isom, Tener, Gilley, Genny, Chloe, Anderson, Letia, Henry, Molly, Philis, Linda, Jack, Liberty, Nicey.


Web page updated 14 July 2016
Index of All Cemeteries
Alphabetical Index of All Burials
Previous Page