Index of All Cemeteries
Alphabetical Index of All Burials
Previous Page
Use the following to search across all the cemeteries listed.
Example: "Smith, Roger" (yes, use the quotes)
419 WRIGHT, R. E. FAMILY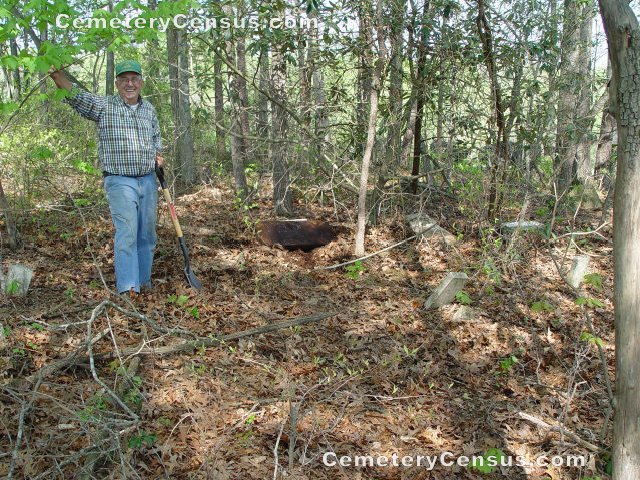 Location - off Branch Drive in the Beulah community.

Coordinates: 36d 27m 06.7s N; 80d 44m 51.9s W Click here for Google maps

Directions: From the intersection of I-77 / hwy 89, go on 89 West for 0.6 mile to Beulah Road, turn left on Beulah Road and go for 0.9 mile to Branch Drive on the left, turn on Branch Drive and follow it to end of pavement. On the left will be a double gated entrance to a pasture. Go through the gate and follow the fence down the ridge for 0.2 mile, turn right between two fences, and the cemetery is in the woods on the left side of the gap.

View #2 of the cemetery. View #3 of the cemetery. View #4 of the cemetery. View #5 of the cemetery. View #6 of the cemetery.

The property belongs to Mark and Randy Johnson. Mack Coalson lives in the house at the end of Branch Drive; he said he would give directions to cemetery.

We gave the cemetery this name because Wright is the only name that could be found on stones, and several of the burials were children of R. E. and M. J. Wright.

Surveyed and Photographed by Jack Luffman on April 15, 2010.

Township or District: Dobson 1
Public or Private: Private
GPS accuracy (ft): 18
Elevation above sea level (ft.): 1182
Status of Cemetery: Abandoned
The cemetery is in 2 sections, one with the Wrights and one about 50 feet distant from them. Harley Hodges took Jack Luffman to the cemetery, helped uncover some stones, and is in two of the pictures. Gary Snow also helped uncover stones.


Wright, James A. (b. 12 Aug 1880 - d. 22 ??? 1901)
Son of R. E. and M. J. Wright

Wright, John Thomas (b. 28 Jun 1871 - d. 20 Sep 1882)
Son of R. E. and M. J. Wright

Wright, Mary J. (b. 23 Nov 1835 - d. 10 Dec 1899)

Wright, R. E. (b. 28 Oct 1825 - d. 26 Jan 1898)
Husband of Mary J. Wright

Wright, Richard H. (b. 16 Apr 1822 - d. 23 Sep 1892)

Wright, unreadable (b. 6 Sep 1877 - d. Unreadable)
Child of R. E. and Mary Wright
Web page updated 14 July 2016
Index of All Cemeteries
Alphabetical Index of All Burials
Previous Page