Index of All Cemeteries
Alphabetical Index of All Burials
Previous Page
Use the following to search across all the cemeteries listed.
Example: "Smith, Roger" (yes, use the quotes)
401 HAUSER / SAWYERS - Horne Creek Living Historical Farm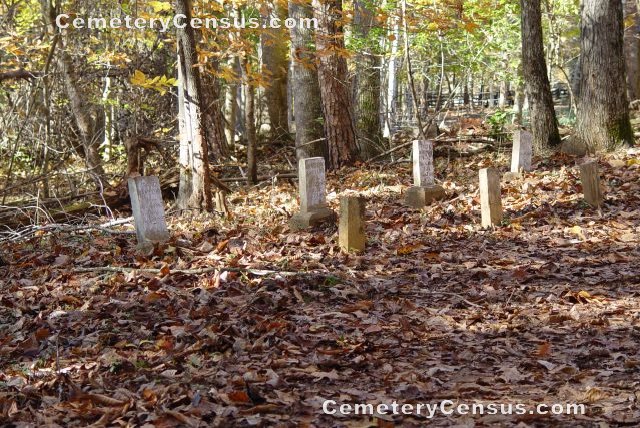 Location - On Horne Creek Living Historical Farm, Pinnacle, NC.

Coordinates: 36d 15m 53.2s N; 80d 29m 11.5s W Click here for Google maps

Directions: From the Farm Visitors' Center walk downhill to the buildings; at the corn crib turn left and walk through the barn. Follow the trail into the woods. Enter the Sawyers Section, then the Hauser Section.

Surveyed by Jack Luffman and Rex Melton on October 28, 2009.
Township or district: Shoals
Public Or Private: Public Access
Elevation above sea level (ft): 936
Status of Cemetery: well maintained

Solomon Sawyers, a free African-American, purchased 50 acres of land in 1842 that was located north of and adjoined the Hauser farm. The current parking lot is located on part of the farm. The families were close friends and exchanged labor while working the crops. Members of the Sawyers' family were buried adjacent to members of the Hauser family.

There are also 10 unmarked rocks in the Sawyers Section.


Hauser, Archie P. (b. 10 Jul 1853 - d. 19 Aug 1853)
Aged 53 yrs 2 mos 2 days.
Aged 78 yrs 10 mos 26 days.
Aged 19 yrs 8 mos 20 days.
Aged 81 yrs 4 mos 17 days.
Aged 19 yrs 8 mos 21 days.Died at Manassas (Civil War)
Web page updated 14 July 2016
Index of All Cemeteries
Alphabetical Index of All Burials
Previous Page