Index of All Cemeteries
Alphabetical Index of All Burials
Previous Page
Use the following to search across all the cemeteries listed.
Example: "Smith, Roger" (yes, use the quotes)
394 GLORY LIGHT BAPTIST CHURCH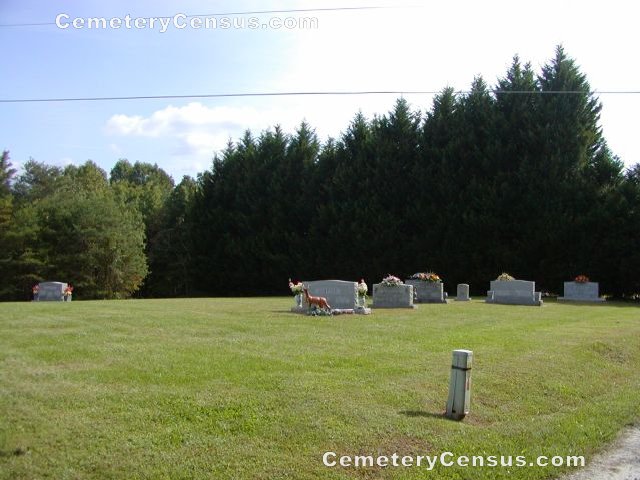 Location - Glory Light Ln, Siloam, Surry Co., NC.

Coordinates: 36d 18m 18.1s N; 80d 35m 38.7s W Click here for Google maps

Directions: From Hwy 268 and Siloam Rd, go south on Siloam Rd for 3.5 miles and turn Right on Glory Light Lane. Church is about 150 yards off Siloam Rd and cemetery is in back of church.

View of the church.

Surveyed by Bob Carter on September 24 2009.
Township or district: Siloam.
Public or Private: Public Access.
GPS Accuracy (ft.): 22.
Elevation above sea level (ft.): 1055.
Status of cemetery: Maintained.

Church is new within last 20 years.


Billings, Bertha Emma Whitaker (b. 3 Apr 1932 - d. reserved)
daughter of Wiley Green Whitaker and Mabel Salena Reeves

Billings, Joseph William "Joe Bill" (b. 11 Jan 1931 - d. 28 May 1989)
Husband of Bertha Emma Whitaker Billings

Richardson, Raymond Franklin (b. 15 Jun 1923 - d. 12 Aug 1992)
Husband of Josie M. Richardson

Simpson, Delmar Junior (b. 10 Apr 1932 - d. 6 Jul 2005)
Husband of Mary Ruth Potts Simpson - son of Eugene Simpson and Josie Bingman

Simpson, Mary Ruth Potts (b. reserved - d. reserved)
Wife of Delmar Junior Simpson - daughter of William Potts and Nancy Edwards

Varner, Maria Hatgelis (b. 3 Feb 1948 - d. 30 May 2004)
Wife of Russell Lee Varner - daughter of Steve Keziakos Hatgelis and Calliope Steve Hatgelis

Wall, Billy Michael (b. 11 May 1958 - d. 31 Aug 2007)

Wall, Dorothy Inez Caudle (b. 1 Aug 1921 - d. 12 Sept 2009)
Wife of Roy Washington Wall - daughter of Arthur Caudle and Delia Willard

Wall, James Edgar (b. 30 Jun 1935 - d. 23 Jun 1997)
Husband of Louise Bullin Wall

Wall, Louise Bullin (b. 28 May 1932 - d. 22 May 2007)
Wife of James Edgar Wall - daughter of John Daniel Bullin and Betty Lou Childress

Wall, Roy Washington (b. 13 Mar 1923 - d. 1 May 2005)
Husband of Dorothy Inez Caudle Wall - son of William Green Wall and Margaret E. Doss

Whitaker, Fannie Lesta Eads (b. 4 Jun 1906 - d. 20 Apr 1989)
Wife of Floyd Osborne Whitaker - daughter of Andrew Martin Eads and Mattie Mildred Childress

Whitaker, Floyd Osborne (b. 5 Jun 1905 - d. 6 Nov 1998)
Husband of Fannie Lesta Eads Whitaker - son of William Gabriel Whitaker and Letitia Mae Bullin

Woodruff, Jack (b. 26 Aug 1931 - d. 29 Apr 1999)
Husband of Ann J. Woodruff
Web page updated 14 July 2016
Index of All Cemeteries
Alphabetical Index of All Burials
Previous Page