Index of All Cemeteries
Alphabetical Index of All Burials
Previous Page
Use the following to search across all the cemeteries listed.
Example: "Smith, Roger" (yes, use the quotes)
380 COCKERHAM CEMETERY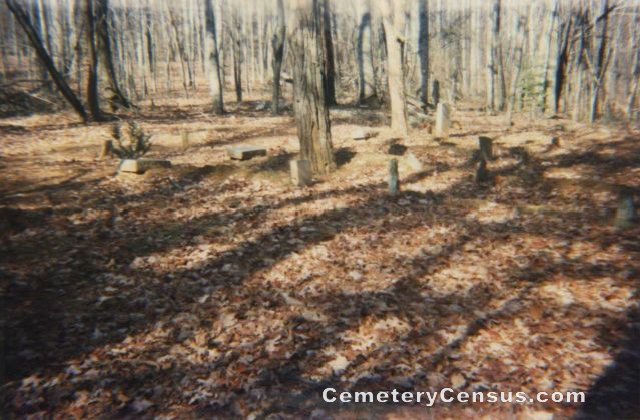 Location - Off Hanner Way, Lowgap, Surry Co., NC.

Coordinates: 36d 31m 42.5s N; 80d 50m 47.7s W Click here for Google maps

Directions: From NC 89 in Lowgap, go North on NC 89 abt 2/10 mile past Post Office and turn Right on Old Lowgap Rd. Then go 1.6 miles and turn Left on Hanner Way. Then , follow private road and it will end and there is an old woods road which takes you to the cemetery..

Surveyed by Teresa Smith on May 19, 2007.
Township or district: Stewart's Creek.
Public or Private: Private property.
GPS Accuracy (ft.): 11.
Elevation above sea level (ft.): 1570.
Status of cemetery: Secured in forested area.

Count of 16 graves, 8 with markers and 8 with field stones. Ada (date of 7-17-1880 only); Jasper (b. 8-24-1894, d. 5-31-1896); Lemuel T. Cockerham (b. 4-24-1858, d. 12-1-1900); Mildred Flippin (no dates, wife of Lemuel Cockerham); Andrew A. Cockerham (b. 1838, d. 1910 - Co E, 53rd Regmt, NC Troops-CSA); Bill Cockerham (no dates); Nancy Lowe Cockerham (no dates); Samuel Cockerham (b. 4-14-1840, d. 6-28-1927 - Co D, 37th NC Regmt-CSA).


Cockerham, Ada (b. - d. 17 Jul 1889)
Cockerham, Andrew A. (b. 1838 - d. 1910)
Co. E, 53rd Regiment NC Troops, C.S.A.
no dates. father of Lemuel T. Cockerham.
Husband of Mildred Flippin Cockerham
Wife of Lemuel T. Cockerham
Web page updated 14 July 2016
Index of All Cemeteries
Alphabetical Index of All Burials
Previous Page