Index of All Cemeteries
Alphabetical Index of All Burials
Previous Page
Use the following to search across all the cemeteries listed.
Example: "Smith, Roger" (yes, use the quotes)
379 JARRELL CEMETERY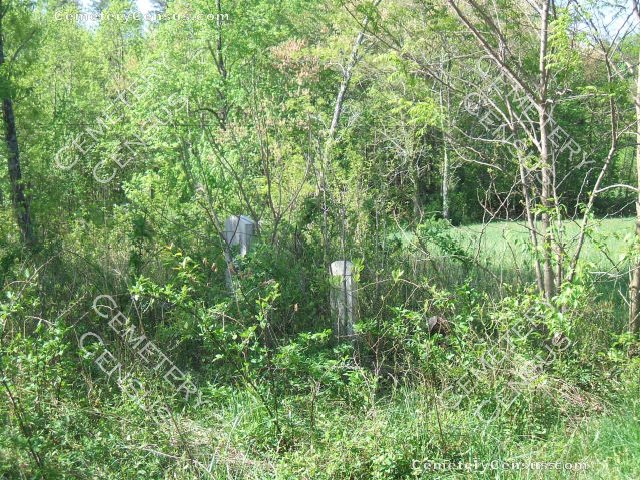 Location - Off Dan Callaway Rd, Lowgap, Surry Co., NC.

Coordinates: 36d 32m 34.4s N; 80d 48m 37.1s W Click here for Google maps

Directions: From I-77 and NC 89, go West abt 1/4 mile and turn Right on Round Peak Ch Rd. Then go abt 5.2 miles and turn Right on Old Lowgap Rd. Then go abt 1/2 mile and turn Left on Casper Stewart Rd. Then go 8/10 of a mile and turn Left on Dan Callaway Rd. Go to end of the paved road and turn Left on a farm road, then go abt 3/10 mile and cemetery is in a field on the Left..

Surveyed by Teresa Smith on May 13, 2007. Updated photographs by Teresa Smith in October 2013.
View #2 of the cemetery. View #3 of the cemetery.

Also known as: Joe Lowe Cemetery.
Township or district: Stewart's Creek.
Public or Private: Private property.
GPS Accuracy (ft.): 10.
Elevation above sea level (ft.): 1454.
Status of cemetery: Maintained.

About 60 graves.


Jarrell, Rufus Austin (b. 15 Sep 1839 - d. 31 Mar 1921)
Husband of 1) Susan Sandifer, m. 8 Oct 1868 in Surry and 2) Susan Turney, m. 4 Sep 18873 in Surry - was a son of Fountain Jarrell and was a Mason.

Jarrell, Susan Sandifer (b. - d. )
1st Wife of Rufus Austin Jarrell (believed to be buried next to her Husband in an unmarked grave).

Jarrell, Susan Turney (b. 28 Apr 1840 - d. 18 Feb 1902)
2nd Wife of Rufus Austin Jarrell - "Gone but not forgotten"

Lowe, Joseph T. (b. 5 May 1862 - d. 17 Sep 1927)
Husband of Martha Frances Lowe and son of J. Kenneth Lowe and 2nd Wife Delia Ann Flippin

Lowe, Martha Frances (b. 9 Aug 1873 - d. 11 Nov 1936)

Vernon, Mary Turney (b. 18 Apr 1857 - d. 13 Nov 1896)
Wife of Paschal Vernon - Mary is the daughter of Susan Turney, Wife of Rufus Jarrell

Vernon, Paschal (b. 15 Oct 1854 - d. 22 May 1934)
Husband of Mary Turney Vernon, m. 8 Jan 1882 in Surry - son of John Lewis Vernon and Mildred Smith
Web page updated 14 July 2016
Index of All Cemeteries
Alphabetical Index of All Burials
Previous Page