Index of All Cemeteries
Alphabetical Index of All Burials
Previous Page
Use the following to search across all the cemeteries listed.
Example: "Smith, Roger" (yes, use the quotes)
372 SIMMONS FAMILY CEMETERY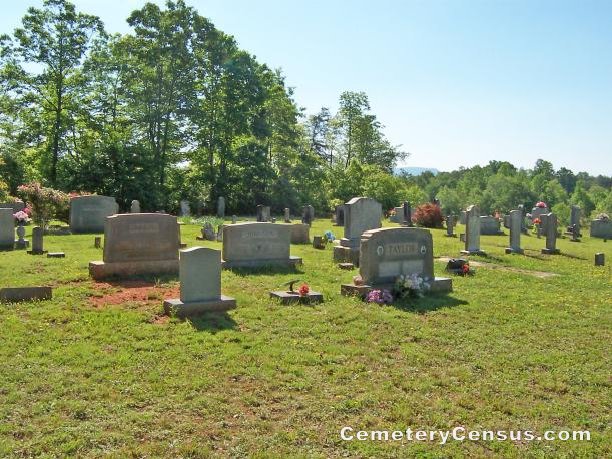 Location - Red Belly Trail, Pilot Mtn., Surry Co., NC.

Coordinates: 36d 26m 46.5s N; 80d 29m 53.7s W Click here for Google maps

Directions: Directions: From intersection of US Hwy 52 and NC 268 at Pilot Mountain, take US Hwy 52 North toward Mt. Airy and follow for 2.3 miles to exit 136 and exit onto the ramp to stop sign at end of ramp. Turn right onto Cook School Road (SR 1815) and follow for 2.6 miles to a road on the right hand side named Kermit Lewis Road SR 1822. Turn right onto Kermit Lewis Road and follow it for .2 miles to Red Belly Trail (on the LH side). Turn left onto Red Belly trail and follow it until it ends at the cemetery.

View #2 of cemetery. View #3 of cemetery. View #4 of cemetery.

Surveyed by Joe Hicks on April 11, 2008.
Township or district: Westfield.
Public or Private: Private property.
GPS Accuracy (ft.): 14.
Elevation above sea level (ft.): 1211.
Status of cemetery: Currently maintained.
Surry County Parcel Number: 5958-00-94-3734.

Occupants: Hiram L. Simmons (b. 04-27-1877, d. 09-15-1941) and wife Abigale Simmons (b. 09-28-1876, d. 11-14-1963); David Lee Taylor (b. 09-16-1886, d. 03-07-1969) and wife Rozilla Taylor (b. 03-28-1884, d. 07-16-1948); Christina Simmons (b. 09-12-1840, d. 04-21-1918) and husband Peter Simmons (b. 02-11-1844, d. 10-28-1916); Joseph Scott Taylor (b. 11-27-1904, d. ??); Tabitha Cobbler (b. 10-08-1836, d. 02-10-1936) wife of W. S. Cobbler (b. 03-04-1861, d. 08-12-1926); Elizabeth Simmons (b. 03-11-1856, d. 06-12-1940) wife of James Jessup; Lester Wilson (b. 07-03-1919, d. 10-05-2004) and wife Ethelene Wilson (b. 08-01-1921, d. ??); Sophronia S. Simmons (b. 01-13-1888, d. 05-14-1978); Elsavan S. Simmons (b. 07-20-1888, d. 06-12-1987); Gaston Adams (b. 05-23-1915, d. 12-01-1979) and wife Irene Adams (b. 09-19-1918); Fraudie E. Needham (b. 10-13-1891, d. ??) and wife Beuna Mae C (b. 06-24-1908, d. 07-19-1997); Martha E. Simmons (b. 1820, d. 1893); William H. Simmons (b. 1852, d. 1912); Mary Simmons (b. 1825, d. 1897) - these three probably were brothers and sisters; Solomon Asburry Needham (b. 12-13-1827, d. 02-14-1905); Franklin Joyce (b. 03-06-1822, d. 06-08-1888). There are many marked stones and field stones as well. There are Cooks, Adams, and Wilson's.


Adams, Gaston I. (b. 23 May 1915 - d. 1 Dec 1979)
Husband of Irene S. Adams
Age 55 yrs 5 mos 8 days. Wife of W. Scott Cobbler.
Aged 79 yrs 4 mos 10 days. Wife of Green Cobbler.
Wife of Fraudie E. Needham
Husband of Beuna Mae C. Needham
Husband of Sophronia S. Simmons
Husband of Abigail Simmons
(on same marker with William H. Simmons)
(on same marker with William H. Simmons)
Husband of Christina Jessup Simmons
Wife of Elsavan S. Simmons
(on same marker with Martha E.. Cain Simmons)
Husband of Rozilla Taylor
Husband of Ethelene Wilson
Web page updated 14 July 2016
Index of All Cemeteries
Alphabetical Index of All Burials
Previous Page