Index of All Cemeteries
Alphabetical Index of All Burials
Previous Page
Use the following to search across all the cemeteries listed.
Example: "Smith, Roger" (yes, use the quotes)
369 ISAACKS FAMILY CEMETERY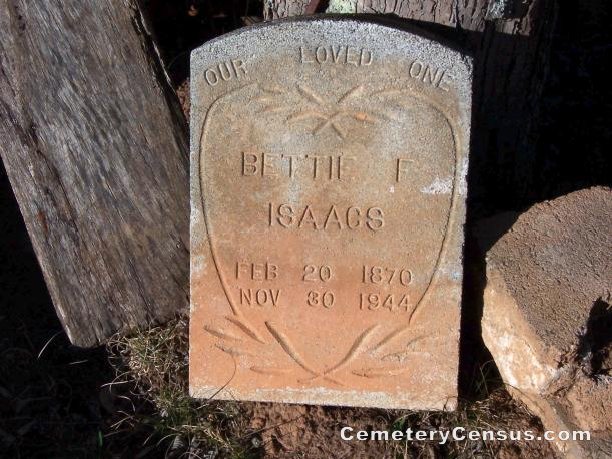 Location - Off Blevins Store Rd, near Edwards-Franklin home, Mt. Airy, Surry Co., NC.

Coordinates: 36d 27m 43.8s N; 80d 49m 25.2s W Click here for Google maps

Directions: From the intersection Prison Camp Rd (SR 1345) and Haystack Rd (SR 1331) just west of I-77, go west on Haystack Rd for about 3.3 miles and turn Right on Blevins Store Rd (SR 1338) just after passing Fisher River Bridge and Edwards Franklin House. Then go about .7 mile to a farm trail on RH side with a cable across it. There is a named road on LH side called Bullins Ridge Trail which is just opposite of the farm trail one should enter. The owner of property has key to unlock the cable or the owner of the property on opposite side of Fisher River at the Sarah Isaacs Cemetery also has a key. Once thru the gate go down the farm trail winding down hill toward the Fisher River Bottoms for .4 mile and cemetery is on RH side in a clearing. This location is well maintained and has several recent markers that have replaced broken stones or just replaced old field or river slate markers.

Surveyed by Joe Hicks on March 2, 2008.
Township or district: Franklin.
Public or Private: Private property.
GPS Accuracy (ft.): 14.
Elevation above sea level (ft.): 1187.
Status of cemetery: Currently maintained.
Surry County Parcel Number: 4969-00-22-8136.

Occupants: S. H. Isaacs (b. 10-10-1839, d. 09-30-1916), J. Melvin Isaacks (b. 04-03-1879, d. 06-25-1936) and wife Cinda Isaacks (b. 02-25-18, d. 03-08-1960); Jesse L. Isaacs (b. 07-10-1922, d. 05-03-1988, WWII US Navy Veteran), Joseph Isaacks (b. 1787, d. 1860) and wife Betty Frank "Frankie" Isaacs (b. 1798, d. Unknown) - Joseph and Frankie had a daughter Sarah who died of Typhoid Fever. Since the family was afraid of the disease they had the slaves bury her alone across the Fisher River on a wooded knoll. Forest Isaacs Thompson (b. 12-02-1951, d. 10-09-1983); Joseph Wesley Isaacs (b. 04-06-1920, d. 12-08-1966); Infant son of Henry and Dora Isaacs Moore; Dr. Jessie Greenbury Isaacks (b. 12-25-1838, d. 01-11-1919) and wife Mary P. Isaacks (b. 01-05-1835, d. 09-24-1910); young daughter of Elisha Isaacs; Charles Simmons (b. 1848, d. 1926), Ansey "Anzy" Isaacs (b. 1833, d. 1916); daughter of Sanford Isaacs; three infants of "Kebe" Jessie Greenberry Isaacs Jr; Infant of Ada Brooks; infant of Telly Norman; Betty Frank Isaacs (b. 02-20-1870, d. 11-30-1944) - Betty never married.


Brooks, Infant (b. - d. )
Husband of Mary P. Isaacks. "A friend to his country and a believer in Christ."
Wife of Dr. Jesse Greenbury Isaacks
daughter of Jesse and Mary Isaacks. Betty never married. Older marker.
daughter of Sanford Isaacs
Young daughter of Elisha Isaacs
Three Infants of "Kebe" Jessie Greenbury Isaacs, Jr.
Husband of Betty Norman Isaacs
infant of Samuel and Dora Isaacks Moore
Age 3 mos 16 days. Son of Samuel E. and Dora E. Isaacks Moore
Husband of Anzy Isaacs Simmons
Web page updated 14 July 2016
Index of All Cemeteries
Alphabetical Index of All Burials
Previous Page