Index of All Cemeteries
Alphabetical Index of All Burials
Previous Page
Use the following to search across all the cemeteries listed.
Example: "Smith, Roger" (yes, use the quotes)
368 ISAACS, SARAH CEMETERY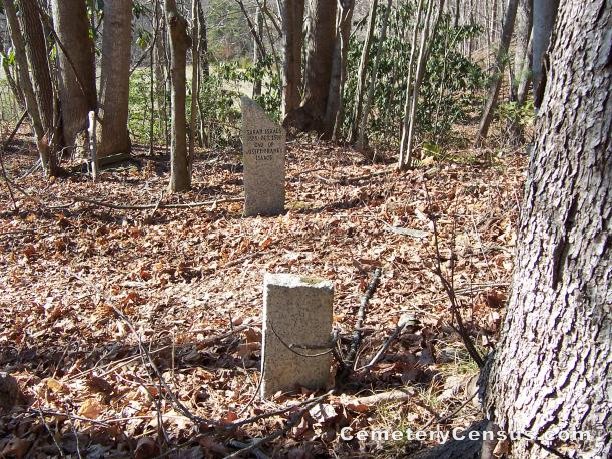 Location - Haystack and Isaacs Rd, Mt. Airy, Surry Co., NC.

Coordinates: 36d 27m 49.0s N; 80d 49m 14.1s W Click here for Google maps

Directions: From intersection Prison Camp Rd (SR 1345) and Haystack Rd (SR 1331) just west of I-77, go west on Haystack Rd for about 3.1 miles to Isaacs Rd (SR 1442) on the right just before reaching Fisher River Bridge and Edwards Franklin House. Turn right onto Isaacs Rd and follow it for about .5 mile to 343 Isaacs Rd. After getting permission from land owner for entry and verbal directions to cemetery, there is a farm trail just past the residence and one must turn left onto this trail and follow for about .3 mile past farm buildings and hay field going down hill toward Fisher River bottoms. There is a fork in the road to the Right going down a steep grade to another hayfield in the bottoms of river. From the fork in the road walk east across the bottoms to a wooded area about 1,000 yards from road forks and just into the woods there is one single marker of Sarah Isaacs. When walking toward the wooded area facing east one would need to be about center of north-south of field or middle. Marker is into the woods about 15-25 yards. Suggest not driving further as land is a bit marshy.

View #2 of cemetery from a distance.

Surveyed by Joe Hicks on March 2, 2008.
Township or district: Franklin.
Public or Private: Private property.
GPS Accuracy (ft.): 20.
Elevation above sea level (ft.): 1202.
Status of cemetery: Forest area.
Surry County Parcel Number: 4969-00-42-5172.

Occupant: Sarah Isaacs (b. 1828, d. 1855), daughter of Joseph and Frankie Isaacs, died from Typhoid Fever and family was so scared of the disease they had slaves bury her across the river from where the rest of family is buried. Marker is a new one the landowner replaced from the old flat rock marker from the past.


Isaacs, Sarah (b. 1828 - d. Oct 1850)
daughter of Joseph Franky Isaacs
Web page updated 14 July 2016
Index of All Cemeteries
Alphabetical Index of All Burials
Previous Page