Index of All Cemeteries
Alphabetical Index of All Burials
Previous Page
Use the following to search across all the cemeteries listed.
Example: "Smith, Roger" (yes, use the quotes)
367 WALKER-LEWIS FAMILY CEMETERY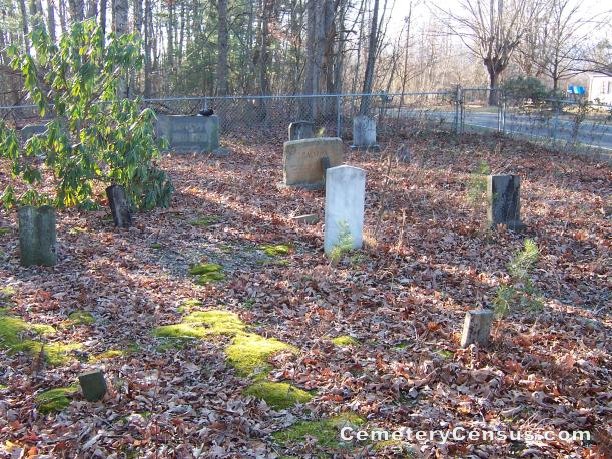 Location: Off Possum Trot Rd, Thurmond, Surry Co., NC.

Coordinates: 36d 22m 10.9s N; 80d 53m 50.7s W Click here for Google maps

Directions: From the intersection at 4 way stop in Mountain Park, go west on Mountain Park Zephyr Rd (SR 1315) toward Thurmond and follow this road for 2.0 miles to Possum Trot Rd (SR 1326) on the right. Turn right on Possum Trot Rd and follow it for 1.0 miles until you pass a mobile home park entrance. The cemetery is just past the entrance on the LH side of road and is enclosed by a chain link fence and is just across the road from two mobile homes.

Surveyed by Joe Hicks on February 23, 2008.
Township or district: Bryan.
Public or Private: Private property.
GPS Accuracy (ft.): 15.
Elevation above sea level (ft.): 1308.
Status of cemetery: Transitioning to abandonment.
Surry County Parcel Number: 4945-00-18-1423.

Occupants: Frank Monroe Walker (b. 10-16-1875, d. 01-02-1958) and wife Martha Ella Lewis (b. 01-19-1874, d. 04-21-1944); John Addison Lyons (b. 04-02-1876, d. 11-28-1963) and wife Emma Hamby (b. 05-05-1882, d. 06-25-1949); John H. Lewis (b. 09-07-1876, d. 05-25-1925); John Galyean (b. 10-16-1861, d. ?) and wife Cora C. Galyean (b. 10-16-1872, d. 02-14-1941); Robert Wilmouth (b. 04-26-1888, d. 11-09-1961); Lemuel H. Lewis (Confederate Veterans Marker 1st Bat. CSA Jr. Reserves, b. 05-08-1845, d. 04-20-1929) and wife Nancy Susan (b. 02-08-1854, d. 08-04-1920).

Caution!!! There are several dogs around these mobile homes, two of which are Rottweiler's. They are friendly or they were to me but one never knows.


Galyean, Cora C. (b. 16 Oct 1872 - d. 14 Feb 1941)
husband of Cora C. Galyean
husband of Nancy Susan Lewis. 1st Battery, Junior Reserves, C.S.A.
husband of Nancy Susan Lewis
wife of John Addison Lyons
husband of Emma Hamby Lyons
husband of Martha Ella Lewis Walker
wife of Frank Monroe Walker
Web page created 2 September 2011
Index of All Cemeteries
Alphabetical Index of All Burials
Previous Page