Index of All Cemeteries
Alphabetical Index of All Burials
Previous Page
Use the following to search across all the cemeteries listed.
Example: "Smith, Roger" (yes, use the quotes)
356 STRANGE, JOHN R. CEMETERY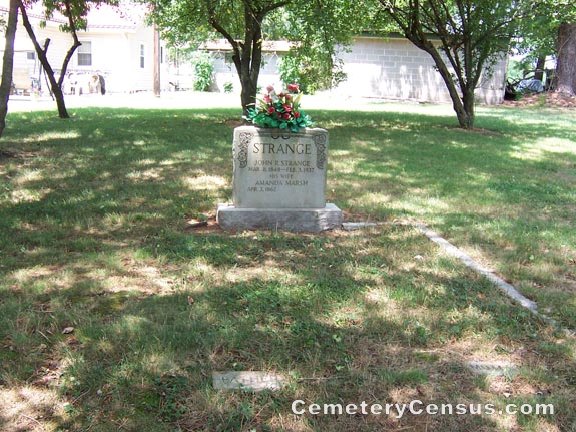 Location - 8108 NC Hwy 268, Dobson, Surry Co., NC.

Coordinates: 36d 19m 36.3s N; 80d 43m 52.5s W Click here for Google maps

Directions: From intersection of NC Hwy 268 and US Hwy 601 (Fairview Crossroads), go west on NC Hwy 268 for abt .8 mile to 8108 NC Hwy 268 and turn right into the driveway of that residence. This is also a business Jim's Upholstery Shop. The owner's residence is on right side of driveway and the cemetery is about 40 yards east of the residence on the property lines of two different land owners..

Surveyed by Joe Hicks on June 22, 2007.
Township or district: Dobson.
Public or Private: Private property.
GPS Accuracy (ft.): 16.
Elevation above sea level (ft.): 1135.
Status of cemetery: Abandoned.
Surry County Parcel Number: 4984-00-92-8250.

Recorded in Register of Deeds Book 135 Page 126: ...except...also 1/4 of an acre of land 35 yards square around the grave of J.R. Strange so as to reach the State Highway.

There are three burials here and only two are marked by stone marker.


Strange, Amanda Marsh (b. 3 Apr 1862 - d. 18 Feb 1942)
Wife of John R. Strange. Daughter of John Marsh and Letitia Stanley Marsh. No death date on marker, but has beeb provided by Surry County researchers.

Strange, Cebanel "C.B." (b. 2 Jan 1882 - d. 21 Jan 1950)
No dates on marker but has been provided by Surry County researchers. Cebanel was son of John R. Strange Jr & Amanda Marsh Strange. He was married to Mallie B. Hutchens in Surry County, NC on 20 Jun 1909 (she buried at Fairview Baptist Church). He also fathered a child with Sarah Elizabeth "Sally Bet" Stanley in Surry County, NC. Sarah is buried at Salem Baptist Church under her given name (per researcher Judy Caldwell).

Strange, John R. (b. 18 Mar 1848 - d. 3 Feb 1937)
Husband of Amanda Marsh Strange. Married in Surry County, NC on 28 Oct 1879. Son of John R. Strange, Sr. and Mary "Polly" Bledsoe Strange.
Web page updated 14 July 2016
Index of All Cemeteries
Alphabetical Index of All Burials
Previous Page