Index of All Cemeteries
Alphabetical Index of All Burials
Previous Page
Use the following to search across all the cemeteries listed.
Example: "Smith, Roger" (yes, use the quotes)
343 DOLLYHIGH, EDMUND CEMETERY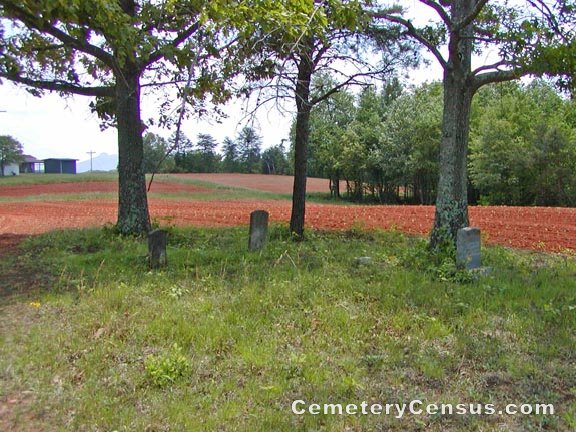 Location - Radar Road, Ararat, Surry Co., NC.

Coordinates: 36d 25m 23.3s N; 80d 35m 13.0s W Click here for Google maps

Directions: From intersection of Siloam Rd and Little Mountain Rd (SR 2029), go east on Little Mtn Rd for .4 miles. Then turn left on Radar Rd (SR 2026) and go 1.4 miles and just after passing Wimbledon Lane on the left (a gravel drive), the graves are visible on the right under 4 small trees.

Surveyed by Bob Carter on May 7, 2007.
Township or district: Eldora.
Public or Private: Private property.
GPS Accuracy (ft.): 15.
Elevation above sea level (ft.): 1163.
Status of cemetery: Abandoned.

Dollyhigh, Nancy (b. 8-15-1840, d. 3-1-1910 wife of Edmund Dollyhigh); Dollyhigh, Edmund (b. 5-15-1840, d. 9-19-1908 husb of Nancy); Infant Johnson (b. 3-3-1910, d. 3-3-1910), son of Mr/Mrs J. H. Johnson; Unknown marker. There was a mounting for another marker, but the stone was gone..


Dollyhigh, Edmund (b. 15 May 1840 - d. 19 Sep 1908)
Husband of Nancy Dollyhigh.

Dollyhigh, Nancy (b. 15 Aug 1840 - d. 1 Mar 1910)

Johnson, Infant (b. 3 Mar 1910 - d. 3 Mar 1910)
son of Mr. and Mrs. J. H. Johnson
Web page updated 14 July 2016
Index of All Cemeteries
Alphabetical Index of All Burials
Previous Page