Index of All Cemeteries
Alphabetical Index of All Burials
Previous Page
Use the following to search across all the cemeteries listed.
Example: "Smith, Roger" (yes, use the quotes)
342 JONES FAMILY CEMETERY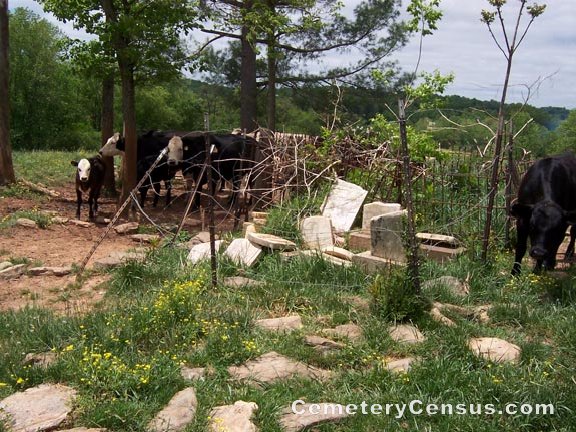 Location - 352 Durham Farm Trail, Elkin, Surry Co., NC.

Coordinates: 36d 17m 53.7s N; 80d 47m 35.0s W Click here for Google maps

Directions: From intersection of US Hwy 601 and NC Hwy 268 (Fairview Crossroads), go west on Hwy 268 for abt 3.6 miles and turn right on Joe Layne Mill Rd (SR 1121). Then go 1.9 miles and turn left on Homers Lane (dirt road). Then go for .1 mile and bear right at the fork with Durham Farm Trail to an entrance to an electric fence on the left side of the road. Park and enter here thru the gate and as you enter follow SW direction or about 2:00 position for abt 250 yards and over the crest of a ridge and past a feed lot to a farm pond. The cemetery is in a clump of brush on the northwest side of pond inside a small wrought iron fence. Lots of cattle inside the fence.

View #2 of the cemetery. View #3 of the cemetery.

Surveyed by Joe Hicks on May 7, 2007.
Township or district: Marsh.
Public or Private: Private property.
GPS Accuracy (ft.): 16.
Elevation above sea level (ft.): 968.
Status of cemetery: Abandoned.
Surry County Parcel Number: 4973-00-12-5717.

Most markers are broken from cattle and horses running over them. Burials are from the Kallam Cemetery books plus information submitted by Annie Lee Gentry. Location has lots of fieldstones strewn about the area. Some markers found in pieces match the names and dates of Kallam's survey.


Burch, Estella Lavora (b. 15 Aug 1856 - d. 22 Jun 1891)
Wife of James E. Burch, m. 21 Dec 1876 in Surry and daughter of Stephen Bramlett Jones and Temperance W. Marshall

Jones, Mary Leota (b. 30 Mar 1850 - d. 22 Jun 1925)
Daughter of Stephen Bramlett Jones and Temperance W. Marshall

Jones, Stephen Bramlett (b. 13 Jan 1832 - d. 9 Feb 1914)
Husband, of Temperance W. Marshall, m. 10 Jan 1853 in Surry and son of Jonathan Jones and Hannah Jarvis

Jones, Temperance W. Marshall (b. 1 Nov 1822 - d. 29 Jun 1904)
Wife of Stephen Bramlett Jones and daughter of Moses Marshall and Mary Roberts

Jones, Unknown (b. - d. )
Probably Charity Burch, Wife of Lemuel Bramlett (L. B.) Jones and can't read dates

Marshall, Mary (b. 9 Jun 1848 - d. )
Daughter of Moses Marshall and Mary Roberts (DOD broken off)

Marshall, Mary W. Roberts (b. 8 Jun 1807 - d. 9 Apr 1892)
Wife of Moses Marshall - "In Memory of Mother"

Marshall, Moses (b. 24 Apr 1807 - d. 11 Mar 1870)
Husband of Mary Roberts, m. 11 Feb 1830 in Surry

Phillips, Lucy E. (b. 1831 - d. )

Phillips, Nancy E. Marshall (b. 18 Feb 1831 - d. 11 Aug 1912)
Wife of R. P. Phillips (1880 census has her age 48 and R. P. as 30)

Phillips, R. P. (b. 1855 - d. 3 Aug 1896)
Husband of Nancy E. Marshall, m. 14 Oct 1875
Web page updated 14 July 2016
Index of All Cemeteries
Alphabetical Index of All Burials
Previous Page