Index of All Cemeteries
Alphabetical Index of All Burials
Previous Page
Use the following to search across all the cemeteries listed.
Example: "Smith, Roger" (yes, use the quotes)
341 MANN FAMILY CEMETERY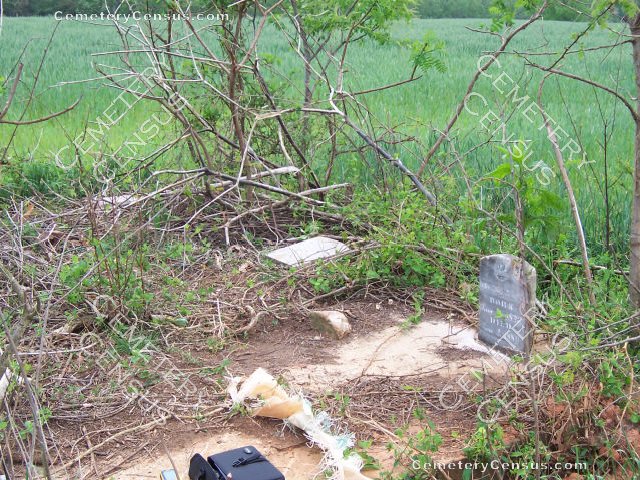 Location - 202 Poplar Springs Rd, Elkin, Surry Co., NC.

Coordinates: 36d 21m 56.9s N; 80d 49m 08.1s W Click here for Google maps

Directions: From intersection of NC Hwy 21 (Business) and NC Hwy 21 (Bypass) at Poplar Springs Road, go east on Poplar Springs Rd abt 8 miles to 202 Poplar Springs Rd (just past Zephyr Baptist Ch and Cemetery). Turn left into a dirt lane at this residence and get permission to proceed to the cemetery. Go west down the lane past an old hot house and tool shed until reaching end of lane at a field. As you face the field the cemetery is at 11:00 o'clock position and about 150 yards toward a small growth of small trees and briar's in middle of the field.

View #2 of the cemetery.

Surveyed by Joe Hicks on May 7, 2007.
Township or district: Bryan.
Public or Private: Private property.
GPS Accuracy (ft.): 18.
Elevation above sea level (ft.): 1246.
Status of cemetery: Abandoned.
Surry County Parcel Number: 4965-00-46-4962.

Occupants: Lucinda Mann (b. 6-16-1836, d. 1-12-1889), R. H. Mann (b. 5-22-1822, d. 11-4-1871), M. O. Mann (b. 9-6-1869, d. 3-12-1871). There has been a concrete slab poured here in the past and the stones were set in that slab, but since it sits in the middle of a field that is farmed they are in constant danger of being hit by farm equipment and broken.


Mann, Lucinda Bullard (b. 16 Jun 1836 - d. 2 Jan 1889)
Wife of Rowland Howard Mann

Mann, Mary O. (Mollie) (b. 6 Sep 1869 - d. 12 Mar 1871)
Daughter of Rowland Howard Mann and Lucinda Bullard Mann

Mann, Rowland Howard (b. 22 May 1822 - d. 4 Nov 1871)
Husband of Lucinda Bullard Mann
Web page updated 14 July 2016
Index of All Cemeteries
Alphabetical Index of All Burials
Previous Page