Index of All Cemeteries
Alphabetical Index of All Burials
Previous Page
Use the following to search across all the cemeteries listed.
Example: "Smith, Roger" (yes, use the quotes)
336 WESTSIDE BAPTIST CHURCH CEMETERY (NEW)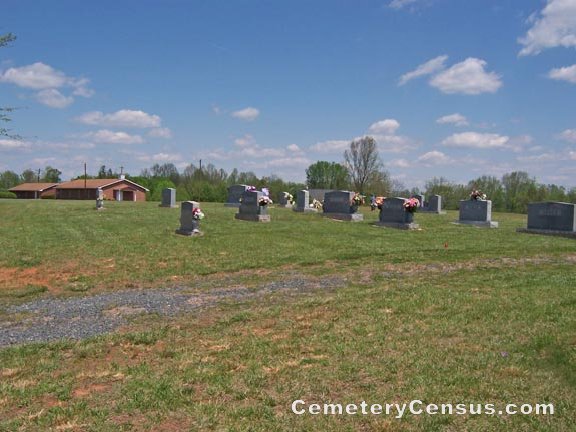 Location - 1070 Spring Creek Trail (off McKinney Rd), Mt. Airy, Surry Co., NC.

Coordinates: 36d 29m 09.5s N; 80d 39m 26.9s W Click here for Google maps

Directions: From intersection of US Hwy 601 and I-274, go west on Hwy 601 abt 500 feet and turn right on McKinney Rd (SR #1359). Then follow that road abt 2 miles and turn left on Spring Creek Trail; church and cemetery are on the right.

View of the church. Another view of the cemetery. View of the church cornerstone.

Surveyed by Esther Johnson on January 6, 2007.
Township or district: Mt. Airy.
Public or Private: Public Access.
GPS Accuracy (ft.): 9.
Elevation above sea level (ft.): 1169.
Status of cemetery: Maintained.

New cemetery is within last 30 years. Some photographs provided by Charles Crabtree in 2009.


Anderson, Ashley Renee (b. 6 Aug 1985 - d. 5 Nov 2004)
daughter of Roger and Debra Anderson
Wife of Roger Dale Anderson
Husband of Debra Beasley Anderson
Husband of Reva W. Arnder. "A Devoted Daddy"
Wife of Rev. Frank Arnder. "A Loving Mother"
Wife of Curtis Hoover Badgett
Husband of Malzie C. Beasley
Wife of Lowell A. Beasley
Wife of Warren A. Draughn
Husband of Jessie C. Gammons
Wife of Dennis L. Gammons
Husband of Margie Cave Joyce
Wife of James Perry Joyce
Husband of Frances P. Mosley
Husband of Hilda Lewis Tesh
Husband of Ada Lee Thomas
Wife of Kenneth Edward Tobler. married 30 Jun 1967.
Husband of Betty Wood Tobler. married 30 Jun 1967.
(old marker near parking lot)
(old marker near parking lot)
"In God's care" Closeup of inscription.
Husband of Naomi Nichols Walker - EM3 US Navy, World War II Military marker.
Web page updated 14 July 2016
Index of All Cemeteries
Alphabetical Index of All Burials
Previous Page