Index of All Cemeteries
Alphabetical Index of All Burials
Previous Page
Use the following to search across all the cemeteries listed.
Example: "Smith, Roger" (yes, use the quotes)
332 WAUGH FAMILY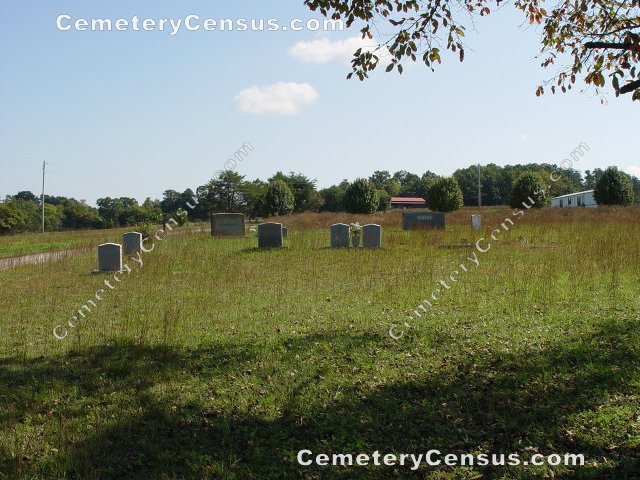 Location - on Waugh Road in eastern Surry County.

Coordinates: 36d 26m 29.3s N; 80d 26m 52.4s W Click here for Google maps

Directions: From intersection of North Main Street and Old Westfield Road in Pilot Mountain, go east on Old Westfield Road for 6.6 miles to Brown Mountain Road on the right. Turn right on Brown Mountain Road and go 2.1 miles to McDaniel Road, turn right on McDaniel Road and go 0.3 mile to Waugh Road, turn right on Waugh Road for 0.3 mile. Cemetery is on left of road and is located in Surry County by about 400 feet.

View of the cemetery (on the left about 400 feet in the distance) from the county line.

According to a neighbor of the property, Waugh Cemetery is a black cemetery. She had not seen anyone visit the cemetery for several years.
Photographed and surveyed by Jack Luffman on 6 October 2011.

Townshiop or District: Westfield.
Public or Private: Private
GPS Accuracy (ft): 12.
Elevation above sea level (ft): 1229.
Status of cemetery: not maintained.


Brim, Celia Waugh Ousley (b. 25 May 1917 - d. 6 Jan 2001)
Row 3. Husband of Necy Mills
Row 3. Wife of Hobert Mills
Row 5. Husband of Novella Waugh Taylor Wiggins
Row 3. Funeral home marker
Row 4. No indication of surname
Web page updated 14 July 2016
Index of All Cemeteries
Alphabetical Index of All Burials
Previous Page