Index of All Cemeteries
Alphabetical Index of All Burials
Previous Page
Use the following to search across all the cemeteries listed.
Example: "Smith, Roger" (yes, use the quotes)
330 PHILLIPS and STANLEY FAMILY CEMETERY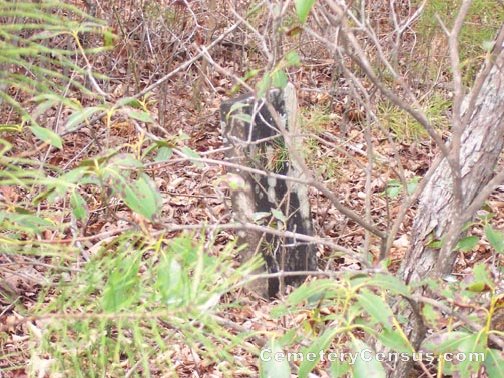 Location - 354 S. R. Phillips Road, Dobson, Surry Co., NC.

Coordinates: 36d 16m 12.9s N; 80d 42m 17.6s W Click here for Google maps

Directions: From Fairview Crossroads intersection of US Hwy 601 and NC Hwy 268, take US Hwy 601 south for 3.3 miles and turn left on Chandler Rd (SR 2238). Then go 3/10 mile and turn right on Morgan Rd (SR 2241). Then go another 1/10 mile and turn right on S. R. Phillips Rd (SR 2240). Follow that road and keep to the right to the end at an iron pipe gate just past a double wide that blocks the road (note, this road turns into dirt and gravel after about .2 mile). Entire distance is 5/10 mile to the end. One must walk the rest of way to cemetery by going under and around the gate and following the road until you pass an old tobacco barn on the left. Then after passing the barn the cemetery is in a laurel thicket on the right abt 15 yards into the woods.

Surveyed by Joe Hicks on March 31, 2007.
Township or district: Marsh.
Public or Private: Private property.
GPS Accuracy (ft.): 16.
Elevation above sea level (ft.): 963.
Status of cemetery: Abandoned.
Surry County Parcel Number: 4992-00-71-5425.

Occupants are: Sabrilla Stanley ( B 05-20-1860 D 05-23-1886), Sabrilla Phillips (b. 2-17-1882, d. 5-11-1907), William L. Phillips (s/o W.M. and S. Phillips, b. 3-1-1851, d. 3-15-1855), and several unmarked or unreadable stones and some fieldstone markers.


Phillips, Sabrila (b. 17 Feb 1882 - d. 11 May 1907)
Phillips, William L. (b. 1 Mar 1851 - d. 15 Mar 1855)
son of W.M. and S. Phillips

Stanley, Sabrilla (b. 20 May 1860 - d. 23 May 1886)
Web page updated 14 July 2016
Index of All Cemeteries
Alphabetical Index of All Burials
Previous Page