Index of All Cemeteries
Alphabetical Index of All Burials
Previous Page
Use the following to search across all the cemeteries listed.
Example: "Smith, Roger" (yes, use the quotes)
329 CRUTCHFIELD, JESSE FAMILY CEMETERY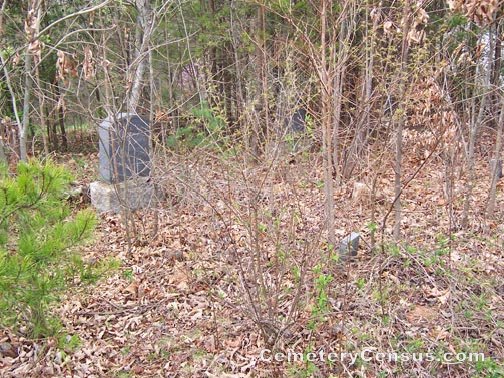 Location - 108 Morgan Road, Dobson, Surry Co., NC.

Coordinates: 36d 16m 35.8s N; 80d 42m 39.5s W Click here for Google maps

Directions: From Fairview Crossroads intersection of US Hwy 601 and NC Hwy 268, take US Hwy 601 south for 3.3 miles and turn left on Chandler Rd (SR 2238), then go .3 mile and turn right on Morgan Rd (SR 2241). Then go abt 200 yds to a farm road on the right that goes to an old tobacco barn. Take that farm road and park in front of tobacco barn. As you exit the vehicle the cemetery is on the right side of the road and about 25 yards toward a group of pine trees and a rather overgrown area on a small ridge.

View #2 of the cemetery.

Surveyed by Joe Hicks on March 31, 2007.
Township or district: Marsh.
Public or Private: Private property.
GPS Accuracy (ft.): 15.
Elevation above sea level (ft.): 1014.
Status of cemetery: Abandoned.
Surry County Parcel Number: 4992-00-53-4481.

Some foot stone markers, but no other fieldstone markers noted.


Crutchfield, Elizabeth (b. 26 Dec 1858 - d. 3 Aug 1894)
Daughter of Jesse Crutchfield & Mary Ann Mankins

Crutchfield, Jesse (b. 23 Aug 1823 - d. 11 Jan 1906)
Husband of Mary Ann Mankins, m. 27 Mar 1849

Crutchfield, Jesse (b. 23 Aug 1823 - d. 11 Jan 1906)

Crutchfield, Lue (b. 14 Jan 1862 - d. 11 Jan 1934)

Crutchfield, Lue (b. 14 Jan 1862 - d. 11 Jan 1934)
Daughter of Jesse Crutchfield & Mary Ann Mankins

Crutchfield, Mary Ann Mankins (b. 28 Jun 1822 - d. 22 Jan 1894)
Wife of Jesse Crutchfield
Web page updated 14 July 2016
Index of All Cemeteries
Alphabetical Index of All Burials
Previous Page