Index of All Cemeteries
Alphabetical Index of All Burials
Previous Page
Use the following to search across all the cemeteries listed.
Example: "Smith, Roger" (yes, use the quotes)
328 CHANEY, ABRAM FAMILY CEMETERY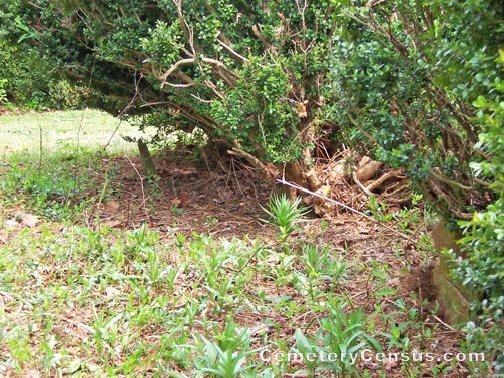 Location - 128 Chaney Lane (Yokum-Jenkinstown Community), Dobson, Surry Co., NC.

Coordinates: 36d 17m 46.0s N; 80d 43m 07.6s W Click here for Google maps

Directions: From Fairview Crossroads intersection of US Hwy 601 and NC Hwy 268, take US Hwy 601 south for 2.2 miles and turn left on Chaney Lane. Then go to the end and a redwood house will be on right side of the drive. Park here and as you exit vehicle there are some boxwood bushes to the left (or north) of the house. Cemetery is in, or surrounded by, the boxwood bushes.

View #2 of the cemetery.

Surveyed by Joe Hicks on March 31, 2007.
Township or district: Marsh.
Public or Private: Private property.
GPS Accuracy (ft.): 18.
Elevation above sea level (ft.): 1008.
Status of cemetery: Currently maintained.
Surry County Parcel Number: 4993-00-30-3876.

Occupants are: Abram Chaney (b. 12-4-1813, d. 8-4-1878), Mary Ann Richardson Chaney w/o Abram Chaney (b. 12-28-1832, d. 9-26-1913), Mildred F. Sprinkle (d/o J. W. and M. S. Sprinkle, b. 3-11-1883, d. 3-12-1883), probably 5-6 unmarked field stone markers.


Chaney, Abram (b. 4 Dec 1813 - d. 4 Sep 1878)
Husband of Mary Ann Richardson Chaney

Chaney, Mary Ann Richardson (b. 28 Dec 1832 - d. 26 Sep 1913)

Sprinkle, Mildred F. (b. 11 Mar 1883 - d. 12 Mar 1883)
daughter of J. W. and M. S. Sprinkle
Web page updated 14 July 2016
Index of All Cemeteries
Alphabetical Index of All Burials
Previous Page