Index of All Cemeteries
Alphabetical Index of All Burials
Previous Page
Use the following to search across all the cemeteries listed.
Example: "Smith, Roger" (yes, use the quotes)
320 OLD FRIENDS UNION MEETING CEMETERY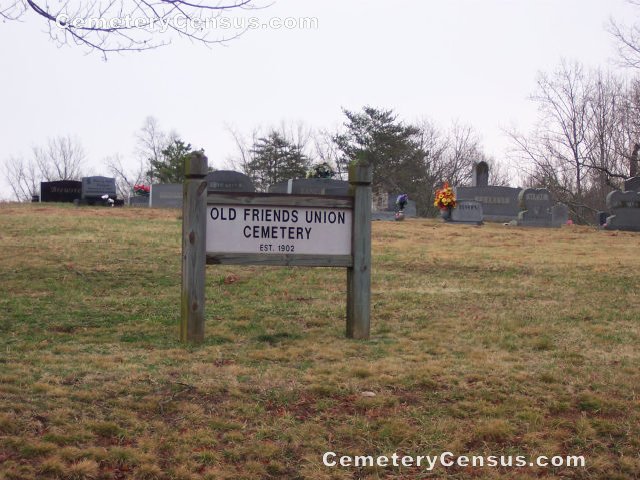 Location - 215 Roby Fulk Road, Pinnacle, Surry Co., NC.

Coordinates: 36d 16m 04.6s N; 80d 27m 12.2s W Click here for Google maps

Directions: From the intersection of US Hwy 52 and NC Hwy 268 at Pilot Mountain take US Hwy 52 south and go for 4.8 miles to Pinnacle exit. At end of exit ramp turn right onto Perch Road (SR 2065) and go for about 3.4 miles and turn right on Hauser Rd (SR 2072) and follow for .2 mile and then turn left on Roby Fulk Rd (SR 2073). Then go .3 mile to 215 Roby Fulk Rd. The cemetery is on the left side of road at this location and is visible from both Hauser Rd and Roby Fulk Rd. It sits on a ridge about 25 yards off of Roby Fulk Rd.

Surveyed by Joe Hicks on March 21, 2007.
Township or district: Shoals.
Public or Private: Public Access.
GPS Accuracy (ft.): 16.
Elevation above sea level (ft.): 965.
Status of cemetery: Currently maintained.
Surry County Parcel Number: 5972-00-10-7342.

The old church building was moved from this site to another location when a new church was constructed a short distance away in Stokes County. Current burials allowed here.

Surveyed and Photographed by Jack Luffman on 12 April 2010.


Alcon, James, Jr. "Jamie" (b. 7 May 1970 - d. 10 Oct 2006)
"Forever Maddies Daddy". Row 6
Husband of Martha Davis Beck. Row 6
Wife of Howard Wayne Beck. Row 6
Wife of Oliver Franklin Bottoms. Row 2
Husband of Mildred M. Gough Bottoms. Row 2
Wife of Eddy A. Bray. Row 6
Husband of Arabelle L. Bray. Row 6
Husband of Nancy Watson Brewster. Row 5
Husband of Violet York Brewster. Row 3
Wife of Benny Ray Brewster. Row 5
Wife of Charles Alden Brewster. Row 3
"Lonely the house and sad the house, since our Father has gone." Row 5
Infant of O. T. and Ellen Brown. Row 7
Wife of Matt M. Collins. Row 5
Wife of W. M. Collins. Row 3
Husband of Louisa B. Collins. Row 5
Husband of Mary V. Collins. Row 3
Husband of Susan C. Eaton Culler. Row 5
Wife of J. N. Culler. Row 5
Baby Daughter of Tena Faye Brewster and John Wayne Flippin. Row 4
Child of B. A. and S. J. Forest. Row 7
Child of B. A. and S. J. Forest. Row 7
Son of E. W. B. and G. G. Forest. Row 7
Husband of Eula Baker Forrest. Row 3
Wife of Eugene C. Forrest. Row 3
Husband of Theresa Pawley Goins. Row 6
Wife of Robert Elijah Goins. Row 6
Wife of Authur Ciscero Kiger. Age 73 years 6 months 12 days. Row 6
Husband of Alice F. Waller Kiger. Age 59 years 3 months 28 days. Row 6
Wife of J. A. Randleman. Row 5
Husband of Eva R. Randleman. Married 12 Dec 1908. Row 4
Wife of Early S. Randleman. Married 12 Dec 1908. Row 4
Husband of Antionette Randleman. Row 5
"Loving Mother and Grandmother". Row 1
"In loving memory of our Father". Row 2
planted rock in Culler plot. Row 5
planted rock in Culler plot. Row 5
Wife of Robert J. Westmoreland. Row 3
Wife of Thurman L. Westmoreland. Row 3
Husband of Louise N. Westmoreland - married 14 Feb 1948. Row 2
Wife of Lawrence E. Westmoreland - married 14 Feb 1948. Row 2
Husband of Bessie E. Westmoreland. Row 3
Husband of Josephine L. Westmoreland. PFC US ARMY WW-II. Row 3
Web page updated 14 July 2016
Index of All Cemeteries
Alphabetical Index of All Burials
Previous Page