Index of All Cemeteries
Alphabetical Index of All Burials
Previous Page
Use the following to search across all the cemeteries listed.
Example: "Smith, Roger" (yes, use the quotes)
319 NEW HOME BAPTIST HISTORICAL CEMETERY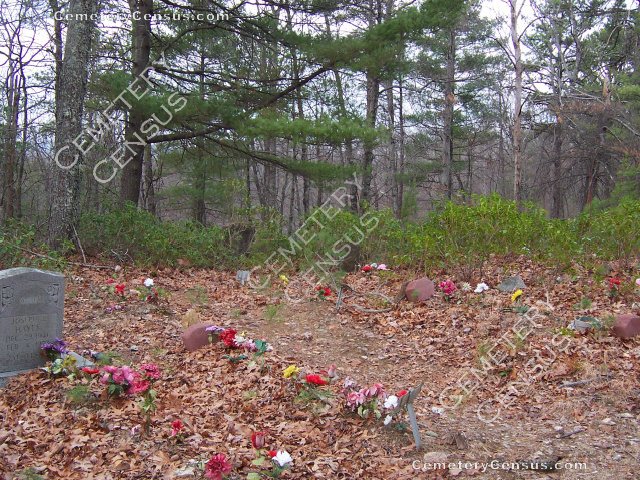 Location - Off Reynolds at Devotion, State Road, Surry Co., NC.

Coordinates: 36d 26m 58.1s N; 80d 55m 46.3s W Click here for Google maps

Directions: From intersection of Main Street and Kapp Street (Old Courthouse Square) take Kapp Street west (Turns into Zephyr Rd) and follow for 5.5 miles to a road on right side named Kapps Mill Rd. Turn right on that road and follow for 1.85 miles until it dead ends at River Rd. Turn right onto River Rd and follow for 3.5 miles until it dead ends at Haystack Rd. Turn left onto Haystack Rd (SR 1330 and go for 2.7 miles to a dirt road on right side just before entrance to Devotion. The road is named Reynolds Rd and is a dirt road (SR 1330). Turn right on that road and follow for 1.4 miles to a small circle where to old church used to stand on left side of road. Now in ruins and the church burned. Cemetery is behind church ruins.

Surveyed by Joe Hicks on March 15, 2007.
Township or district: Bryan.
Public or Private: Public Access.
GPS Accuracy (ft.): 20.
Elevation above sea level (ft.): 1544.
Status of cemetery: Transitioning to abandonment.
Surry County Parcel Number: 4938-00-28-3170.

There are several fieldstone and slate markers. There are also two recent burial locations that are marked by the retaining wall type stones turned up on the edge. This cemetery is just outside the Reynolds-Devotion property along the property fence and is an African American Cemetery. The Thompson's that are buried inside Devotion in the Thompson Cemetery were probably slave owners and the small cemetery outside were some of their descendants or at least had the name. After they were given their freedom they were given property out along this road where the church stood..

Photographed and surveyed by Jack Luffman on 14 August 2012, with the assistance of Alfred Thompson, age 90, and Justice Hayes, age 79. Both men grew up in this isolated Black Community. There are at least 50 plus graves in this cemetery marked only by rocks. I have included those names (and photos of stones) that Mr. Thompson and Mr. Hayes could identify.

According to Justice Hayes, when the congregation moved the church to Oak Grove Road in Elkin, NC, they continued to use the mane New Home Baptist Church. There was also a St. Paul Baptist Church in the community. The two congregations decided to join into one and took part of each church name - St. from St. Paul and Home from New Home - hence the name St. Home Baptist Church.

Steps of church (destroyed by fire decades ago).
Alfred Thompson at graves of Father & Mother.
Alfred Thompson at grave of his mother's father Luther Thompson.
Justice Hayes at graves of sister Doritha Hayes Dalton and husband Floyd Dalton.
Justice Hayes between graves of his parents Everette J. & Gaynell S. Hayes and his brother Joseph L. Hayes.


Bailey, Cube (Rev.) (b. 1892 - d. 1955)
Husband of Jennie Hayes Bailey. Pastor of New Home Church.

Bailey, Jennie Hayes (b. 1904 - d. )
Wife of Rev. Cube Bailey. Second Cousin of Justice Hayes.

Bryant, Mallie (b. Unknown - d. Unknown)
According to Justice Hayes, she is buried in this cemetery.

Dalton, Doritha Hayes (b. - d. )
Wife of Floyd Dalton. Sister of Justice Hayes.

Dalton, Floyd (b. - d. )
Husband of Doritha Hayes Dalton.

Hayes, Everett J. (b. 2 Sep 1893 - d. 8 Mar 1974)
Husband of Gaynell S. Hayes

Hayes, Gaynell S. (b. 8 Jun 1899 - d. 15 Aug 1992)

Hayes, Joseph L. (b. 29 Dec 1941 - d. 4 Feb 1973)
Brother of Justice Hayes.

Thompson, Connie M. (b. 13 Apr 1894 - d. 6 Feb 1977)

Thompson, George (Family) (b. - d. )
One stone for the George Thompson Family (spelled Faimly on the stone)

Thompson, George [Family] (b. - d. )
First Cousin of Alfred Thompson. One stone for the George Thompson Family (spelled Faimly on the stone) Another view.

Thompson, Luther (b. - d. )
Father of Stella Thompson, Alfred's mother.

Thompson, Stella T. (b. 26 Sep 1902 - d. 10 Jul 1984)
Wife of Connie M. Thompson.

Unknown, Mertie (b. - d. )
Web page updated 14 July 2016
Index of All Cemeteries
Alphabetical Index of All Burials
Previous Page