Index of All Cemeteries
Alphabetical Index of All Burials
Previous Page
Use the following to search across all the cemeteries listed.
Example: "Smith, Roger" (yes, use the quotes)
318 CARPENTER-SNOW FAMILY CEMETERY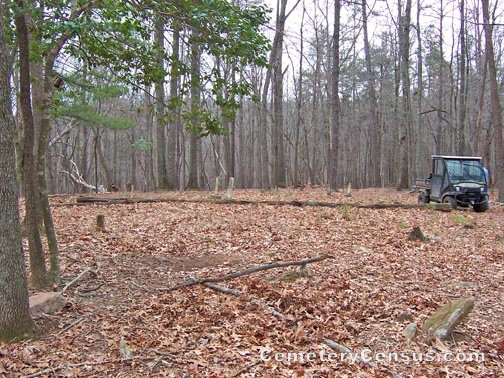 Location - 481 Roberson Creek Lane, Dobson, Surry Co., NC.

Coordinates: 36d 27m 08.4s N; 80d 52m 55.3s W Click here for Google maps

Directions: From intersection of Main Street and Kapp Street (Old Courthouse Square) in Dobson, go west on Kapp Street (turns into Zephyr Rd) for 5.5 miles. Then turn right onto Kapps Mill Rd and follow it for 1.8 miles until it dead ends into River Rd. Turn right on River Rd toward Devotion and go 3.5 miles until it dead ends into Haystack Rd (SR 1330). Turn right on Haystack Rd and then an immediate left on Corbett Cockerham Rd (SR 1332) and follow it for abt 1.5 miles to intersection of a dirt lane on the left at a sharp curve named Roberson Creek Lane. Take that road and follow it for about 1.2 miles up a one lane gated drive that narrows as getting toward the end. At top of ridge before starting down hill there is an old trail on right side that leads to the cemetery, about 150 to 175 yards from road.

Surveyed by Joe Hicks on March 15, 2007.
Township or district: Bryan.
Public or Private: Private property.
GPS Accuracy (ft.): 20.
Elevation above sea level (ft.): 1411.
Status of cemetery: Currently maintained.
Surry County Parcel Number: 4948-00-67-5383.

The property is somewhat sensitive to visits. Occupants are: Mother Lythia Carpenter (b. 1855, d. 1913), Father Albert Carpenter (b. 1848, d. 1925), Eliza A. Snow (b. 6-2-1839, d. 2-12-1892), Miller W. Snow (b. 3-24-1832, d. 1-3-1906), probably 10-15 unmarked field stone markers..


Carpenter, Albert (b. 1848 - d. 1925)

Carpenter, Lythia (b. 1855 - d. 1913)

Snow, Eliza A. (b. 2 Jun 1839 - d. 12 Feb 1892)

Snow, Miller W. (b. 24 Mar 1832 - d. 3 Jan 1906)
Web page updated 14 July 2016
Index of All Cemeteries
Alphabetical Index of All Burials
Previous Page