Index of All Cemeteries
Alphabetical Index of All Burials
Previous Page
Use the following to search across all the cemeteries listed.
Example: "Smith, Roger" (yes, use the quotes)
316 OLD FISHER RIVER CHURCH CEMETERY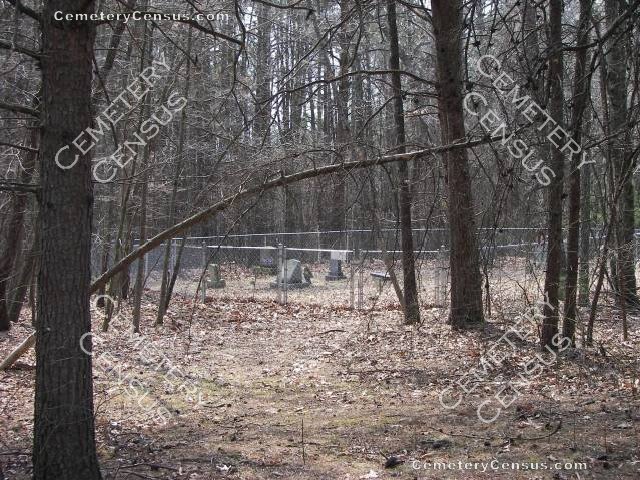 Location - off Fish River Church Road, Dobson, Surry Co., NC.

Coordinates: 36d 25m 49.9s N; 80d 41m 56.9s W Click here for Google maps

Directions: From the intersection of North Main and West Kapp Streets (Old Courthouse Square) in Dobson, travel north on N. Main Street (Old US Hwy 601 Business) for 9/10 mile and turn left onto Prison Camp Road. Follow Prison Camp Road for approximately 1.1 miles and turn right onto Red Brush Road. Travel approximately 1.2 miles on Red Brush Road and turn right onto Fish River Church Road. Go approximately _ mile to the intersection of Holt-Badgett Lane on the right. There is a directional sign on the right pointing the way to the cemetery.

View #2 of the cemetery. View #3 of the cemetery. View of the cemetery sign.

Surveyed by Andy Hennis on March 21, 2007.
Township or district: Dobson.
Public or Private: Public Access.
GPS Accuracy (ft.): 12.
Elevation above sea level (ft.): 1185.
Status of cemetery: Not abandnoned.
Surry County Parcel Number: 4997-00-99-9886.

It is located in a wooded area beyond the pastures approximately 0.16 mile from the road. Walk between the electric fences separating two pastures. There are two cattle grates - the first being metal and the second being wood. After crossing the wood grate, one can see the cemetery in the woods. It is surrounded by a four foot chain link fence. Estimate +/- 40 gravesites. The oldest (birth date) appears to be that of James Haynes, b. 5-20-1820, d. 1907. Other surnames are Branch, Bunker, Hudson, Hutchins, Joyce, Laffoon, McMillen, Riggs, Simpson, Smith, and Wilson.

Some photographs provided by Charles Crabtree in 2009.


Branch, Wallice (b. 28 Mar 1938 - d. 28 Mar 1938)
Son of James Harden Branch and Mary Beth "Bet" Jones - Death record has b/d on 27 Mar 1938, so 28th was burial date

Bunker, Napoleon B. (b. 17 Oct 1890 - d. 28 May 1954)
Husband of Myrtle Creed, m. 4 Jan 1918 in Surry (she buried at Crestview Memorial Park in Forsyth County) - Son of William Oliver Bunker and 2nd Wife Judy Rose Laffoon and grandson of Eng Bunker (Siamese twin to Chang Bunker) and Sarah Yates

Gordon, Moses L. (b. 16 Nov 1873 - d. 19 Dec 1953)
Husband of Nannie E. Simpson Riggs, m. 25 Oct 1903 in Surry - Son of William M. Gordon and Mary Missouri Mabe - death record has DOB as 1869

Gordon, Nannie E. Simpson Riggs (b. 1871 - d. 28 Jan 1957)
Wife of 1) Jesse M. Riggs and 2) Moses L. Gordon - Daughter of Columbus Franklin "Jack" Simpson and 1st Wife Lucinda Ann Sawyers - death record has DOB of 16 Nov 1867

Griffith, Etta (b. 12 May 1907 - d. 12 May 1907)
Daughter of Jackson Stonewall Griffith and Nora Elizabeth Gillespie

Griffith, Nora Elizabeth Gillespie (b. 15 Sep 1878 - d. 3 Nov 1918)
Wife of Jackson Stonewall Griffith - Daughter of James T. Gillespie and Mary C. Beamer

Haynes, Frances Cox (b. 3 Aug 1822 - d. 9 May 1902)

Haynes, James (b. 20 May 1820 - d. 18 Mar 1907)
Husband of Frances Cox, m. 7 Oct 1846 in Surry

Hudson, Nancy Evie Riggs (b. 19 Sep 1888 - d. 26 Jun 1912)
Reportedly buried here in unmarked grave - 1st Wife of Joseph Arthur Hudson, m. 30 Sep 1906 in Surry - Daughter of Joseph Britton Riggs and Susan D. Copeland

Hutchens, Floyd Allen (b. 5 Jan 1917 - d. 17 Apr 1925)
Son of Calvin Byrd Hutchens and Ella Mitchell (buried here per death record)

Hutchins, Martha Elizabeth Marion Denny (b. 21 Sep 1855 - d. 27 Jan 1940)
Wife of 1) Lewis E. Denny, m. 18 Dec 1873 in Surry and 2) Nathaniel T. Hutchens - Daughter of William Carl Marion and Patience Gillespie (buried here per death record)

Hutchins, Nathaniel T. (b. 1 Mar 1856 - d. 31 Jan 1930)
Husband of Martha Elizabeth Marion Denny, m. 6 Mar 1884 in Surry (buried here per death record)

Jenkins, Joseph F. (b. Abt 1856 - d. Bet 1901-1909)
Husband of 1) Sallie Clifton, m. 26 Mar 1874 in Patrick Co, VA and 2) Martha Clifton, m. 21 Jan 1896 in Patrick Co, VA - born in Patrick Co, VA and Son of William and Polly Jenkins and was on 1900 Patrick Co, VA census

Jenkins, Mack (b. Bet 1901-1909 - d. Bet 1901-1909)

Jenkins, Martha Clifton (b. Abt 1870 - d. Bet 1901-1909)
Born in Patrick Co, VA and Wife of Joseph F. Jenkins - Daughter of Newell and Ruth Clifton and was on 1900 Patrick Co, VA census

Joyce, John William Jr (b. 4 Nov 1861 - d. 11 Dec 1958)
Husband of Susan Josephine Haynes, m. 5 Dec 1886 in Surry - Son of John William Joyce Sr and Rachel Pilson

Joyce, Martha Frances (Fannie) (b. 13 Sep 1887 - d. 26 Sep 1964)
Daughter of John William Joyce Jr and Susan Josephine Haynes - was never married

Joyce, Susan Josephine Haynes (b. 20 Mar 1856 - d. 16 May 1928)
Wife of John William Joyce Jr - Daughter of James Haynes and Frances Cox

Joyce, William Cornelius (b. 19 Oct 1889 - d. 23 Jan 1970)
Son of John William Joyce Jr and Susan Josephine Haynes - was never married

Laffoon, Mary E. (b. 23 Dec 1852 - d. 27 Dec 1928)
Daughter of William Harden Laffoon and Sarah Lewis - no data on grave, but from death record - never married and died of the flu

Laffoon, Nancy Ada (b. Apr 1871 - d. 28 Dec 1928)
Daughter of William Harden Laffoon and Sarah Lewis - no data on grave, but from death record - never married and died of the flu

Laffoon, Sarah Lewis "Sallie" (b. 21 Feb 1828 - d. 26 Jun 1915)
Wife of William Harden Laffoon - Daughter of Elkanah "Cana" Lewis and Mahala "Haley" Riggs

Laffoon, William Harden (b. 4 Mar 1822 - d. 31 Dec 1899)
Husband of Sarah "Sallie" Lewis, m. 21 Jun 1850 in Surry

Marion, Matthew (b. 21 Apr 1847 - d. 28 Mar 1914)
Husband of Sarah J. Collins, m. 20 Dec 1868 in Surry (she buried at Poplar Springs Bapt Ch in Siloam) - Son of Isaac Marion and Annie Whitaker

McMillian, James Earl (b. 10 Jul 1928 - d. 5 May 1929)
Son of J. L. McMillian and Nancy Kenny (both from Hillsville, VA) - age 9 mos 21 days - name is spelled McMillen on grave

Reece, Daniel (b. Nov 1839 - d. 30 Jan 1912)
Husband of Martha Mosley - Son of Solomon and Mary Reece

Reece, Martha Mosley "Patsy" (b. 24 Jan 1825 - d. 20 Oct 1909)
Wife of Daniel C. Reece, m. 2 Dec 1856 - Daughter of Robert Theophilus Mosley and Sally Gillespie

Riggs, James (b. 18 Jul 1847 - d. 7 Jun 1926)
Husband of Mary Wright, m. 30 Jan 1890 in Surry - Son of Jesse Riggs and Lydia Laffoon (or Hodges) - (buried here per death record)

Riggs, Jesse M. (b. 1862 - d. 1900)
1st Husband of Nannie Simpson, m. 19 Jan 1889 in Surry - Son of Wiley Riggs and Julia Ann Haymore

Riggs, Joseph Britton (b. 8 Jan 1869 - d. 23 Dec 1929)
Husband of 1) Patience Copeland, m. 4 Nov 1886 in Surry and 2) Susan Freeman, m. 16 Apr 1899 in Surry (she buried at Pine Ridge Bapt Ch) - Son of Wiley Riggs and Julia Ann Haymore

Riggs, Julia Ann Haymore (b. 2 Feb 1838 - d. 28 Feb 1912)
Wife of Wiley C. Riggs - Daughter of Britton Haymore and Mary Polly Taylor

Riggs, Mahala Elizabeth Gillespie "Betty" (b. 28 Nov 1873 - d. 14 Mar 1955)
Wife of William Drew Riggs - Daughter of Elijah H. Gillespie and Mary June Lewis

Riggs, Mary Wright (b. 22 Mar 1858 - d. 28 May 1931)
Wife of James Riggs - b. Forsyth Co, NC and Daughter of Jack Wright and Mary Crude (buried here per death record)

Riggs, Patience W. Copeland (b. 6 Apr 1854 - d. Bet 1900-1906)
1st Wife of Joseph Britton Riggs - Daughter of Harden and Mary Copeland and was age 46 in 1900 census

Riggs, Wiley (b. 15 Oct 1893 - d. 10 Feb 1894)
Believed to be Son of William Drew Riggs and Mahala Elizabeth Gillespie

Riggs, William Drew (b. 2 Jan 1869 - d. 21 Aug 1933)
Husband of Mahala Elizabeth "Betty" Gillespie, m. 2 Apr 1891 in Surry - Son of Wiley Riggs and Julia Ann Haymore (buried here per death record)

Riggs, William Y. (b. 3 Jan 1874 - d. 30 Dec 1911)
Son of James T. Riggs and Media Ann Marion

Riggs, Wylie C. (b. 28 Jul 1833 - d. 25 Aug 1904)
Husband of Julia Ann Haymore, m. 26 Jan 1859 in Surry

Smith, Lucinda Jane Dezern "Lucy" (b. 15 Aug 1827 - d. 23 Aug 1902)
Wife of Freeman Smith, m. 12 May 1849 in Surry (captured and died in prison and buried in Woodlawn National Cemetery in New York) - Daughter of Elijah Dezern and Sallie Harrison

Wilson, Drucilla (b. 16 Dec 1889 - d. 17 Mar 1939)
Born in Stokes Co, NC, was single, and Daughter of James Wilson and Frances Hensel Wilson

Wilson, Frances Hensel (b. 26 Jun 1866 - d. 11 Dec 1948)
Born in Patrick Co, VA to Lee and Lucy Wilson - was single and never married James Wilson
Web page updated 14 July 2016
Index of All Cemeteries
Alphabetical Index of All Burials
Previous Page