Index of All Cemeteries
Alphabetical Index of All Burials
Previous Page
Use the following to search across all the cemeteries listed.
Example: "Smith, Roger" (yes, use the quotes)
312 STANLEY FAMILY GRAVEYARD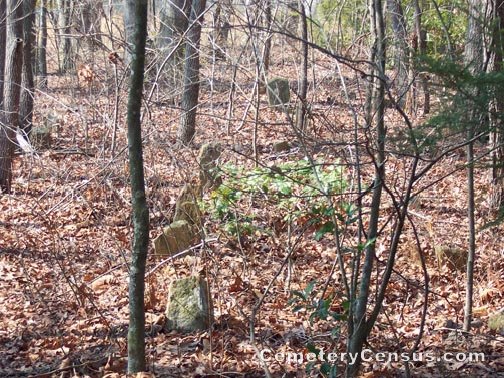 Location - 1744 Stony Knoll Rd, Dobson, Surry Co., NC.

Coordinates: 36d 17m 52.7s N; 80d 41m 37.4s W Click here for Google maps

Directions: From Dobson at Intersection of NC Hwy 268 and Rockford Rd (SR 2221), take Rockford Rd south. After going for a short distance you will cross a bridge over a creek at this point take the right fork. You will go for 2.4 miles from NC Hwy 268 to the intersection of Stony Knoll Rd (SR 2234). Turn Right on Stony Knoll Rd (SR 2234) at South Surry Volunteer Fire Dept and go 1.6 miles to a small dirt lane on the right. It goes up a hill that is blocked by a cable and you can drive up to the cable. Park and walk north for about 75 yards and there is an old road bed or path to the left that shows wear from foot traffic and deer. There some pink ribbons that may have identified the path, or may have been for a survey to ssubdivide the property. Go into the woods for another 50 to 75 yards to find the cemetery.

Another view of the cemetery.

Surveyed by Joe Hicks on March 11, 2007.
Township or district: Rockford.
Public or Private: Private property.
GPS Accuracy (ft.): 19.
Elevation above sea level (ft.): 1059.
Status of cemetery: Abandoned.
Surry County Parcel Number: 5903-00-01-8460.

Occupants of cemetery markers identified by Irwin Stanley, Ted Stanley, son of Irwin and Judy Stanley Cardwell.


Bowles, Sally (b. 1804 - d. 16 Jul 1894)

Bowles, William (b. 14 Feb 1810 - d. 1 Apr 1880)

Coe, Child (b. - d. )
Coe family surrounded by cinder block rectangular area of about 10'x20'

Coe, Child (b. - d. )
Coe family surrounded by cinder block rectangular area of about 10'x20'

Coe, Joseph Dobson (b. - d. )
Husband of Louiza Stanley Coe. Coe family surrounded by cinder block rectangular area of about 10'x20'

Coe, Louiza Stanley (b. - d. )
Wife of Joseph Dobson Coe. Coe family surrounded by cinder block rectangular area of about 10'x20'

Stanley, Elizabeth Hardy (b. Nov 1826 - d. Abt 1905)

Stanley, John, Jr. (b. 1803 - d. Bef 1894)
Husband of Sally Butcher Stanley. Fieldstone

Stanley, Lemuel Jackson (b. Jun 1826 - d. Abt 1903)
Capt. 74th Regiment, 18th Brigade, CSA.(this stone was placed by Judy Stanley Cardwell in 1998)

Stanley, Margaret (b. 15 Aug 1841 - d. 15 Dec 1915)

Stanley, Sally Butcher (b. 1804 - d. Aft 1880)
Wife of John Stanley, Jr. Fieldstone

Stanley, Susan (b. Aug 1846 - d. Aft 1900)

Unknown, ?? (b. - d. )
Several fieldstone markers
Web page updated 14 July 2016
Index of All Cemeteries
Alphabetical Index of All Burials
Previous Page