Index of All Cemeteries
Alphabetical Index of All Burials
Previous Page
Use the following to search across all the cemeteries listed.
Example: "Smith, Roger" (yes, use the quotes)
311 JENKINS-STANLEY FAMILY CEMETERY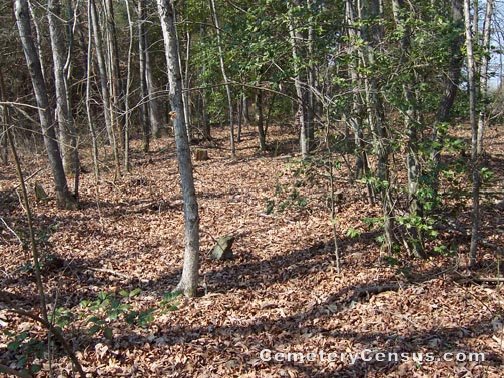 Location - 518 Jenkinstown Rd (off Seapath Trail), Dobson, Surry Co., NC.

Coordinates: 36d 18m 03.7s N; 80d 41m 50.1s W Click here for Google maps

Directions: From intersection of US Hwy 601 and NC Hwy 268 at Fairview Crossing, take US Hwy 601 south for 2 miles and turn left on Jenkinstown Rd. Then go 1.5 miles until you pass Mt. Pleasant Church and cemetery and immediately on left side of Jenkinstown Rd is a small dirt trail named Seapath Trail. Turn on that road and go to the end where there is an iron gate across road. Stop here and cross gate going east for about 200 yards down an old road toward a group of trees on left side of the old road and the cemetery sits at the edge of a fence line.

Another view of the cemetery.

Surveyed by Joe Hicks on March 10, 2007.
Township or district: Marsh.
Public or Private: Private property.
GPS Accuracy (ft.): 20.
Elevation above sea level (ft.): 965.
Status of cemetery: Abandoned.
Surry County Parcel Number: 4993-00-92-9238.

Occupants are: Lemuel William Stanley (b. 1851, d. 1938), s/o Nathan and Nancy Jenkins Stanley, Elizabeth Norman Stanley (b. 6-30-1857, d. 10-17-1930) w/o Lemuel William Stanley, Lillie P. Stanley (b. 1-14-1886, d. 1-15-1890) d/o Lemuel and Elizabeth Stanley, Lucy P. Stanley (b. and d. 1-15-1896), d/o Lemuel and Elizabeth Stanley. About 20 unmarked field stone markers. (Information source was Judy Stanley Cardwell and she was helped by James E. Cockerham.


Stanley, Elizabeth Norman (b. 30 Jun 1857 - d. 17 Oct 1930)
Wife of Lemuel William Stanley

Stanley, Lemuel William (b. 1851 - d. 1938)
son of Nathan and Nancy Jenkins Stanley

Stanley, Lillie P. (b. 14 Jan 1886 - d. 15 Jan 1890)
infant daughter of Lemuel and Elizabeth Stanley

Stanley, Lucy C. (b. 15 Jan 1896 - d. 15 Jan 1896)
infant daughter of Lemuel and Elizabeth Stanley
Web page updated 14 July 2016
Index of All Cemeteries
Alphabetical Index of All Burials
Previous Page