Index of All Cemeteries
Alphabetical Index of All Burials
Previous Page
Use the following to search across all the cemeteries listed.
Example: "Smith, Roger" (yes, use the quotes)
310 REDEEMING GRACE BAPTIST CHURCH CEMETERY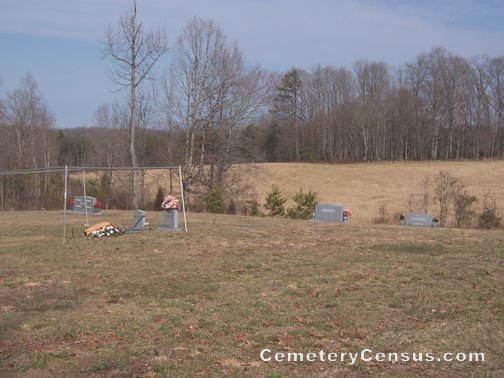 Location - 5549 Siloam Rd, Siloam, Surry Co., NC.

Coordinates: 36d 18m 53.0s N; 80d 35m 56.0s W Click here for Google maps

Directions: From the intersection of US Hwy 601 and NC Hwy 268 take NC Hwy 268 east toward Pilot Mountain for about 5.5 miles and turn right on Siloam Rd (SR 1003). Go south on Siloam Rd for 2.5 miles to 5549 Siloam Rd which will be on the left side of Siloam Rd. There is a small dirt lane there that leads to the church and cemetery.

Another view of the cemetery. View of the church.

Surveyed by Joe Hicks on March 9, 2007.
Township or district: Siloam.
Public or Private: Public Access.
GPS Accuracy (ft.): 16.
Elevation above sea level (ft.): 1043.
Status of cemetery: Well maintained.
Surry County Parcel Number: 5923-00-87-8210.

Occupants are: Michael G. Vestal (b. 1-26-1970, d. 5-06-1999), Cindy Lynn Vestal (b. 4-28-1995, d. 5-18-1995) d/o Michael and Cindy Vestal, Willie G Whitaker (b. 1991, d. 2000), Linda B Whitaker (b. 1942, d. 2006), Wall, Ernie Franklin Richardson (b. 4-17-1968, d. 2-20-2007..


Draughn, Annie Pike (b. 18 Mar 1919 - d. reserved)
Wife of Jesse C. Draughn Sr.

Draughn, Jesse C. Sr. (b. 14 Feb 1933 - d. 23 Oct 1997)
Husband of Annie Pike Draughn

Hutchens, Betty Jean Wall (b. 14 Nov 1942 - d. 25 Dec 2007)
Wife of unknown Hutchens - daughter of Ernest Jackson Wall Sr and Grace Truman Goodman

Nicks, Byron Bilson (Dr.) (b. 21 Mar 1920 - d. 1 Feb 2004)
Husband of Florine Harris Nicks

Richardson, Ernie Franklin (b. 17 Apr 1968 - d. 20 Feb 2007)
Cox-Needham Funeral Home marker.

Vestal, Cindy Lynn (b. 28 Apr 1995 - d. 18 May 1995)
Infant daughter of Michael and Cindy Vestal

Vestal, Michael G. (b. 26 Jan 1970 - d. 6 May 1999)

Wall, Ernest Jackson, Sr. (b. 26 June 1917 - d. 8 Mar 1994)
Husband of Grace Truman Goodman Wall - son of Joseph Jasper Wall and Emma E. Bruner

Wall, Grace Truman Goodman (b. 2 Nov 1918 - d. 29 Apr 2003)
Wife of Ernest Jackson Wall and daughter of Steven Hector Goodman and Elizabeth Cameron

Whitaker, Linda Kaye Boggs (b. 1942 - d. 2006)
2nd Wife of Willie Granville Whitaker

Whitaker, Willie Granville (b. 18 Jan 1931 - d. 12 Dec 2000)
Husband of 1) Marie Baugess Whitaker and 2) Linda Kaye Boggs Whitaker - son of Floyd Osborne Whitaker and Fannie Lesta Eads
Web page updated 14 July 2016
Index of All Cemeteries
Alphabetical Index of All Burials
Previous Page