Index of All Cemeteries
Alphabetical Index of All Burials
Previous Page
Use the following to search across all the cemeteries listed.
Example: "Smith, Roger" (yes, use the quotes)
308 WOLFF FAMILY CEMETERY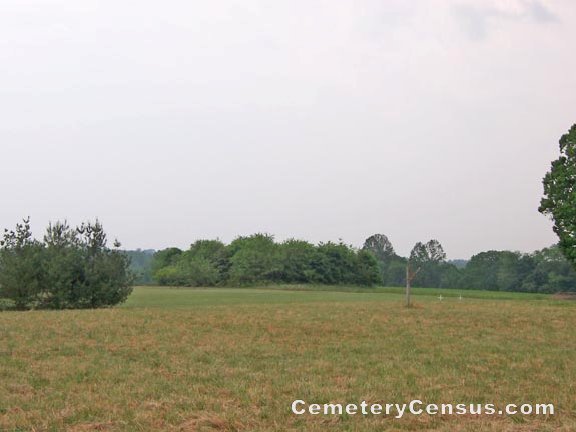 Location - Off Pratt Rd (Level Cross Community), Ararat, Surry Co., NC.

Coordinates: 36d 21m 30.4s N; 80d 38m 29.9s W Click here for Google maps

Directions: From intersection of US Hwy 601 and NC Hwy 268 at Fairview Crossing, go East on Hwy NC 268 for 4 miles and turn left on Copeland School Rd (SR 2209). Then go north for 2 miles (Copeland School Rd turns into Simpson Mill Rd) and there is a road on right named Pratt Rd (SR 2037). Take that road for .5 mile until you come to a small dirt lane on the right named Lindsey Lane (just prior to reaching Beaver Creek Golf Course). Turn right on Lindsey Lane and go .1 mile to Solid Rock Baptist Church and Cemetery. Park at the church and walk about 150 yards south and west of the church to a small rectangular overgrown area where the cemetery is located.

Surveyed by Joe Hicks on March 9, 2007.
Township or district: Eldora.
Public or Private: Private property.
GPS Accuracy (ft.): 16.
Elevation above sea level (ft.): 1125.
Status of cemetery: Abandoned.
Surry County Parcel Number: 5915-00-63-5331.

Occupants are: W. H. Wolff (b. 8-20-1847, d. 2-25-1898), Antionette Wolff w/o W. H. Wolff (b. 12-25-1845, d. 12-14-1926), Virginia M. Badgett Wolff w/o J. L. Wolff (b. 7-04-1880, d. 8-15-1915), Israel Moser (b. 3-25-1816, d. 12-27-1897), Israel Moser was a 2nd Lt in the CSA Army with 7th NC Reserves; Martha Moser w/o Israel Moser (b. 4-22-1822, d. 12-11-1893), Sarah E. Fallin (b. 10-24-1896, d. 11-09-1896) d/o O. M. and Etta Fallin.


Fallin, Sarah E. (b. 24 Oct 1896 - d. 9 Nov 1896)
daughter of O. M. and Etta Fallin

Moser, Israel (b. 25 Mar 1816 - d. 27 Dec 1897)
grandson of Anna Catherina Wolff and Peter Moser. 2nd Lt. Co. H, 7th NC Reserves, CSA.

Moser, Martha (b. 22 Apr 1822 - d. 11 Dec 1893)

Wolff, Antionette (b. 26 Dec 1845 - d. 14 Dec 1926)

Wolff, Virginia M. Badgett (b. 4 Jul 1880 - d. 15 Aug 1915)

Wolff, William H. (b. 20 Aug 1846 - d. 25 Feb 1898)
Husband of Antoinette Wolff
Web page updated 14 July 2016
Index of All Cemeteries
Alphabetical Index of All Burials
Previous Page