Index of All Cemeteries
Alphabetical Index of All Burials
Previous Page
Use the following to search across all the cemeteries listed.
Example: "Smith, Roger" (yes, use the quotes)
300 TUCKER and MCMICKLE FAMILY CEMETERY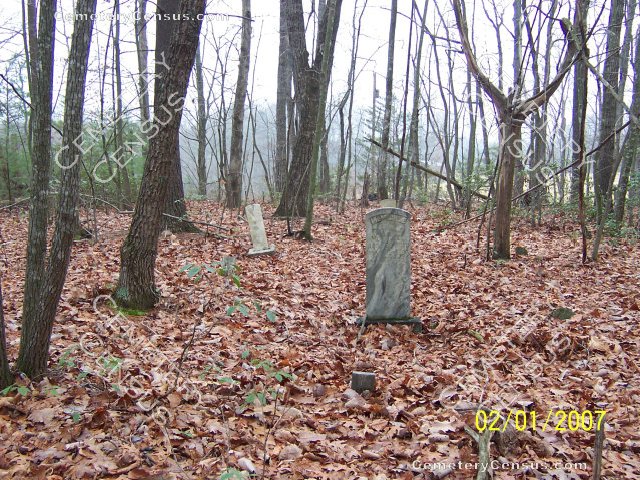 Location - New Life Church Rd, Dobson, Surry Co., NC.

Coordinates: 36d 26m 35.1s N; 80d 47m 32.9s W Click here for Google maps

Directions: From intersection of Prison Camp Rd (SR 1345) and Haystack Rd (SR 1331), go west on Haystack Rd for 2.5 miles and turn left on New Life Church Rd (SR 1405). Follow that road for 1.5 miles until you pass the Nixon Family Cemetery on the right. New Life Church Rd becomes a dirt road and follow it for another .1 mile and the cemetery will be on the right in a patch of woods about 50 yards from road.

Surveyed and Photographed by Jack Luffman and Rex Melton on October 20, 2009.

Surveyed by Joe Hicks on February 3, 2007.
Township or district: Dobson.
Public or Private: Private property.
GPS Accuracy (ft.): 19.
Elevation above sea level (ft.): 1282.
Status of cemetery: Abandoned.
Surry County Parcel Number: 4978-00-24-6725.


Bunker, Jasper (b. 1906 - d. 17 Nov 1936)
Husband of Nealy Bunker. Son of Robert Bunker and Lila Bunker.

Bunker, Jessie (b. 5 Dec 1918 - d. 24 Oct 1937)
Daughter of Robert Bunker and Lillie Grogans Bunker.

Hickman, Betty Tucker (b. 5 Jan 1896 - d. 5 Jun 1922)
Wife of Jess Hickman. Daughter of Charlie Tucker and Allie G. Tucker.

Hopper, Charlie (b. 15 Jun 1880 - d. 31 Oct 1971)

Hopper, Mary Eliza (b. 1887 - d. 12 Mar 1917)

Hopper, Rosella N. Ceasar (b. 8 Jan 1885 - d. 1 Sep 1969)
Wife of Charlie Hopper. Daughter of Jim Caesar and Julia Cooper Caesar.

McMickle, Flora A. Tucker (b. 27 Aug 1868 - d. 6 Mar 1898)

Tucker, Charles A. (Charlie) (b. 6 Sep 1860 - d. 8 Aug 1892)

Tucker, Mary Elizabeth "Lizzie" (b. 11 May 1858 - d. 11 Apr 1901)
Never married. Date of death difficult to read. Another view of tombstone.

Tucker, Nancy Loretta Francis (b. Mar 1842 - d. 13 Jan 1922)
Wife of Joel Andrew Tucker. Ten children. Daughter of John Francis and Nancy Tilley Francis.

Tucker, Sarah Franklin Thompson (b. 29 Apr 1832 - d. 28 Nov 1914)
Wife of William Younger Tucker.

Tucker, W. E. "Ed" (b. 11 Nov 1875 - d. 25 Mar 1934)
Husband of Minnie Tucker. Son of James B. Tucker and Lizzie Brown Tucker.

Tucker, William Younger (b. 20 Jan 1828 - d. 11 Jan 1911)
Husband of Sarah Franklin Thompson Tucker.

Unknown, ?? (b. - d. )

Unknown, ?? (b. - d. )

Unknown, ?? (b. - d. )

Unknown, ?? (b. - d. )

Unknown, ?? (b. - d. )
Web page updated 14 July 2016
Index of All Cemeteries
Alphabetical Index of All Burials
Previous Page