Index of All Cemeteries
Alphabetical Index of All Burials
Previous Page
Use the following to search across all the cemeteries listed.
Example: "Smith, Roger" (yes, use the quotes)
297 COCKERHAM FAMILY CEMETERY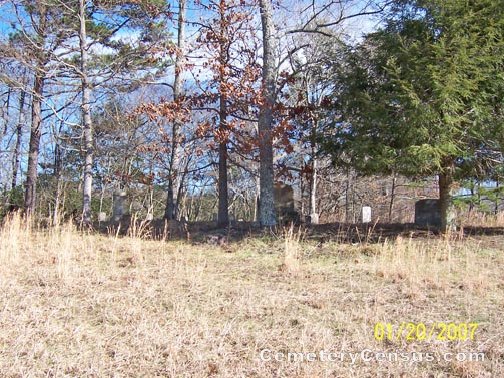 Location - 845 Liberty School Rd, Mountain Park, Surry Co., NC.

Coordinates: 36d 21m 07.1s N; 80d 51m 14.5s W Click here for Google maps

Directions: From intersection of Mtn Park Rd and Zephyr Rd in Mtn Park, go west on Zephyr Rd (SR 1315) for .4 miles and and turn left on Liberty School Rd (SR 1316). Follow that road 1.4 miles until it dead ends. Property owner's home is on right side of road at dead end. With your back facing the house, the cemetery in front of you and to the right at the 1:00 o'clock position on a knoll about 150 yeards from the road.

View #2 of the cemetery.

Surveyed by Joe Hicks on January 22, 2007.
Township or district: Bryan.
Public or Private: Private property.
GPS Accuracy (ft.): 16.
Elevation above sea level (ft.): 1159.
Status of cemetery: Abandoned.
Surry County Parcel Number: 4955-00-31-6888.

Cemetery occpuants are Tennessee Kennedy Cockerham (b. 8-11-1826, d. 9-11-1857); Pleasant Henderson "Bunty" Cockerham (b. 6-10-1843, d. 10-20-1915); Joseph R. Cockerham (b. 7-10-1852, d. 4-9-1923), and his wife Tennessee "Tennie" Cockerham (b. 7-28-1856, d. 4-3-1918). There are several other unreadable markers and some field stone markers..


Cockerham, Joseph R. (b. 10 Jul 1852 - d. 9 Apr 1923)
Husband of Tennessee "Tenny" L. Cockerham, m. 30 Apr 1871 in Surry. Son of John E. Cockerham and Emmaline Thompson
shares stone with P. Athelene Cockerham
shares stone with Lillie O. Cockerham
Aged 67 yrs 10 mos 19 days. Husband of 1) Tennessee Kennedy, m. 10 Nov 1846 in Surry and 2) Martha Caroline Hamby, m. 27 Dec 1866 in Surry.
Husband of Sarah Frances Cockerham, m. 10 Oct 1869 in Surry. Son of Pleasant Burch Cockerham and Elizabeth Williams Cockerham. Co. C, 21st N.C. Infantry, CSA
Wife of Joseph R. Cockerham. Daughter of Pleasant C. Cockerham and Tennessee Kennedy Cockerham.
Web page updated 14 July 2016
Index of All Cemeteries
Alphabetical Index of All Burials
Previous Page