Index of All Cemeteries
Alphabetical Index of All Burials
Previous Page
Use the following to search across all the cemeteries listed.
Example: "Smith, Roger" (yes, use the quotes)
290 WOODVILLE BAPTIST CHURCH CEMETERY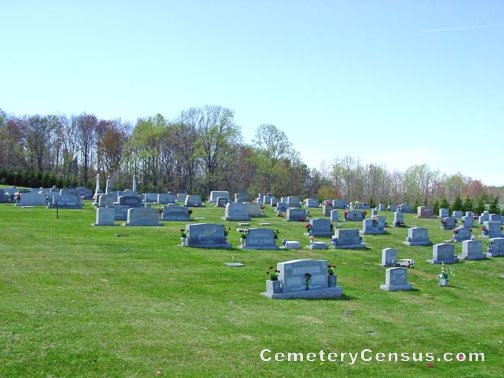 Location - NC Hwy 89 E (Westfield Rd), Westfield, Surry Co., NC.

Coordinates: 36d 30m 17.3s N; 80d 29m 11.0s W Click here for Google maps

Directions: From intersection of US Hwy 52 Business (S. Main St) and NC Hwy 89 E (Westfield Road) in Mt. Airy, go east on Westfield Rd for 6.75 miles to the cemetery on the left. Woodville Baptist Church is across the road on the right just past the cemetery.

View of the church.

Surveyed by Andy Hennis on April 6, 2006.
Township or district: Westfield.
Public or Private: Public Access.
GPS Accuracy (ft.): 13.
Elevation above sea level (ft.): 1475.
Status of cemetery: Currently maintained.

336-351-4300.
Partial burials survey in 2012.


Adams, Cecil Irvin (b. 12 Mar 1933 - d. 14 Apr 1933)
Adams, Danny Baxter (b. 19 Aug 1947 - d. 29 Mar 2008)
Adams, Emma Eliza Arrington (b. 12 May 1907 - d. 29 Sep 1995)
Adams, Kay (b. 9 Oct 1953 - d. 26 Oct 1987)
Adams, Willie Andrew (b. 22 Sep 1901 - d. 2 Jan 1966)
Arrington, Adolphus Buell (b. 5 Mar 1908 - d. 26 Mar 2003)
Arrington, Charles Roland (b. 25 May 1917 - d. 22 Nov 1976)
Arrington, Clyde Elliott (b. 7 Jul 1919 - d. 25 Jul 1975)
Arrington, Daisy Wood (b. 22 Apr 1893 - d. 30 Aug 1972)
Arrington, Daniel Turner (b. 21 Apr 1876 - d. 23 Jun 1960)
Arrington, Elmer Victor (b. 18 Jun 1912 - d. 11 May 1993)
Arrington, Eunice Ethel Collins (b. 6 Aug 1909 - d. 4 Sep 2007)
Arrington, Green Daniel (b. 30 Jun 1859 - d. 12 Jun 1942)
Arrington, Gwenda V. (b. 5 Sep 1938 - d. 3 Jan 1939)
Arrington, Jettie Elizabeth Scott (b. 17 Jul 1873 - d. 24 Sep 1947)
Arrington, Jettie Hazel (b. 30 Aug 1913 - d. 27 Sep 1945)
Arrington, Jobe Edward (b. 7 May 1891 - d. 5 Nov 1970)
Arrington, Kenneth Lindo (b. 30 Sep 1935 - d. 3 Jul 1963)
Arrington, Ludie Law (b. 30 May 1910 - d. 28 Feb 1990)
Arrington, Mabel Estelle Love (b. 21 Apr 1914 - d. 7 Apr 2004)
Arrington, Mary Ida Gordon (b. 27 Oct 1889 - d. 1 Dec 1965)
Arrington, Minerva Smith (b. 14 Feb 1859 - d. 11 Mar 1952)
Arrington, Obern Matthew (b. 29 May 1921 - d. 2 Jan 1975)
Arrington, Robert Lee (b. 27 Feb 1887 - d. 5 Jan 1961)
Arrington, Ruth Alene (b. 23 Jan 1927 - d. 15 Feb 1928)
Arrington, Ruth Virginia Brewer (b. 16 Aug 1925 - d. 3 Mar 2004)
Arrington, Tabitha Jane Cook (b. 6 Jul 1884 - d. 8 Apr 1967)
Arrington, William Claude (b. 22 Apr 1909 - d. 3 Oct 1964)
Arrington, William Edward (b. 2 Jul 1889 - d. 2 Sep 1964)
Arrington, William Harvie (b. 2 Jan 1912 - d. 4 Dec 1932)
Arrington, Zelda Vernell (b. 5 Sep 1941 - d. 2 Jan 1942)
Ball, William N. (b. 10 Aug 1921 - d. 20 Mar 1922)
Barnard, Ruth Ellen Collins (b. 12 Jun 1913 - d. 23 Aug 2009)
Beasley, Leonard E. (b. 21 Feb 1913 - d. 1 Mar 1976)
Beasley, Thelma Gertrude Collins (b. 30 Dec 1918 - d. 24 Jan 2004)
Beasley, Walter James (b. 13 Sep 1915 - d. 26 Jan 1968)
Bingman, Garnie Lee (b. 9 Oct 1905 - d. 16 Jul 1993)
Bingman, J. Austin (b. 21 Nov 1929 - d. 7 May 1981)
Bingman, James Austin (b. 3 Dec 1885 - d. 10 Mar 1920)
Bingman, James Thomas (b. 12 May 1920 - d. 4 May 1996)
BINGMAN, Roxie Wood (b. 22 May 1897 - d. 1 Jan 1980)
Bingman, Zida Milpa Love (b. 2 Nov 1891 - d. 10 May 1954)
Brant, Susan Nevedia Chilton (b. 22 Aug 1930 - d. 1 Dec 1972)
Burch, Jeffery Donald (b. 1 Apr 1962 - d. 19 Oct 1985)
Burch, Roy L., Jr (b. 15 Aug 1919 - d. 1 Oct 1990)
Cain, Boyd L. (b. 5 Dec 1912 - d. 7 Aug 1994)
Cain, Dellie E. "Dell" Beasley (b. 3 Apr 1910 - d. 11 Feb 1986)
Cain, Ella Mae Martin (b. 11 May 1932 - d. 30 Jan 2010)
Cain, Martin Van (b. 17 Jan 1952 - d. 17 Apr 1975)
Chamberlain, Jesse (b. 4 Jun 1924 - d. 22 Nov 2001)
Chilton, Alvin Ramey (b. 23 Dec 1892 - d. 9 Jul 1956)
Chilton, Betty Rayle (b. 18 Jul 1931 - d. 25 May 2009)
Chilton, Charles Kline (b. 29 Jan 1939 - d. 2 Sep 1975)
Chilton, Dennis H., Sr (b. 3 Jan 1926 - d. 13 Jun 1965)
Chilton, Garland Madison (b. 3 Oct 1922 - d. 6 Mar 1997)
Chilton, Henry Kline (b. 30 Jan 1913 - d. 28 Sep 1950)
Chilton, Jesse Howard (b. 19 Mar 1900 - d. 2 Jan 1975)
Chilton, Josie Ella Lytle (b. 31 Mar 1899 - d. 21 Jan 1996)
Chilton, Lora Love (b. 20 Apr 1899 - d. 13 Sep 1983)
Chilton, Manuel Nathan (b. 12 Oct 1902 - d. 16 Oct 1962)
Chilton, Margie Bass (b. 30 Nov 1927 - d. 30 Oct 2002)
Chilton, Mary Ella Inman (b. 20 Oct 1910 - d. 27 Aug 1981)
Chilton, Mary Nell Hollingsworth (b. 25 Aug 1930 - d. 22 Apr 1972)
Chilton, Mavis Carolyn Inman (b. 25 Dec 1924 - d. 23 Aug 2006)
Chilton, Mecie Ann Wood (b. 18 Oct 1893 - d. 15 Dec 1984)
Chilton, Myrtle Lea Hall (b. 2 Aug 1902 - d. 4 Aug 1978)
Chilton, Oliver William (b. 8 Mar 1896 - d. 16 May 1975)
Chilton, Ottis J. (b. 10 Apr 1928 - d. 25 Feb 2010)
Chilton, Radford Guy (b. 16 Nov 1932 - d. 14 Aug 2002)
Chilton, Susie Emma Vaughn (b. 2 Oct 1869 - d. 21 Sep 1957)
Clifton, Zina Hall (b. 5 Jun 1905 - d. 9 Sep 1974)
Coalson, Buford Darrell (b. 20 Jul 1949 - d. 18 Aug 1999)
Collins, Etta (b. 6 May 1905 - d. 13 Mar 1983)
Collins, Robert Sanford (b. 16 Mar 1887 - d. 27 Nov 1970)
Collins, Rose Ella Wood (b. 16 Jun 1890 - d. 11 Dec 1989)
Collins, Tommy D. (b. 27 Jan 1912 - d. 27 Jul 1968)
Collins, Tony James (b. 9 Jul 1957 - d. 10 Jul 1957)
Collins, V. V. Cobler (b. 23 May 1868 - d. 18 Oct 1931)
Cook, Alfred Marion (b. 18 Jul 1866 - d. 8 May 1943)
Cook, Algier B. (b. 3 Feb 1896 - d. 17 May 1946)
Cook, Eli Morton (b. 20 Sep 1894 - d. 12 Jul 1958)
Cook, Elsie Lawrence (b. 22 Jan 1913 - d. 14 Sep 2003)
Cook, Granvil Cornelious (b. 15 Jan 1923 - d. 5 Jul 1965)
Cook, James Austin "Jim" (b. 5 Jul 1910 - d. 1 Nov 1973)
Cook, John M. (b. 24 May 1858 - d. 10 Apr 1930)
Cook, Lena Mills (b. 18 Dec 1908 - d. 11 Nov 2001)
Cook, Mertie Mae Arrington (b. 23 Oct 1903 - d. 30 May 1990)
Cook, Paulina Ring (b. 25 Nov 1873 - d. 31 Jul 1952)
Cook, Peggy Ann (b. 10 Mar 1936 - d. 10 Mar 1936)
Cook, Sherman Arlis (b. 30 Dec 1942 - d. 19 Jul 1966)
Cook, Spencer H. (b. 14 Mar 1902 - d. 9 Aug 1938)
Cook, Thomas Walter (Rev.) "Tom" (b. 16 May 1908 - d. 8 May 1998)
Cook, William McKinley (b. 8 Jul 1896 - d. 5 Jul 1967)
Cooke, Alfred Marion (b. 3 Oct 1927 - d. 7 Feb 1977)
Cooke, Annie Novella Arrington (b. 5 Sep 1902 - d. 10 Sep 1982)
Cooke, Betty Sue George (b. 26 Jan 1933 - d. 14 Jan 2004)
Cooke, Beverly Faye (b. 5 Nov 1961 - d. 18 Oct 1969)
Cooke, Charles Lawrence, Sr (b. 13 Aug 1930 - d. 15 Nov 1986)
Cooke, Doris Marie Martin (b. 25 Dec 1929 - d. 11 Dec 2008)
Cooke, Dwight J. (b. 17 Aug 1823 - d. 24 Feb 1945)
Cooke, Elbert R. (b. 24 May 1904 - d. 25 Jun 1993)
Cooke, Ezra Glasco (b. 17 Jan 1922 - d. 28 Dec 1968)
Cooke, Georgia Viola Hundley (b. 22 Feb 1905 - d. 15 Jun 1987)
Cooke, Hersey Lee (b. 4 Apr 1919 - d. 20 Nov 2000)
Cooke, Kermit Keith (b. 3 Aug 1933 - d. 24 Aug 1962)
Cooke, Marilyn Sue Cooke (b. 3 Apr 1954 - d. 19 Mar 2011)
Cooke, Mary Nell (b. 1 Feb 1932 - d. 1 Jul 1933)
Cooke, R. Herman (b. 9 Jul 1924 - d. 13 Dec 2005)
Cooke, Ray Daniel (b. 13 Dec 1927 - d. 27 Mar 1963)
Cooke, Richard Allen (b. 11 May 1935 - d. 11 Apr 1987)
Cooke, Rodney Allen (b. 15 Aug 1966 - d. 16 Aug 1966)
Cooke, Versa Hollingsworth (b. 19 Jul 1903 - d. 23 Aug 1994)
Dollyhite, Ebra C. (b. 23 Sep 1940 - d. 20 May 1978)
Dollyhite, Jeffery Dean (b. 24 Jan 1962 - d. 27 Mar 1991)
Dollyhite, Polly I. (b. 5 Sep 1940 - d. 22 May 1988)
Draughn, Arnold Gray (b. 24 Dec 1943 - d. 1 Feb 1944)
Draughn, Christina (Lizzie) Elizabeth Gammons (b. 10 Aug 1903 - d. 7 Jul 1997)
Draughn, Clifford Joel (b. 14 Mar 1925 - d. 7 Feb 1999)
Draughn, Johnie Clifford (b. 11 Jul 1901 - d. 25 Jul 1974)
Easter, Tammy Delaine (b. 22 Oct 1964 - d. 22 Oct 1964)
Edmonds, Opal Felts (b. 1 Oct 1920 - d. 16 Feb 2004)
Edmonds, W. Kevin (b. 11 Nov 1966 - d. 11 Nov 1966)
Edmonds, William Wade (b. 21 Dec 1917 - d. 29 Jun 1988)
Evans, Clinard Erby (b. 10 May 1925 - d. 26 Feb 1992)
Evans, Linda Gail (b. 24 Sep 1949 - d. 14 Aug 1961)
Gammons, Elbert Herley (b. 19 Oct 1921 - d. 31 Aug 1990)
Gammons, Ezra (b. 29 Jun 1904 - d. 2 Apr 1998)
Gammons, J. T. "Cotton" (b. 11 Feb 1940 - d. 18 Nov 1994)
Gammons, Joseph Ezra (b. 4 Jun 1876 - d. 6 Apr 1969)
Gammons, Larry Kenneth (b. 26 Apr 1951 - d. 14 Aug 1951)
Gammons, Nancy Jane "Nannie" Willard (b. 5 Dec 1877 - d. 28 Jun 1941)
Gammons, Velva Johnson (b. 27 Feb 1905 - d. 16 Feb 1971)
George, James Lloyd (b. 29 Aug 1918 - d. 28 Oct 1999)
George, Louise Marie Cook (b. 15 Jul 1920 - d. 5 Sep 1969)
Golding, Clay William, Jr (b. 22 Jan 1933 - d. 17 Mar 1994)
Golding, Essie Mae Collins (b. 29 Jan 1903 - d. 23 Jan 1990)
Gwyn, Andrew Jackson (b. 30 Mar 1903 - d. 23 Mar 1967)
Hall, Iris Johnson (b. 15 Feb 1878 - d. 7 Jan 1960)
Hall, Joseph Glenn (b. 7 Aug 1911 - d. 4 Aug 1985)
Hall, Joseph Henry (Rev.) (b. 27 May 1879 - d. 3 Jan 1957)
Hall, Roanalda "Tincy" Cook (b. 5 Dec 1913 - d. 19 Jan 2009)
Hiatt, Eva Mae G. (b. 24 Oct 1914 - d. 27 Feb 1967)
Hiatt, Infant Girl (b. 19 Jul 1920 - d. 19 Jul 1920)
Hiatt, Infant Girl (b. 13 Jan 1926 - d. 13 Jan 1926)
Hiatt, Jesse F. (b. 13 Oct 1921 - d. 1 Feb 1928)
Hiatt, Reid Franklin (b. 27 Aug 1917 - d. 8 Sep 1996)
Hicks, Coney Everette (b. 23 Apr 1920 - d. 11 Feb 1990)
Hicks, Dottie Maedean Chilton (b. 3 Sep 1937 - d. 26 Sep 2008)
Hill, Reba Wood (b. 14 Feb 1922 - d. 20 Jan 1996)
Hollingsworth, Ada Jessup (b. 28 Mar 1876 - d. 12 Aug 1952)
Hollingsworth, Aldie Lee (b. 6 Jul 1904 - d. 11 Apr 1979)
Hollingsworth, Joseph S. "Seaf" (b. 1870 - d. 1954)
Hollingsworth, Ruth Augusta Smith (b. 2 Apr 1909 - d. 12 Jan 1994)
Hunt, Wilma Bingman (b. 21 Apr 1926 - d. 24 Jan 1999)
Inman, Aldie Elbert (b. 21 Mar 1905 - d. 28 Jul 1959)
Inman, Beulah Estelle Cooke (b. 11 Oct 1900 - d. 3 Nov 1996)
Inman, Bobby Dean (b. 6 Aug 1934 - d. 29 Jul 1984)
Inman, Delmer Cook (b. 4 Jan 1935 - d. 2 Jul 2001)
Inman, Donie Arrington (b. 16 Sep 1901 - d. 3 Nov 1979)
Inman, Gaither McKinley (b. 30 Sep 1921 - d. 28 Sep 2009)
Inman, Hazel Tilley (b. 11 Mar 1923 - d. 26 Nov 1969)
Inman, Infant Boy (b. 26 Jul 1920 - d. 28 Jul 1920)
Inman, Iris Dell Chilton (b. 19 Jun 1921 - d. 11 Mar 1964)
Inman, John McKinley (b. 18 Dec 1894 - d. 28 Mar 1979)
Inman, Maude Marie Cook (b. 30 Jul 1912 - d. 22 Jan 1992)
Inman, Nell Gertrude (b. 27 Jul 1919 - d. 19 May 1941)
Inman, Nellie Jo Palmer (b. 15 Mar 1933 - d. 31 Oct 2008)
Inman, Randal D. (b. 30 Mar 1912 - d. 30 Dec 1977)
Inman, Robert Dewey (b. 16 Feb 1899 - d. 22 Jun 1977)
Inman, Rosa Gammons (b. 23 Feb 1909 - d. 27 Apr 1943)
Jessup, Porter Garfield (b. 6 Dec 1918 - d. 12 May 2000)
Joyce, Albert Richard (b. 29 Aug 1926 - d. 29 Apr 1937)
Joyce, Harvey G. (b. 18 Jun 1915 - d. 5 Feb 1934)
Joyce, Ida Mae Inman (b. 21 Oct 1893 - d. 15 Mar 1972)
Joyce, Raymond Lester "Ramey" (b. 29 Aug 1920 - d. 21 Feb 2006)
Joyce, Robert Dean (b. 22 Apr 1936 - d. 28 Aug 2011)
Joyce, Roy Vester (b. 27 Jul 1918 - d. 30 Jan 1921)
Joyce, William Vester (b. 22 Sep 1888 - d. 27 Nov 1973)
Lawson, Anthony Ken (b. 1 Feb 1959 - d. 12 Dec 1976)
Lawson, Brooksie Lolene Wilson (b. 22 Apr 1924 - d. 29 Jan 1997)
Lawson, Elmer Coy (b. 23 May 1912 - d. 30 Apr 1992)
Lawson, Fannie Williams (b. 18 Aug 1878 - d. 3 May 1951)
Lawson, John Taff (b. 19 Mar 1909 - d. 16 Jul 1958)
Lawson, Lee Kent (b. 19 Apr 1939 - d. 3 May 2008)
Lawson, William Henry (b. 16 Jul 1882 - d. 11 Mar 1964)
Linville, Beulah (b. 14 Mar 1925 - d. 28 Sep 1998)
Linville, Charles Vester (b. 10 Jul 1917 - d. 1 Nov 1969)
Linville, W. Richard (b. 25 Apr 1948 - d. 13 Dec 1988)
Martin, George Harrison (b. 16 Nov 1931 - d. 28 Dec 2007)
Martin, Jeffery Alan (b. 23 Oct 1964 - d. 18 Aug 1981)
Mills, Hilda Kay (b. 1948 - d. Reserved)
Moorefield, Milton Columbus "Lum" (b. 15 Feb 1899 - d. 6 Dec 1956)
Moorefield, Rada M. Hollingsworth (b. 14 Sep 1906 - d. 18 Dec 1924)
Morefield, Rada Belle Arrington (b. 13 Oct 1905 - d. 5 Mar 1929)
Norman, Clarence Dewey (b. 7 Dec 1910 - d. 8 Feb 1985)
Norman, Dwain Leo (b. 20 Aug 1935 - d. 9 Jan 2010)
Norman, Hallie Mae Chilton (b. 3 Dec 1912 - d. 8 Apr 2005)
Nunn, Andrew Joel "Andy" (b. 5 Jul 1988 - d. 6 Nov 1998)
Nunn, Clarence Olin (b. 6 Aug 1921 - d. 12 Jan 1979)
Nunn, Donie Emerline Hiatt (b. 27 May 1902 - d. 1 Aug 1990)
Nunn, K. Jeneanne (b. 1 Oct 1968 - d. 14 Apr 1991)
Nunn, Keith Dayton (b. 14 Feb 1934 - d. 7 Dec 1983)
Nunn, Maggie Wood (b. 19 May 1899 - d. 12 Jun 1985)
Nunn, Roy Sanders (b. 22 Jul 1899 - d. 17 Aug 1975)
Nunn, Vickie Laurel (b. 23 Apr 1967 - d. 24 Apr 1967)
Nunn, Willie Hamon (b. 17 May 1903 - d. 26 Mar 1974)
Pettry, Terry Dean (b. 14 Feb 1957 - d. 1 Jul 2008)
Poore, Gerald P., Sr (b. 3 Dec 1946 - d. 11 Jun 1992)
Poore, Leonard Paul (b. 30 Dec 1916 - d. 30 Dec 1969)
Poore, Versie May Shelton (b. 22 Sep 1914 - d. 1 Nov 1965)
Rogers, Raymond Thomas "Tom" (b. 2 Nov 1922 - d. 21 Nov 1993)
Shelton, Bernice Inez Holt (b. 28 Dec 1921 - d. 11 Jun 2006)
Shelton, Della Wood (b. 28 Sep 1891 - d. 20 Aug 1949)
Shelton, Dora Ellen Wood (b. 22 Feb 1885 - d. 7 Apr 1947)
Shelton, General Carter (b. 22 Jul 1910 - d. 17 May 1978)
Shelton, Hulda Lee (b. 1 Jun 1907 - d. 13 Dec 1915)
Shelton, Jessie Thomas (b. 6 Oct 1881 - d. 25 Apr 1968)
Shelton, Luther Harrison (b. 26 Jan 1889 - d. 13 Jul 1960)
Simmons, Lillie Geneva Simmons (b. - d. )
Stanley, Mack Berton (b. 9 Feb 1924 - d. 14 Dec 1978)
Stevens, J. Coy (b. 15 Mar 1922 - d. 24 Sep 1986)
Stevens, Wanda C. (b. 27 Mar 1926 - d. 23 Jun 1985)
Stewart, Elmer R. (b. 13 Oct 1905 - d. 26 Apr 1973)
Stewart, Versie C. (b. 25 Jun 1908 - d. 24 Feb 1993)
Taylor, James (b. 15 Sep 1890 - d. 13 Apr 1917)
Tilley, Betty Ethel Chilton (b. 17 Feb 1920 - d. 26 Jun 1993)
Tilley, Charles Cecil, Sr (b. 29 Oct 1921 - d. 26 Nov 2002)
Tilley, Early L. (b. 27 Oct 1898 - d. 5 Mar 1937)
Tilley, Joel Reid (b. 24 Aug 1917 - d. 11 Sep 1981)
Tilley, John Andrew (b. 11 Jun 1890 - d. 6 Aug 1958)
Tilley, Nina Bessie Hall (b. 31 Aug 1900 - d. 25 Feb 1979)
Tilley, Sallie Jessup (b. 22 Apr 1889 - d. 11 Apr 1974)
Tilley, Wade Leggett (b. 22 Sep 1931 - d. 12 Nov 1960)
Todd, James Kyle, Jr. "Jimmy" (b. 7 May 1975 - d. 30 Aug 1994)
Todd, James Kyle, Sr. (b. 12 Dec 1947 - d. 18 Oct 1994)
Vaughn, A. Ramey (b. 12 Sep 1871 - d. 8 Aug 1929)
Vaughn, Dollie Mae (b. 4 Apr 1919 - d. 20 Apr 1919)
Vaughn, Dolly May (b. 4 Apr 1919 - d. 20 Apr 1919)
Vaughn, Eddie Austin (b. 30 Apr 1885 - d. 12 Sep 1952)
Vaughn, Jesse Franklin (b. 23 Jun 1880 - d. 28 Feb 1961)
Vaughn, Mary Elva Durham (b. 29 May 1886 - d. 19 Mar 1966)
Vaughn, Millie Shelton (b. 1848 - d. 12 Jan 1940)
Vaughn, Ollie Mae (b. 4 Apr 1919 - d. 27 Apr 1919)
Watson, Bessie Hall (b. 16 Jun 1905 - d. 12 Apr 1993)
Watson, Cladie D. (b. 16 Dec 1930 - d. 18 May 2002)
Watson, Howard Lee (b. 1 May 1900 - d. 12 Jan 1971)
Watson, Jerry Hayward (b. 2 Sep 1945 - d. 18 Feb 2010)
Watson, Mary (b. 2 Jul 1872 - d. 30 May 1958)
Watson, Mary Inman (b. 22 Jul 1871 - d. 30 May 1958)
Watson, Samuel C. (b. 14 Mar 1865 - d. 9 Feb 1935)
Watson, Terry Joe (b. 11 Apr 1974 - d. 26 Jul 1991)
Watson, Terry Joe (b. 25 Jul 1950 - d. 12 Aug 1972)
Watson, Tony Lee (b. 26 Sep 1961 - d. 12 Dec 1976)
Watson, Wilton Oleson (b. 6 Aug 1933 - d. 23 Mar 2008)
Williams, James M. (b. 19 Jul 1921 - d. 9 Oct 1921)
Williams, Maggie Taylor (b. 3 Oct 1898 - d. 3 Nov 1916)
Wilson, Aldie Lee (b. 11 Jan 1907 - d. 27 Nov 1965)
Wilson, Andrew Melvin (b. 23 Jul 1884 - d. 10 Jun 1942)
Wilson, Charlie Woodrow (b. 14 Jul 1944 - d. 11 Nov 1972)
Wilson, Clayton Andrew (b. 9 Dec 1964 - d. 9 Dec 1964)
Wilson, Gorrell Thomas (b. 31 May 1915 - d. 16 Dec 1948)
Wilson, Hiram Short (b. 14 Nov 1857 - d. 16 May 1946)
Wilson, John Melvin (b. 25 Jul 1934 - d. 29 Jul 1934)
Wilson, Lottie Virginia Deatherage (b. 17 Oct 1917 - d. 29 Jul 1995)
Wilson, Madgeline Woods (b. 26 Oct 1914 - d. 9 Nov 1979)
Wilson, Mary Etta Arrington (b. 10 Dec 1883 - d. 28 Aug 1963)
Wilson, Mary Jeston Cook (b. 2 Apr 1862 - d. 7 Jul 1929)
Wilson, Ray Thomas (b. 25 Feb 1938 - d. 25 Feb 1938)
Wilson, Raymond (b. 4 Aug 1910 - d. 4 Oct 1989)
Wilson, Wanda Fay (b. 25 Apr 1946 - d. 25 Apr 1946)
Wood, Alvery F. (b. 30 Jun 1909 - d. 4 Oct 1984)
Wood, Daisy Epperson (b. 19 Aug 1897 - d. 29 Jun 1989)
Wood, David (b. 7 Sep 1860 - d. 2 Jan 1932)
Wood, Eli C. (b. 4 Sep 1870 - d. 21 May 1951)
Wood, Ellen C. Hiatt (b. 24 Jul 1868 - d. 28 Jan 1936)
Wood, Ernest Lee (b. 4 Nov 1890 - d. 11 Jan 1974)
Wood, Hersey Lee (b. 25 Sep 1915 - d. 9 Jan 1955)
Wood, Infant Boy (b. 21 Jun 1922 - d. 21 Jun 1922)
Wood, Iona F. (b. 23 Sep 1911 - d. 13 Dec 2004)
Wood, Kevin Lee (b. 1967 - d. 1967)
Wood, Lurella Hollingsworth (b. 1868 - d. 30 Mar 1918)
Wood, Marie C. (b. 1 Dec 1903 - d. 1 Feb 1997)
Wood, Roy E. (b. 2 May 1902 - d. 28 Sep 1982)
Wood, Sadie Hollingsworth (b. 10 Apr 1898 - d. 7 Jul 1918)
Wood, William Thomas (b. 30 Jan 1856 - d. 27 Apr 1929)
Woods, Amelia Ellen Bryant (b. 18 May 1895 - d. 22 Mar 1929)
Web page updated 14 July 2016
Index of All Cemeteries
Alphabetical Index of All Burials
Previous Page