Index of All Cemeteries
Alphabetical Index of All Burials
Previous Page
Use the following to search across all the cemeteries listed.
Example: "Smith, Roger" (yes, use the quotes)
288 WOOD FAMILY CEMETERY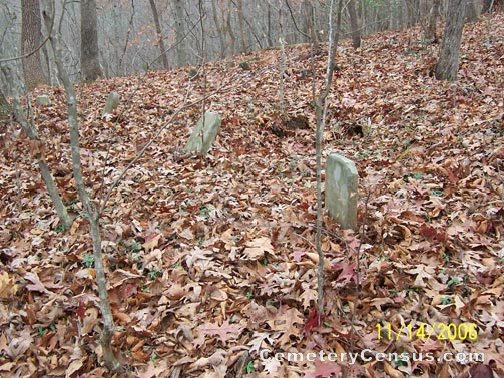 Location - Off Collins Rd, Elkin, Surry Co., NC.

Coordinates: 36d 15m 47.8s N; 80d 51m 56.5s W Click here for Google maps

Directions: From intersection of Business Hwy 21 and CC Camp Rd (aka N. Main Street), go north on Hwy 21 Bus to 1st stop light past intersection to Collins Road. Turn left up a hill on Collins Rd and go .4 mile to a small dirt lane on RH side of road just past a small circle. This is entrance to the Elkin water reservoir. This is a gated drive and the Town of Elkin holds the key. There are two cemeteries that are accessed thru this gate. Once thru the gate follow the trail for .5 mile to the first cemetery. This is the Wood-Lyons cemetery. Go .1 mile past the first cemetery and look for a power line and 4 wheeler trail on the LH side of road. Park and walk South following along the fence of the Elkin Reservoir for about 700 to 800 yards. When you start going back upgrade look on hill to the left and the markers can be seen.

View #2 of the cemetery. View #3 of the cemetery.

Surveyed by Joe Hicks on October 1, 2006.

Also known as: Old Indian Cemetery.
Township or district: Elkin.
Public or Private: Public property owned by Town of Elkin.
GPS Accuracy (ft.): 18.
Elevation above sea level (ft.): 980.
Cemetery size: Area 0.1 calculated acres, 38 X 110 sq.
Status of cemetery: Not abandnoned.
Surry County Parcel Number: 4941-08-99-9933 within parcel 4941-00-99-5588. Book 269, Page 433a SCROD.

Names: Peter Wood (b. 1774, d. 08-17-1853) Was the owner of close to 1,000 acres of property in Surry County and he and wife were born in England. Wife Elizabeth Wood (b. 05-06-1776, d. 02-20-1848) Mystery?? Her stone has an etching of a tomahawk on it and the family has no explanation of the marking other than it could be because of the Indians buried there also. Husband's stone also has some sort of markings that I cannot make out. H. J. Wood (b. 08-10-1853, d. 10-06-1856), Sara Wood (b. 06-21-1855, d. 10-14-1856). There are also about 15 field stone markers. This old cemetery is believed to be part of an old Indian burial place and there are lots of rocks that appear to have been piled in various locations not stuck in the ground.


Wood, Elizabeth (b. 16 May 1776 - d. 20 Feb 1848)
tomahawk symbol on marker

Wood, H. J. (b. 10 Aug 1853 - d. 6 Oct 1856)

Wood, Peter (b. 1774 - d. 17 Sep 1853)

Wood, Sarah (b. 21 Jun 1855 - d. 14 Oct 1856)
Web page updated 14 July 2016
Index of All Cemeteries
Alphabetical Index of All Burials
Previous Page