Index of All Cemeteries
Alphabetical Index of All Burials
Previous Page
Use the following to search across all the cemeteries listed.
Example: "Smith, Roger" (yes, use the quotes)
286 WILSON CREED CEMETERY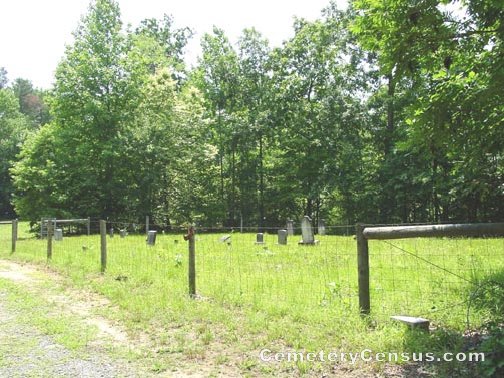 Location - End of Broken Branch Trail, Mt. Airy, Surry Co., NC.

Coordinates: 36d 28m 04.5s N; 80d 39m 50.2s W Click here for Google maps

Directions: From intersection of US Hwy 52 and 601 (Rockford St) in Mt. Airy, go south on US Hwy 601 for 2.2 miles and turn right on McKinney Road. Follow McKinney Rd to the second West Old McKinney Rd (a loop). Turn left on West Old McKinney Road, then go right on East Branch Road, and turn right on Broken Branch Trail. Cemetery is at end of Broken Branch Trail on the left and is on private property.

Surveyed by Andy Hennis on June 29, 2006.
Township or district: Mt. Airy.
Public or Private: Private property.
GPS Accuracy (ft.): 14.
Elevation above sea level (ft.): 1190.
Status of cemetery: Transitioning to abandonment.
Surry County Parcel Number: 5919-00-03-7446.

It does not appear to be abandoned but is in need of some TLC. There are about 16 legible stones and some unmarked field stones. Wilson Creed was born in 1850 and died in 1925. Dianah E. Creed, wife of Wilson, was born Mar 14, 1852 and died Dec 30, 1913. Other surnames buried in this cemetery are Fields, Hicks, Jones, and Watson..


Creed, Daniel L. (b. 25 Sep 1915 - d. 10 Oct 1915)
son of J.W. and M.E. Creed
daughter of Joseph and Ellen Creed
daughter of Elisha and Sallie Creed
daughter of Elisha and Sallie Creed
Husband of Sarah J. Creed
Husband of Dianah E. Creed
son of Mr and Mrs W.D. Fields
son of W. P. and Maude Hicks
son of David and Elizabeth Jones
Web page updated 14 July 2016
Index of All Cemeteries
Alphabetical Index of All Burials
Previous Page