Index of All Cemeteries
Alphabetical Index of All Burials
Previous Page
Use the following to search across all the cemeteries listed.
Example: "Smith, Roger" (yes, use the quotes)
276 WELCOME VIEW BAPTIST CHURCH CEMETERY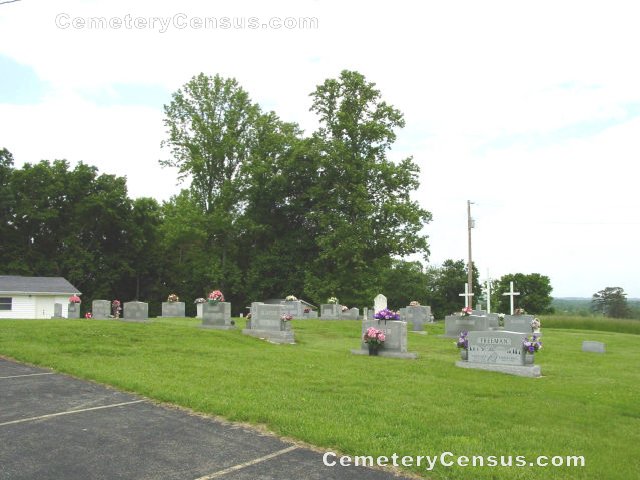 Location - 418 Welcome View Ch Rd, Dobson, Surry Co., NC.

Coordinates: 36d 21m 38.6s N; 80d 44m 58.8s W Click here for Google maps

Directions: From intersection of Main St and Kapp St (old courthouse square) in Dobson, go west on Kapp St (changes to Zephyr Road) for about 3 miles. Then turn left on Twin Oaks Rd (just before I-77) and go 2.8 miles. Then turn left on Welcome View Church Rd (SR 1106) and go 0.5 mile and the church and cemetery are on the left.

View of the church. View of the church sign.

Surveyed by Andy Hennis on May 6, 2006.
Township or district: Dobson.
Public or Private: Public Access.
GPS Accuracy (ft.): 11.
Elevation above sea level (ft.): 1243.
Status of cemetery: Currently maintained.
Surry County Parcel Number: 4985-00-44-6852.

336-366-4060.

Surveyed and photographed by Jack Luffman on March 15, 2010.


Beane, Ada Mae (b. 18 Jun 1919 - d. 23 Apr 2005)
Wife of Robert Wilson Beane. Row 1
Hus. of Verlie Snow Bryant. PFC US ARMY AIR FORCES WW-II Military marker. Row 5
Wife of Lloyd Harrison Bryant, Sr.. Row 5
Son of J. R. and Mollie Cave. Row 5
Husband of Ida-Mae Moretz Cummings. Row 6
Wife of Howard Claude Cummings. Row 6
Husband of Verlie I. Draughn. Row 1
Husband of Mary E. Draughn. Row 3
Wife of James Franklin Draughn. Row 3
Wife of Howard M. Draughn. Row 1
Wife of Rev. James S. Freeman. Row 1
Wife of Calvin David Freeman. Row 1
Husband of Barbara Hall Freeman. Row 1
Wife of Martin "Buck" Freeman. Row 3
Husband of Mary J. Freeman. PVT CO B 2 BN NC INFANTRY CSA Military marker. Row 3
Daughter of H. T. and Annie Freeman. Row 3
Wife of Rev. Robert Paul Freeman. Row 7
Husband of Cassie Mae Freeman. Row 3
Wife of Ezekiel Freeman. Row 3
A son, A brother, A Husband, A father. Row 5
Wife of Forester S. Griffin. Row 1
Husband of Patricia M.Harrison. Row 6
Wife of A. Douglas Harrison. Row 6
Wife of John C. Holyfield. Row 5
Husband of Eula Cave Holyfield. Row 5
Husband of Laura G. Key. Row 5
Wife of Harold D. Key. Row 6
Husband of Elizabeth Ann Key. Row 6
Wife of Bobby R. Key. Row 5
Wife of Jacob C. Marion. Closeup of inscription. Row 3
Husband of Dorothy Jean B. Marion. Closeup of inscription. Row 3
Husband of Linda Henley Nance. Row 5
Wife of Jerry Lee Nance. Row 5
Husband of Ruth A. Reece. Married 16 Dec 1945. S-SGT US ARMY WW-II Military marker. Row 5
Wife of Jule F. Reece. Married 16 Dec 1945. Row 5
Wife of Lester "Jock" Shew. Row 6
Husband of Alice Key Shew. Row 6
Husband of Lorene G. Simmons. Row 1
Wife of J. T. Simmons. Row 1
Wife of Wade Sanford Snow. Row 4
Wife of Robert B. Snow. Row 5
Husband of E. Launa M. White. Married 22 Dec 1944. US ARMY WW-II Military marker. Row 1
Wife of Arvill E. White. Married 22 Dec 1944. Row 1
Wife of James Robert White. Row 5
Husband of Eva Nettie White. Row 5
Funeral Home Marker. Row 6
Web page updated 14 July 2016
Index of All Cemeteries
Alphabetical Index of All Burials
Previous Page