Index of All Cemeteries
Alphabetical Index of All Burials
Previous Page
Use the following to search across all the cemeteries listed.
Example: "Smith, Roger" (yes, use the quotes)
275 WELCOME VALLEY BAPTIST CHURCH CEMETERY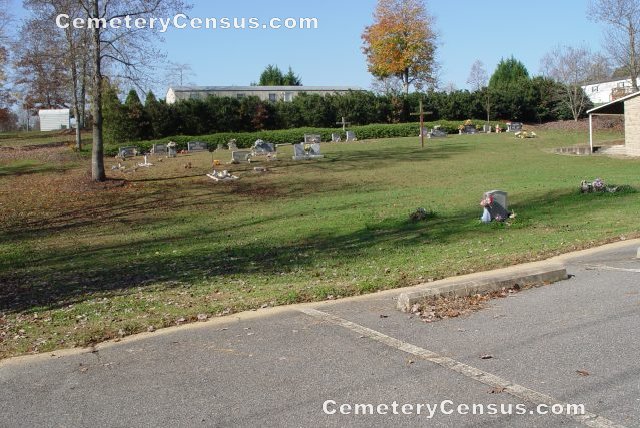 Location - Joe Layne Mill Rd, Elkin, Surry Co., NC.

Coordinates: 36d 18m 58.1s N; 80d 47m 35.6s W Click here for Google maps

Directions: From intersection of NC Hwy 268 East and US Hwy 601 at Fairview Crossroads, take Hwy 268 west for about 2.5 - 3 miles and turn right on Joe Layne Mill Rd. Then go about 3 miles and cemetery and old church will be on the left.

View of the old church. View of the new church.

Surveyed and photographed by Jack Luffman on November 2, 2009.

Surveyed by Joe Hicks on April 6, 2006.
Township or district: Marsh.
Public or Private: Public Access.
GPS Accuracy (ft.): 17.
Elevation above sea level (ft.): 1095.
Status of cemetery: Currently maintained.
Surry County Parcel Number: 4973-00-28-4780.

There are currently no burials at the new Welcome Valley Baptist Church. The graveyard is at the old church 0.1 mile south of the new church.


Adams, Hailey Ann (b. - d. 5 Jun 1992)
Infant daughter of Billy and Lynn Adams. Row 7
Wife of Norris Burcham married April 22, 1950. Row 6
Husband of Frances Burcham. Row 6
Unclear whether birth or death date. Row 7
Wife of Francis Coe. Closeup of inscription. Row 7
Husband of Connie H. Closeup of inscription. Row 7
Wife of Cleve E. Dodson. Row 7
Husband of Ada Mae C. Dodson. Row 7
Wife of Rufus Dodson Married Jan 4, 1924. Row 7
Husband of Mamie M. Dodson. Row 7
Wife of William J. Hayes. Row 7
Husband of Cora C. Hayes. Row 7
Husband of Priscilla May Kubin. Row 5
Wife of Edward Louis Kubin. Row 5
Husband of Jessie H Lineberry. Row 4
Wife of James H. Lineberry. Row 4
Wife of Tony Lineberry. Row 4
Husband of Linda Lineberry. Row 4
Wife of R. J. Royal, Jr.,. Row 7
Husband of Dorothy D. Royal. Row 7
Husband of Virginia D. Stanley. Row 7
Wife of Fred J. Stanley. Row 7
memorialized but no marker. Row 7
Web page updated 14 July 2016
Index of All Cemeteries
Alphabetical Index of All Burials
Previous Page