Index of All Cemeteries
Alphabetical Index of All Burials
Previous Page
Use the following to search across all the cemeteries listed.
Example: "Smith, Roger" (yes, use the quotes)
274 WELBORN FAMILY CEMETERY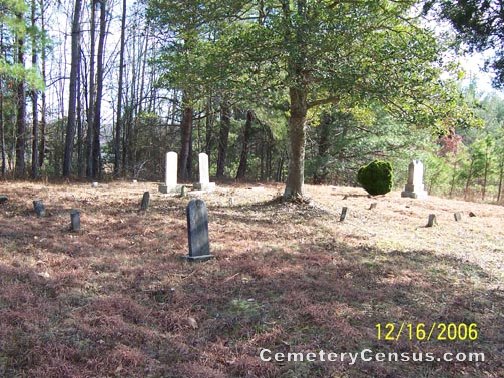 Location - Off Fax Welborn Rd and Gramar Rd, Elkin, Surry Co., NC.

Coordinates: 36d 17m 37.8s N; 80d 48m 19.6s W Click here for Google maps

Directions: From NC Hwy. 21 Business and NC Hwy. 21 Bypass, take Poplar Springs Rd. SR#1001 east out of Elkin for 2.7 miles to a paved road on RH side named Fax Welborn Road SR#1131. Take this road and follow for 1.1 miles to end of pavement just after going over I-77, there will be a road on RH side named Greenwood Trail or Gramar SR#1197. Take that road for .4 mile to 326 Gramar Road. Owner of property lives here. Go past house and on RH side is a small trail named Pipestem Lane. Take that trail until coming to a fence with gate and look to the right where there is a chain across another trail or farm lane. Park here and take the RH farm lane for .1 mile the cemetery will come in view on RH side of lane.

View of the road to the cemetery.

Surveyed by Joe Hicks on December 6, 2006.
Township or district: Elkin.
Public or Private: Private property.
GPS Accuracy (ft.): 16.
Elevation above sea level (ft.): 1011.
Status of cemetery: Currently maintained.
Surry County Parcel Number: 4963-00-70-6216.

Nancy Snow Welborn (b. 12-16-1840, d. 05-22-1871), Father Marion Welborn (b. 1829, d. 1912), Mother Frances Golden (b. 1837 d. 1904) w/o Marion Welborn, Jethro R. Welborn (b. 06-28-1881, d. 02-14-1920), Stophel T. Wilborn (b. 04-29-1865, d. 11-14-1900), Helena W. Wilborn (b. 09-22-1871, d. 02-02-1957), several field stone markers as well as information that in the old road bed there were slaves buried. There are lots of long slender stones in road bed that could have been markers. No more information than this on slaves..


Welborn, Francis Golden (b. 1837 - d. 1904)
Husband of Francis Golden Welborn
Web page updated 14 July 2016
Index of All Cemeteries
Alphabetical Index of All Burials
Previous Page