Index of All Cemeteries
Alphabetical Index of All Burials
Previous Page
Use the following to search across all the cemeteries listed.
Example: "Smith, Roger" (yes, use the quotes)
272 HIATT, W. C. CEMETERY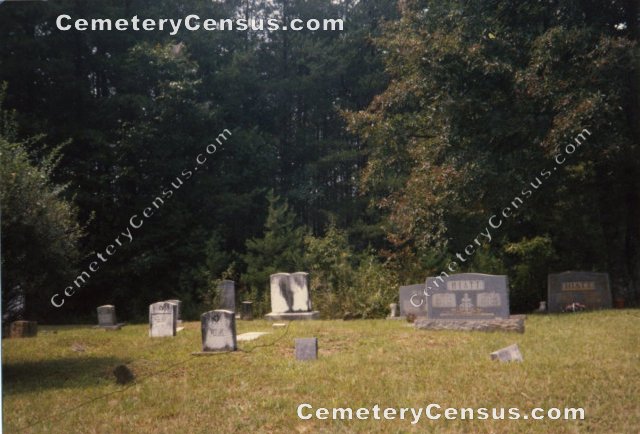 Location - Sheep Farm Rd, Mt. Airy, Surry Co., NC.

Coordinates: 36d 26m 54.6s N; 80d 34m 47.3s W Click here for Google maps

Directions: From intersection of US Hwy 52 and US Hwy 601 (Rockford St) in Mt. Airy, go south on US 52 and exit right on Holly Springs Road. At top of ramp, turn right on Old US 52, then right on Sheep Farm Rd (2173). Go about 1 mile until you get to a sharp curve to the left with a small white house on the left. There is a dirt drive to the right across from the house which is under the power lines. Travel a short distance to the cemetery.

View #2 of the cemetery.

Surveyed by Wilma Hiatt on April 17, 2006.
Township or district: Mt. Airy.
Public or Private: Private property.
GPS Accuracy (ft.): 14.
Elevation above sea level (ft.): 1171.

Partial burials survey by Bob Carter in September 2011. Photographs by Wilma Hiatt.


Clark, Barney Burkett (b. 31 Oct 1907 - d. 19 Jan 1975)
Husband of Connie Inez Hiatt, m. 25 Dec 1941 - son of Judson Hyden Clark and Mary Brewer

Clark, Connie Inez Hiatt (b. 15 Jul 1913 - d. 1 Sep 2006)
Wife of Barney Burkett Clark - daughter of Ephraim Arister Hiatt and Bertha Alice Lowe

Hiatt, Bertha Alice Lowe (b. 4 Apr 1890 - d. 14 Oct 1977)
Wife of Ephraim Arister Hiatt - daughter of Jesse S. Lowe and Elizabeth A. Walters

Hiatt, Columbus Franklin (b. 20 Apr 1874 - d. 21 Jun 1904)
Husband of Jina Elizabeth Simmons, m. 28 Jul 1898 in Surry - son of Jesse Lafayette Hiatt and Susan Midkiff

Hiatt, Emily Frances "Sis" Cobler (b. 6 Dec 1860 - d. 1 Nov 1940)
Wife of John Henry Hiatt - daughter of Nicholas Cobler and Elsie Dunman

Hiatt, Ephraim Arister (b. 6 Nov 1877 - d. 3 Feb 1952)
Husband of Bertha Alice Lowe - son of Jesse Lafayette Hiatt and Susan Midkiff

Hiatt, Harvey Roy (b. 20 Nov 1920 - d. 4 Feb 1921)
Son of James Garfield Hiatt and Cleo Dulcie Long

Hiatt, Jesse (b. 1796 - d. 1835)
Husband of Julia Taylor, m. 20 Mar 1818 in Surry

Hiatt, Jina Elizabeth Simmons (b. 9 Mar 1881 - d. 18 Mar 1908)
Wife of Columbus Franklin Hiatt - daughter of James Franklin Simmons and Mary Jane Riddle

Hiatt, John Henry (b. 12 Apr 1856 - d. 3 Mar 1916)
Husband of Emily Frances Cobler, m. 4 Nov 1877 in Surry - son if William Hiatt and Mary Taylor. Masonic emblem. F.L.T. = Friendship, Love. Truth, insignia of the IOOF.

Hiatt, John Poindexter (b. 23 Aug 1888 - d. 5 Jul 1889)
Son of John Henry Hiatt and Emily Frances Cobler

Hiatt, Julia Taylor (b. 10 Jan 1801 - d. 5 Mar 1892)

Hiatt, Mary Taylor (b. 27 Oct 1823 - d. 13 Mar 1899)
Wife of William Hiatt - daughter of Sterling and Elizabeth Taylor

Hiatt, Roy Lee (b. 3 Feb 1903 - d. 29 Jul 1919)
Son of John Henry Hiatt and Emily Frances Cobler

Hiatt, William (b. 13 Jul 1821 - d. 13 Mar 1891)
Husband of Mary Taylor, m. 15 Oct 1845 in Surry - son of Jesse Hiatt and Julia Taylor
Web page updated 14 July 2016
Index of All Cemeteries
Alphabetical Index of All Burials
Previous Page