Index of All Cemeteries
Alphabetical Index of All Burials
Previous Page
Use the following to search across all the cemeteries listed.
Example: "Smith, Roger" (yes, use the quotes)
266 UNION CROSS BAPTIST CHURCH CEMETERY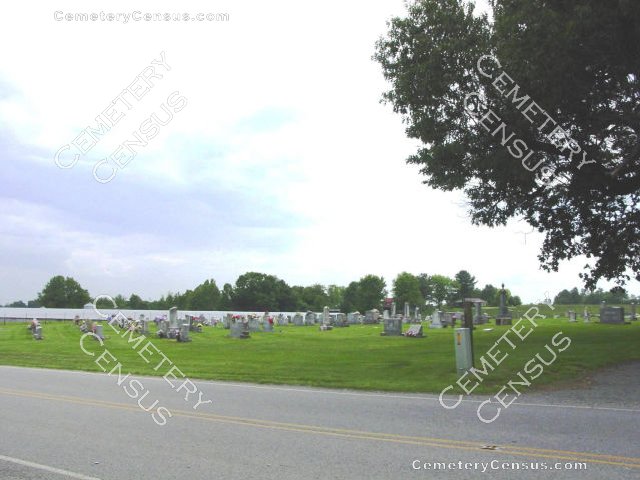 Location - 2034 Twin Oaks Rd (SR 1110) at corner of Dobbins Mill Rd (SR 1122), Dobson, Surry Co., NC.

Coordinates: 36d 20m 42.4s N; 80d 45m 25.4s W Click here for Google maps

Directions: From intersection of Main St and Kapp St (old courthouse square) in Dobson, go west about 2 miles on Kapp St (changes to Zephyr Rd) and turn left on Twin Oaks Rd. Then go south for 3.9 miles and the church and cemetery are on the right.

View #2 of the cemetery. View of the church. Another view of the church.

Surveyed by Andy Hennis on May 6, 2006.
Township or district: Dobson.
Public or Private: Public Access.
GPS Accuracy (ft.): 10.
Elevation above sea level (ft.): 1270.
Status of cemetery: Currently maintained.
Surry County Parcel Number: 4984-00-29-4003.

336-366-3434.

Surveyed and photographed by Jack Luffman on November 11, 2009, starting next to Twin Oaks Road, working toward the back of the cemetery, and from left to right.


Adams, Bausie S. (b. 12 Aug 1900 - d. 17 May 1978)
Wife of Rev. N. H. Adams. Row 18
Husband of Bettie Adams. Row 18
Husband of Nannie W. Barber. Row 8
Husband of Julia A. Barber. Row 8
Infant Son of Mr. and Mrs. E. W. Barber. Row 8
Wife of Edgar W. Barber. Row 8
Wife of Andrew Barber. Row 8
Wife of Earnest B. Brindle. Row 17
Husband of Cassie J. Brindle. Row 17
Husband of Della Burch. Row 12
Wife of Deamon R. Burch. Row 12
No DOD. Wife of Richard L. Burch. Row 12
Husband of Mary L. Burch. Row 12
Daughter of Solomon and Ada Stanley Wife of James Burney. Row 11
Husband of Minnie Burrows. Row 8
Wife of Matthew M. Burton. Row 9
Wife of James Alfred Burton Married Jan 6, 1955. Row 1
Husband of Edith S. Burton. Row 4
Wife of Claude F. Burton. Row 4
son of Mr. and Mrs. Matthew Burton. Row 9
Husband of Betty Jo Burton. Row 1
Husband of Pearl S. Burton. Row 9
Wife of Martin A. Burton. Row 9
Husband of Mary Ann E. Burton. Row 1
Husband of Jane M. Burton. Row 9
Wife of Leroy Burton Married Feb 5, 1949. Row 1
Husband of Annie Lee Burton. Row 9
Wife of S. W. Burton. Row 4
Wife of James C. Burton. Row 9
Husband of Meallie F. Stanley Burton. Row 4
Husband of Ethel Flora Burch Carter NC PVT 167 Infantry WW I Purple Heart Military marker. Row 27
Wife of Stewart Hinson Carter. Row 16
Wife of Brady Carter. Row 27
Son of Mr. and Mrs. L. C. Carter. Row 29
Daughter of B. F. and E. F Carter. Row 27
Daughter of B. F. and E. F. Carter. Row 27
Daughter of B. F. and E. F. Carter. Row 27
Son of Mr. and Mrs. L. C. Carter. Row 29
Wife of J. Winfield Chappell. Row 11
Husband of Ada V. Stanley Chappell. Row 11
Husband of Merlie S. Cleary. Row 18
Daughter of Mr. and Mrs. Dean Cleary. Row 18
Son of Mr. and Mrs. Dean Cleary. Row 18
Wife of Dean E. Cleary. Row 18
Wife of Grady L. Collins. Row 4
Husband of Mary J. Davis. Row 6
Wife of Arvey E. Davis Married Dec 9, 1950. Row 6
Wife of Eddie Hampton Dezern. Row 28
Husband of Daisy Fowler Dezern. Row 28
Husband of Ida Marsh. Row 27
Daughter of Ephraim H. Dezern and Pheby Ann Holder Dezern. Row 27
Wife of Ephraim H. Dezern. Row 27
Wife of J. Sheppard Dobbins. Row 25
Wife of M. O. Dobbins. Row 24
Husband of Laura Ada Dobbins. Row 23
Daughter of H. L. and Nelia Mosley. Row 24
Husband of Cora S. Dobbins. Row 25
Husband of Sandra Huffman Dobbins. Row 25
Husband of Ruth Leona Brown Dobbins TEC 5 US Army WW II Military marker. Row 25
Wife of Early S. Dobbins. Row 23
Daughter of K. S. and Nettie Dobbins. Row 24
Daughter of C. S. and Sallie Dobbins. Row 25
Wife of Thomas A. Dobbins. Row 24
Son of S. G. and A. M. Dobbins. Row 26
Wife of Willie A. Dobbins. Row 24
Wife of James E. "Jimmy" Dobbins. Row 25
Husband of N. Della Dobbins. Row 24
Son fo C. S. and Sallie Dobbins. Row 25
Husband of Ruby C. Dobbins. Row 24
Wife o f David E. Dockery. Row 27
Son of Norene and Robert Dockery. Row 3
Husband of Beulah W. Dockery. Row 27
Wife of William "Bill" L. Dockery. Funeral Home marker. Row 3
Wife of Martin L. Dockery. Row 27
Husband of Lucy Freeman Dockery. Row 27
Husband of Mildred S. Dockery. Row 24
Wife of Martin R. Dockery. Row 24
Funeral Home Marker. Row 3
Husband of Stella W. Dockery. Row 27
Wife of Oliver F. Dockery. Row 27
Husband of Eva Sue H. Dockery. Row 3
Son of E. B. and E. M. Draughn. Row 4
Husband of Oma Key Draughn. Row 27
Husband of Ella M. Draughn. Row 4
Husband of Edna H. Draughn. Row 3
Wife of Edgar W. Draughn. Row 3
Wife of Rev. E. B. Draughn. Row 4
Wife of Claude Otis Draughn. Row 27
Wife of Earlie C. Dudley. Row 5
Husband of Bessie Dudley. Row 5
Wife of Oscar F. Dunigan, Jr.. Row 19
Husband of Mamie S. Dunigan. Row 5
Wife of Floyd O. Dunigan. Row 5
Husband of Kathleen D. Dunigan. Row 19
Husband of Izella White Fleming. Fleming Family marker. S1 US Navy WW II. Row 16
Son of Mr. and Mrs. C. L. Fleming. Row 16
Wife of Dennis A. Fowler. Row 10
Wife of Robert Jackson Freeman. Row 2
Husband of Mildred Josephine Stanley Freeman. Row 2
Wife of Jackson Bob Freeman. Row 2
Husband of Carolyn Tilley Freeman. Row 2
Wife of Richard E. Guthrie. Row 27
Husband of Rebecca D. Guthrie. Row 27
Husband of Mary K. Hardy. Row 20
Wife of James M. Hardy. Row 20
Husband of Leanna S. Harris. Harris Family marker. TEC 4 US Army WW II. Row 6
In memory of the sons, daughters, and Grand children of William D. and Christana Holder - Buried in Willis Newton Holder family cemetery. Reverse side of memorial. Row 18
Wife of Willis Newton Holder, who is buried at the Willis Newton Holder family cemetery. Daughter of Parker Williamson and Letitia "Lettie" Jackson Williamson. Row 18
Husband of Hattie V. Draughan Holyfield. Row 4
Wife of Bob Holyfield. Row 4
Infant of Bob and Hattie Holyfield. Row 4
son of Robert and Katie Holyfield. Row 4
Husband of Lilly Louise Adams Holyfield. Row 3
Wife of James Byrd Holyfield. Row 3
Husband of Minnie W. Isaacs. Row 7
Wife of John E. Isaacs. Row 7
Husband of Clarnie D. Key. Row 25
Wife of Charlie A. Key. Row 25
Husband of Maxine Simpson Key (she buried at Union Primitive Baptist Church). Key Family marker. Row 25
Wife of Richard F. Linville
Husband of Pearl E. Lundy. Row 14
Son of Gaither and Pearl Lundy. Row 14
Wife of A. D. Lundy. Row 11
Infant Daughter of Gaither and Pearl Lundy. Row 14
Wife of C. Gaither Lundy. Row 14
Husband of Myra S. Marion. Row 10
Wife of Julious L. Marion. Row 10
Husband of Novellia Mayes. Row 5
Wife of Lacy Jacob Mayes. Row 5
Wife of Ralph W. McCann. Row 11
Husband of Delana S. McCann. Row 11
Daughter of Dora Lundy. Row 11
Wife of Charlie D. Moser. Row 4
Husband of Ella Mae W. Nichols. Row 14
Wife of Alonzo H. Nichols. Row 14
Wife of Lonnie C. Nichols. Row 8
Husband of Elsie C. Nichols. Row 8
Husband of Sarah E. Norman. Row 9
Daughter of C. E. and M. I. Norman. Row 23
Wife of Avery L. Norman. Row 9
Wife of William A. Norman. Row 1
Husband of Susie Whitaker Norman. Row 1
Wife of Paul Gray Patton. Row 10
Wife of Grover Harrison Patton. Row 8
Husband of Fairlie Reece Patton. Row 8
Husband of Ellen Mae Patton. Row 10
Daughter of R. C. and C. V Poindexter. Row 13
Wife of Charlie F. Reece. Row 8
Husband of Betty M. Reece. Row 8
Husband of Mildred R. Reece. Row 2
Wife of Malo W Reece. Row 2
Wife of Lee Roy Seiber. Row 16
Husband of Julia Beane Seiber. Row 16
Wife of Troy M. Shore. Row 9
Husband of Betty W. Shore. Row 9
Wife of Wilson W. Shores. Row 10
Wife of Walter M. Shores. Row 9
Husband of Vina P. Shores. Row 9
Husband of Martha L. Shores. Row 10
Husband of Louie Y. Shumate. Row 2
Wife of Conard C. Shumate. Row 2
Husband of Sarah T. Sisell. Row 10
Wife of James M. Sisell. Row 10
Daughter of T. G. and B. L. Sisell. Row 6
Wife of Esker S. Snow. Row 14
Husband of Carrie Snow. Row 18
Wife of Byrd Snow. Row 18
Husband of Mildred P. Snow. Row 15
Husband of Alice White Snow. Row 14
Husband of Laura Snow. Row 11
Wife of J. D. Snow. Row 11
Wife of Columbus P. Snow. Row 15
Husband of Joyce S. Snow. Snow Family marker. TEC 4 US Army WW II. Row 2
Husband of Callie Mae Southard. Southard Family marker. PVT US Army WW II. Row 5
Wife of Solomon Stanley. Row 11
Husband of Eva W. Stanley. Row 3
Husband of Jennie I. Stanley. Row 5
Husband of Emmie E. Stanley. Row 3
Wife of DeWitt Stanley. Row 3
Wife of Alvin C. Stanley. Row 3
Wife of Thomas Leo Stanley. Row 3
Husband of Peggy T. Stanley. Row 6
Husband of Mary Etter Dobbins Stanley. Row 24
Wife of Cletus Stanley. Row 5
Wife of William "Bill" Stanley. Row 3
Husband of Matilda Stanley. Row 6
Wife of Irvin Stanley. Row 24
Wife of Thomas W. Stanley. Row 5
Wife of M. B. Stanley. Row 6
Wife of Harold J. Stanley. Row 6
Mason Husband of Ada Stanley. Row 11
Son of Brastic and Flora Stanley. Row 5
Husband of Geneva Stanley Stanley. Row 3
Husband of Mary G. Stanley. Row 5
Husband of Lillie D. Stanley. Row 3
Daughter of Willie and Clora Tucker. Row 12
Son of Willie and Clora Tucker. Row 12
NO DOD. Wife of John J. Turner. Row 21
Husband of Clara L. Turner. Row 21
planted stone labeled T. E. S.. Row 14
planted stone labeled F. S. S.. Row 14
planted stone labeled L. Y. S.. Row 14
planted stone labeled W. E. S.. Row 14
Husband of Kathryn I. Wagoner SSGT US Air Force Korea Military marker. Row 7
Wife of John H. Wagoner. Row 7
Son of J. A. and Mary L. Walters. Row 19
Dates unreadable Daughter of J. A. and M. L. Walters. Row 19
Wife of Henry Wendell Whitaker. Row 27
Husband of Ada Monette Draughn Whitaker. PRC US Army Korea Military marker. Row 27
Son of Jesse Bernard Whitaker and Sallie Elizabeth Dezern. Row 23
Husband of Sallie Elizabeth Dezern Whitaker. Row 23
Son of Jesse Bernard Whitaker and Sallie Elizabeth Dezern. Row 23
Wife of Jesse Bernard Whitaker. Row 23
Husband of Edna M. White. Row 6
Husband of Emmer L. White. Row 17
Wife of Hubert White - Daughter of Thomas James White and Emma Matilda Corder. Row 16
Daughter of Marvin and Olivia White. Row 17
Wife of Billy E. White Married Dec 27, 1952. Row 6
Wife of John White. Row 27
Wife of Willie M. White. Row 15
Husband of Nannie White. Row 15
Wife of Bird W. White. Row 17
Wife of J. W. White. Row 15
Husband of Minnie D. White. Row 16
Wife of Montgomery M. White. Row 14
Husband of Martha S. White CPL US Army Air Forces WW II Military marker. Row 16
Infant of Mr. and Mrs. Marvin White. Row 17
Daughter of G. L. and M. L. White. Row 16
Husband of Fannie White. Row 15
Daughter of V. M. and L. M. White. Row 16
Husband of Elizabeth White. Row 27
Husband of Wanda Ann Payne White. White Family marker. Row 11
Wife of Hoover H. White. Row 9
death date unreadable. Daughter of B. W. and E. L. White. Row 17
Wife of John A. White. Row 15
Wife of Herbert G. White, Sr.,. Row 16
Wife of Gilbert L. White. Row 16
Husband of Hallie B. White. Row 14
Wife of Emery White Married Aug 19, 1918. Row 15
Son of B. W. and Emma White. Row 17
Son of John and Martha White. Row 15
Husband of Cora Ellen White - Son of Richard C. White and Elizabeth Cockerham. Row 16
Daughter of Thomas Hubert White and Cora Ellen White - was never married. Row 16
NO DOD. Husband of Martha Francis White. White Family marker. Row 27
Husband of Elsie H. White. Row 15
Son of B. W. and E. L. White. Row 17
Wife of Monroe B. Williamson, Sr.,. Row 27
Husband of Nancy L. Williamson. Row 23
Wife of Parks Williamson. Row 18
Husband of Alice E. Williamson. Row 27
Wife of Daniel S. Williamson. Row 23
lived 70 + years. Husband of Lettica "Letty" Jackson Williamson. Row 18
Wife of W. Frank York. Row 5
Husband of Margaret E. York. Row 5
Son of Mr. and Mrs. W. F. York. Row 5
Web page updated 14 July 2016
Index of All Cemeteries
Alphabetical Index of All Burials
Previous Page