Index of All Cemeteries
Alphabetical Index of All Burials
Previous Page
Use the following to search across all the cemeteries listed.
Example: "Smith, Roger" (yes, use the quotes)
264 TURKEY FORD BAPTIST CHURCH CEMETERY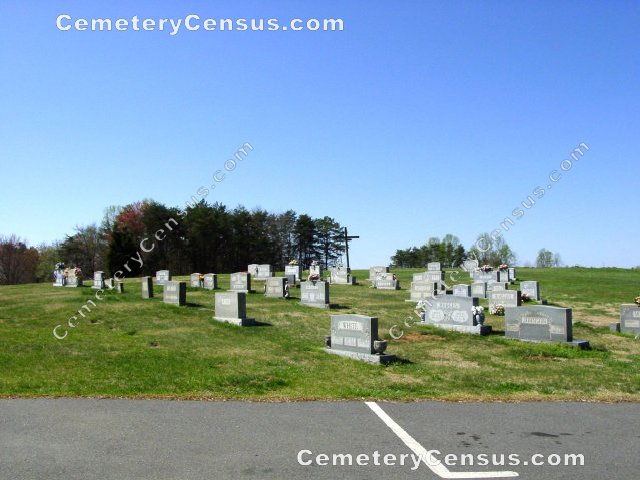 Location - Corner of Turkey Ford (SR 1100) and Turkey Ford Ch (SR 2813) Rds, Mt. Airy, Surry Co., NC.

Coordinates: 36d 23m 12.3s N; 80d 39m 49.0s W Click here for Google maps

Directions: From intersection of US Hwy 52 and US Hwy 601 (Rockford St) in Mt. Airy, go south on US Hwy 601 to the Dobson exit on the right. At end of ramp turn left crossing back over US 601 which changes to Turkey Ford Rd. Continue on for 2.8 miles and the cemetery and church are on the right.

View of the church.

Surveyed by Andy Hennis on April 6, 2006.
Township or district: Dobson.
Public or Private: Public Access.
GPS Accuracy (ft.): 10.
Elevation above sea level (ft.): 1165.
Status of cemetery: Currently maintained.

Surveyed and photographed by Jack Luffman on March 24, 2010.

Please do not copy this data and post to other sites as if this was your own research. Although births and deaths are not copyrighted since they are facts, genealogy integrity suggests you give reference sources where you obtained the data (http://cemeterycensus.com/nc/surr/index.htm) and the source provider. All photos provided "ARE" copyrighted and you cannot copy and post to other sites or use them in other ways without the owner's permission.

This was a full and complete survey of burials as found. The survey started at the NE corner of cemetery just beyond the power pole near Turkey Ford Road, and worked in a zig-zag fashion by rows back toward the church.

Additional information is provided on burials such as spelling out their actual names versus initials, or actual month/day/year of birth or death, if only the year was shown, and/or maiden names of spouses and parents (if known). This data was collected from birth, marriage, and death records, as well as some obituaries where they could be found. A big thanks is owed to Linda Marion, Judy Cardwell and Sherry Poindexter for providing data and facts on family relationships. If you notice any errors, send an email to Bob Carter and he will correct it.


Atkins, Archie Allen (b. 27 Sep 1936 - d. 27 Aug 1987)
Husband of 1) Virginia Mae Doss and 2) Virginia Bernice Hardy - son of Coley Wesley Atkins and Hattie Marion. Row 7-9
daughter of Jerry Wayne Atkins and Cathy Marsh
son of Clandis Wilson Atkins and Violet Irene Fulk. Row 7-14
Husband of 1) Violet Irene Fulk and 2) Margaret Frances Hauser - son of Coley Wesley Atkins and Hattie Marion. Row 7-12
Husband of Hattie Marion. son of Pascal A. Atkins and Lucinda Eads Danley (she previously married to Isaac Danley). Row 7-10
Wife of Colie Wesley Atkins - daughter of John M. Marion and Mary Cornelia Cave. Row 7-11
2nd Wife of Clandis Wesley Atkins - daughter of George W. Hauser and Elizabeth Holstein. Row 7-13
Husband of Stacy Bowman, m. 9-8-1945 - son of Coley Wesley Atkins and Hattie Marion. Row 6-4
Wife of Otis O. Atkins - daughter of George Washington Bowman and Rosie Tilley. Row 6-3
2nd Wife of Archie Allen Atkins (she actually buried at Siloam UMC) - daughter of James Fletcher Hardy and Nellie Hutchens. Row 7-8
Wife of Walter Wade Collins - daughter of Brady Thurman Riggs Sr and Lila Mae Snow. Row 7-5
daughter of Roger Cook and Bonnie Hamlin
Wife of Oshie Haynes (she buried in Stanleyville in Forsyth County) - b. in Carroll Co, VA and son of unknown. Row 8-13
Husband of Maggie Atkins. Danley Family marker. son of Wilson William Danley and Mary Verlie Simpson - Pvt, US Army, WW II - m. 12-16-1939 in Hillsville, VA. Row 1-1
Husband of Ida Edna Danley - only has a metal funeral home stake - son of Andrew Danley and Evie Marion. Row 11-1
Wife of Ellis Lonzie Danley. Danley Family marker. - daughter of James Powell Atkins and Lela R.. Row 1-2
Wife of Ulysses Ray Dollyhigh. Married 26 July 1958. - daughter of Joseph Walter Johnson and Opal Willey. Row 11-7
Husband of Ruby Arlene Johnson - son of Charles Raymond Dollyhigh and Sarah Myrtle Atkins. Row 11-6
Husband of Joyce Faye Hamlin, m. 7-3-1965 - son of William Edd Gammons and Ethel Love. Row 5-3
Wife of Billy Rex Gammons. Married 3 July 1965. - daughter of Edward Hamlin and Linnie Adeline McMillian. Row 5-4
son of William "Buck" Goins and Maggie Danley. Funeral Home marker. Row 11-2
son of William "Buck" Goins and Maggie Danley. Row 11-3
Wife of William "Buck" Goins - daughter of Isaac Danley and Lucinda Eads (Lucinda later marries Pascal A. Atkins). Row 11-5
Husband of Maggie Danley - son of unknown
Wife of Edward Hamlin (his burial unknown) - John Dennie McMillian and Sally Ann Hawks. Row 5-2
Husband of Linda Carolyn Marion. Married 24 Dec 1975. - son of unknown - Military marker.
Wife of Larry Lloyd Harris - daughter of Delmar Galen Marion and Carrie Elizabeth McMillian. Row 8-2
Husband of Dixie Ella Whitt, Married 8 Nov 1931. - son of Montgomery Hodges and Minnie Atkins. Row 9-12
Wife of Coley W. Hodges. Married 8 Nov 1931. - daughter of Wesley Grant Whitt and Emma Jane Bullin. Row 9-13
Husband of Stella Bullin O'Neal Duggins, m. 2-13-1964 - son of John White Holyfield and Ada Ella Wood - Stella was daughter of John Bullin and Sarah Ellen Hutson. Row 7-15
Husband of Sylvia Mae Whitt, m. 4-7-1953 - first name as spelled on grave - son of G. Caleb Jessup and Ida May Owens. Row 9-2
Wife of Eligha G. Jessup - daughter of Grover K. Whitt and Cora E. Stanley. Row 9-1
Wife of Delmer Tyre Johnson - daughter of William Walter Mills and Mary Frances Waller. Funeral Home marker. Row 6-5
Husband of Alice Frances Mills - son of Samuel Wilson Johnson and Donna F. Simpson. Row 6-6
Husband of Myrtle Whitt - son of Samuel Wilson Johnson and Donna F. Simpson. Row 9-14
Wife of Dixie Johnson - daughter of Wesley Grant Whitt and Emma Jane Bullin. Row 9-15
Wife of Smith Wayne Johnson. Johnson Family marker. - daughter of unknown
Husband of Polly McHone. Johnson Family marker. - son of Samuel Wilson Johnson and Donna F. Simpson. PFC US ARMY. Row 2-1
Divorced from Mary Beulah Branch. Kidd Family marker. - son of Grover Cleveland Kidd and Myrtle R. Lawson. Row 10-4
daughter of Grover Cleveland Kidd and Myrtle R. Lawson. Kidd Family marker. Row 10-6
son of Grover Cleveland Kidd and Myrtle R. Lawson. Kidd Family marker. Row 10-5
Wife of Grover Cleveland Kidd (he buried at Kidd Family Cemetery). Kidd Family marker. - daughter of James R. Lawson and Sally S. Atkins. Row 10-7
Husband of Ila Lucille McMillan, m. 1-7-1941. Closeup of inscription. - son of Solomon S. Lambert and Minnie L. Gillispie. Row 6-8
Wife of Clifford Randell Lambert - daughter of John Dennie McMillan and Sally Ann Hawks - birth record is 3-31-1923. Funeral home marker. Row 6-7
Husband of Sallie S. Atkins, m. 2-1-1893 - son of Millard Lawson and Martha E. White (m. 1-6-1870). Row 10-8
Wife of Wendell Robert Lawson Sr - daughter of George Gwyn and Sarah Malissa O'Neal. NC S2 USNR WW-II Military marker. Row 10-14
son of Wendell Robert Lawson Sr and Josie Ellen Gwyn. Row 10-11
Wife of James Riley Lawson - b. in Wythe County, VA and daughter of Pascal Atkins and Nancy Dollyhigh. Row 10-9
son of Wendell Robert Lawson Sr and Josie Ellen Gwyn. Row 10-12
Husband of Josie Ellen Gwyn - son of James Riley Lawson and Sallie S. Atkins. Row 10-13
Daughter of Otis O. Atkins and Stacy Bowman
son of Codi Joe Love and Brandi Atkins
Wife of Jerry Myer Marion - daughter of John Forrest and Bessie Inman. Row 3-2
Wife of James Denny Marion - daughter of Brady Thurman Riggs and Lila Mae Snow. Row 7-2
Wife of Delmar Galen Marion - daughter of John Dennie McMillian and Sally Ann Hawks. Row 8-3
Husband of Carnie Elizabeth McMillian, m. 12-9-1934 in Hillsville, VA - daughter of John M. Marion and Mary Cornelia Cave. Row 8-4
Wife of Wayne Edward Marion - b. Carroll County, VA and daughter of Robie Marion Nelson and Ann Elizabeth York. Row 10-18
Husband of Betty Lorene Riggs, m. 3-2-1956 - son of Carlie Roosevelt Marion and Myrtle Violet Slaydon. Row 7-1
Husband of Ada Ethel Forrest. Married 2 Mar 1956. - son of Jesse Franklin Marion and Frances May Atkins. Row 3-1
Husband of Glenda Irene Nelson, m. 1-19-1973 - son of Floyd Edward Marion and Mamie Loraine Marion. Row 10-17
daughter of John Dennie McMillian and Sally Ann Hawks - birth record shows 12-2-1925. Row 8-5
Husband of Sally Ann Hawks - b. in VA and son of Joel McMillian and Louise Jenkins. Row 8-7
Previously married to 1) Retha Billings and 2) Alma Faye Brintle Tolbert - son of John Dennie McMillan and Sally Ann Hawks. Row 8-8
Wife of John Dennie McMillian - daughter of John Hawks and Lena Wood. Row 8-6
Husband of Lola Ann Marion, m. 11-30-1956 - son of Brady Thurman Riggs and Lila Mae Snow. Row 7-4
Husband of Lila Mae Snow - son of William Drew Riggs and Mahala E. Gillispie. Row 7-6
Wife of Brady Thurman Riggs Sr - daughter of W. Richard Snow and Della Callahan. Row 7-7
Wife of Brady Thurman "Junior" Riggs - daughter of Carlie Roosevelt Marion and Myrtle Violet Slaydon. Row 7-3
3rd Wife of Johnny L. Shinault - b. in TN and daughter of L. D. Cross and Bessie Mae Jeffers (both of TN). Row 8-9
2nd Husband of Ernestine Cross Davis - son of Samuel Henry Shinault and Murphy Jane Cain. Row 8-10
Wife of Marvin Lee Spicer Sr. Married 10 May 1958. - daughter of Robert Lee Fowler Sr and Ada Walker. Row 6-2
Husband of Lois Fowler, m. 5-10-1958 - son of Garland Spicer and Elsie Tucker. Row 6-1
Daughter of Jerry Myer Marion and Ada Ethel Forrest
Husband of Mary Lina East - son of Samuel Wall and Alma B. Hill. Row 8-12
Wife of Glenn Wesley Wall - daughter of Wilburn East and Mary Inez McMillian. Closeup of inscription. Row 8-11
Husband of Myrtle Estelle Key - son of William Gabriel Whitaker and Letitia Mae Bullin. Row 10-16
Wife of Lacy Franklin Whitaker Sr - daughter of Charles Oscar Key and Florence Elizabeth Hardy. Row 10-15
son of Edward Roosevelt White and Mattie Delia Pratt. Row 10-1
Husband of Mattie Delia Pratt - son of Haul White and Irene Draughn. Row 10-3
Wife of James Everett White - daughter of John William Pratt and Sarah Frances Denny. Row 10-2
Wife of John William Whitt - daughter of John and Cindy Danley. Row 9-9
son of unknown - possibly a son of Charles Anderson Whitt and Virginia Diane Baker, and grandson of Wesley Grant Whitt. Row 9-3
Wife of Grover Kansas Whitt - daughter of John Henry Stanley and Sallie Malinda Joyce. Row 9-5
Wife of Roy Monroe Whitt, Married 3 Nov 1934. - daughter of Henry A. Dunbar and Ada Creed. Row 9-11
Wife of Wesley Grant Whitt - daughter of Jesse "Sandy" Bullin and Lucinda Hudson. Row 9-6
Husband of Cora E. Stanley - son of Wesley Grant Whitt and Emma Jane Bullin. Row 9-4
Husband of Ada Danley - son of Wesley Grant Whitt and Emma Jane Bullin. Row 9-8
Husband of Dove Annie Dunbar - son of John William Whitt and Ada Danley. Row 9-10
Husband of Emma Jane Bullin, m. 10-23-1890 - Robert Whitt and Elizabeth Johnson. Row 9-7
Wife of David Frederick Wolfe, m. 2-25-1923 (he buried at Double Creek Church of Christ and was son of William H. and Antoinette Wolfe) - daughter of James Riley Lawson and Sallie S. Atkins. Row 10-10
Web page updated 13 July 2017
Index of All Cemeteries
Alphabetical Index of All Burials
Previous Page