Index of All Cemeteries
Alphabetical Index of All Burials
Previous Page
Use the following to search across all the cemeteries listed.
Example: "Smith, Roger" (yes, use the quotes)
247 STANLEY FAMILY CEMETERY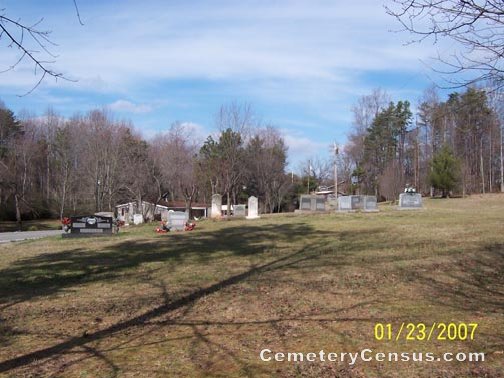 Location - Roy Stanley Rd, Fairview, Surry Co., NC.

Coordinates: 36d 19m 18.0s N; 80d 42m 36.0s W Click here for Google maps

Directions: From Intersection of US Hwy 601 and NC Hwy 268 (Fairview Crossroads), go Hwy 268 east for .2 miles. Then turn right on Roy Stanley Rd. Follw this road for .6 miles and as you are getting to a large curve in the road, the cemetery is on the left in front of two houses at edge of the road.

View #2 of the cemetery.

Surveyed by Joe Hicks on October 1, 2006.
Township or district: Marsh.
Public or Private: Private property.
GPS Accuracy (ft.): 16.
Elevation above sea level (ft.): 1090.
Status of cemetery: Currently maintained.
Surry County Parcel Number: 4904-04-60-2373.


Dockery, Carl Gordon "Jack" (b. 8 May 1928 - d. 19 Dec 1982)
Husband of Janice Frye and son of Thomas Luther Dockery and Levoria Elizabeth Dockery

Dockery, Levoria Elizabeth Stanley (b. 29 Apr 1894 - d. 24 Jan 1970)
Wife of Thomas Luther Dockery and daughter of Richard Johnson Stanley and Elizabeth Caroline Baker

Dockery, Thomas Luther (b. 25 Nov 1881 - d. 24 Oct 1964)
Husband of Levoria Elizabeth Stanley and son of Hasten Calvin Dockery and Elizabeth Setliff

Poindexter, Joseph Thomas (b. 27 Mar 1907 - d. 1968)
Husband of Maryland Stanley and son of William L. Poindexter and Sallie M. Poindexter - Pvt, US Army WW II

Poindexter, Maryland S. (b. 30 Aug 1943 - d. )
Daughter of Joseph Thomas Poindexter and Maryland Maurice Stanley

Stanley, Calvin Edgar (b. 22 Jan 1907 - d. 11 Oct 1980)
Son of Thomas Edgar Stanley and Nelia Malinda Dockery

Stanley, Elizabeth Caroline Baker (b. 2 Feb 1860 - d. 14 Mar 1917)
Wife of Richard Johnson Stanley, m. 17 Feb 1881 in Surry and daughter of David baker and Elizabeth Hutchens

Stanley, Jesse Turner (b. 2 Feb 1892 - d. 1906)
Son of Richard Johnson Stanley and Elizabeth Caroline Baker

Stanley, John Turner (b. 10 Jun 1890 - d. 11 Dec 1890)
Son of Richard Johnson Stanley and Elizabeth Caroline Baker

Stanley, Nelia "Nellie" Malinda Dockery (b. 22 May 1878 - d. 8 May 1979)
Wife of Thomas Edgar Stanley (her DOD missing) and daughter of Hasten Calvin Dockery and Elizabeth Setliff

Stanley, Richard Johnson "Dick" (b. 1849 - d. 2 Sep 1914)
Husband of Elizabeth Caroline Baker and son of Jesse Stanley and Sallie Jessie Wilmoth

Stanley, Thomas Edgar (T. E.) (b. 21 May 1893 - d. 14 Jan 1942)
Husband of Nelia Malinda Dockery, m. 26 Dec 1905 in Surry and son of Richard Johnson Stanley and Elizabeth Caroline Baker
Web page updated 14 July 2016
Index of All Cemeteries
Alphabetical Index of All Burials
Previous Page